This Japanese sheet mask is fragrance-free (yay!) and is formulated with a stabilized form of vitamin C, as well as horsetail extract.
Sheet masks are one of my favorite souvenirs to buy when I'm traveling, since they don't count as liquids—and they're easy to stuff into my already-too-full carryon luggage. I bought quite a few sheet masks during my trip to Japan last fall. I can't read Japanese, so while I was there, I looked for products that displayed a "No. 1" symbol, since I assumed that they indicated that the product was popular. One such product was a 5-pack of Kose Clear Turn White Vitamin C Sheet Masks. The wording of this mask is somewhat confusing—it's actually Kose Clear Turn - White Mask. It's not going to turn you white, but it is designed to brighten your skin with a mixture of vitamin C and other ingredients like horsetail extract (also known as equisetum arvense extract),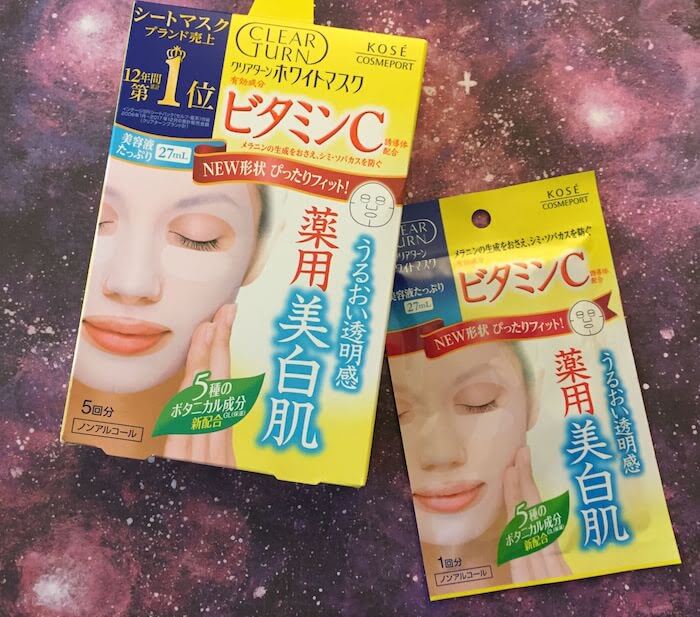 Kose is one of the premier beauty companies in Japan—if you go to any highly trafficked area, you'll probably notice a billboard ad for one of their highly popular products. They also make the Softymo Speedy and Deep Treatment oil cleansers I've used.
Kose Clear Turn White Vitamin C Face Mask ingredients
l-ascorbic acid 2-glucoside, water, 1,3-butylene glycol, dipropylene glycol, clematis vitalba extract, spiraea ulmaria flower extract, horsetail extract, hedera helix extract, sambucus nigra extract, EDTA, xanthan gum, hydroxypropyl methylcellulose, disodium phosphate, monosodium phosphate, sodium hydroxide, glycerin, methylparaben
The "active" ingredient in this mask is l-ascorbic acid 2-glucoside (AA2G), which is a stabilized version of vitamin C. I arrived at this version of ingredients by scanning the package with the Google Translate mobile app and referring to the main ingredients listed on Kose's website. The Google Translate app does a good job of translating chemicals like hydroxypropyl methylcellulose and sodium hydroxide, but the natural extracts took a bit of guessing. It listed "sambucus nigra extract" as "seaweed extract" and "clematis vitalba extract" as just "clematis extract." It also listed "hedera helix extract" (ivy extract) as "honeysuckle extract." Still, it got me farther than I would have gotten on my own, with my nonexistent Japanese skills.
Kose Clear Turn White Vitamin C Face Mask review
The first thing I noticed about Kose Clear Turn White Vitamin C Face Mask is that its surface area is smaller than average. I know for certain that it's smaller than The Face Shop's sheet masks because I used sheet masks from these two brands two days in a row to compare. Kose's sheet mask barely fit over my face, length-wise, while The Face Shop's was much larger and provided a lot of overhang that folded well into the upper neck/jaw area. So if you have a large face you might find that this Kose mask won't provide all the coverage you need. The website states that the shape of the mask has been redesigned to provide a "snug fit even around the eyes and mouth," so perhaps that was the intent.
This mask is designed to brighten skin with the inclusion of a stabilized version of vitamin C. It also contains horsetail extract, an ingredient that I saw pretty often in sheet masks while I was in Japan. I saw quite a few that advertised "horsetail" as the primary ingredient. Though this particular sheet mask doesn't highlight it as a main ingredient, it does include it in the ingredient list. Horsetail was also included in artnaturals's Vitamin C serum, and in that review, my dad stated that he thought that horsetail would help protect skin from irritation and inflammation. Another nice thing about this mask is that it's fragrance-free, which is (sadly) pretty rare when it comes to sheet masks. It's also free of alcohol and dyes.
I have used about three out of the five masks included in this pack, and I haven't noticed any irritation so far. It does leave my skin feeling hydrated afterward, but I haven't noticed much brightening at all. I don't think it's a mask that's going to wow you, but if you're looking for a fragrance-free sheet mask that will make you feel pampered for a little while—and leave your skin more hydrated—this is a great sheet mask to work into your repertoire.
Related reading
Note: This post uses affiliate links, which means that I'll receive a commission if you make a purchase after clicking a link (at no extra cost to you). See our
disclosure policy
.