This face mask looks natural, but it carries a strong fragrance + alcohol that might make it unsuitable for sensitive skin.
The Face Shop is a Korean beauty brand that launched in 2003. The company has gained popularity worldwide—there are even a few outposts located in NYC. Side note: The name always reminds me of The Body Shop, which was one of my favorite stores to visit at the mall as a kid. Anyway, a few months ago, I ordered a multi-pack of The Face Shop sheet masks, and I'm still working my way through them. This whole line of REAL NATURE sheet masks has quite a natural, attractive look. So imagine my surprise when I scanned the ingredients for a couple of the packages in this multipack, and discovered that they contained "alcohol denat.," or denatured alcohol. They also all included fragrance (but, to be fair, so does practically every other Korean beauty sheet mask I've ever seen).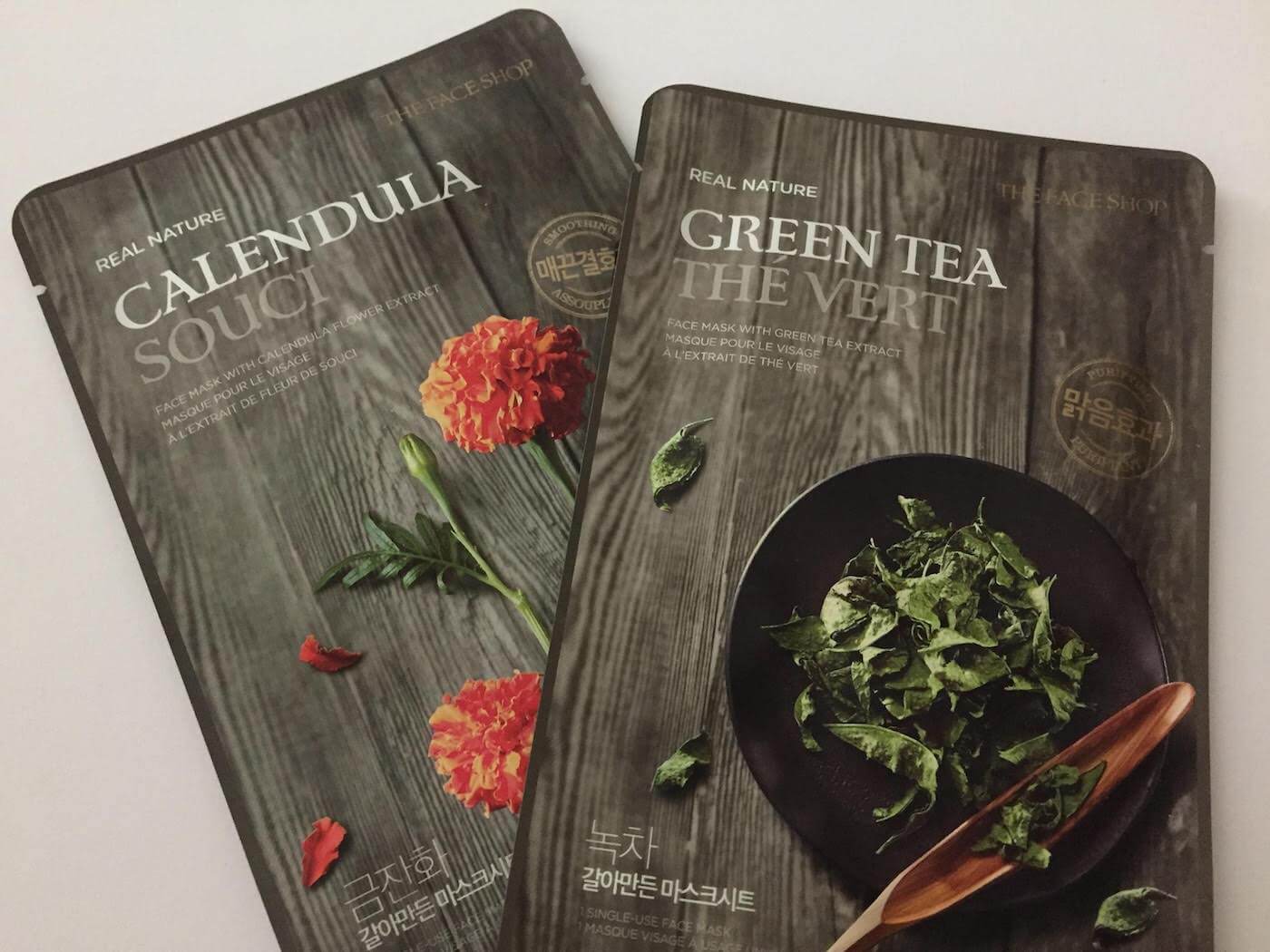 Let's take a closer look at the ingredients in The Face Shop Real Nature Green Tea face mask, to see if the good balances out the bad.
The Face Shop Green Tea Mask Ingredients
water/eau, glycerin, propanediol, camellia sinensis leaf extract, alcohol denat., betaine, panthenol, 1,2-hexanediol, sodium hyaluronate, citrus paradisi (grapefruit) fruit extract, dimethicone, allantoin, hydrogenated lecithin, xanthan gum, peg-60 hydrogenated castor oil, carbomer, ethylhexylglycerin, potassium hydroxide, disodium edta, parfum/fragrance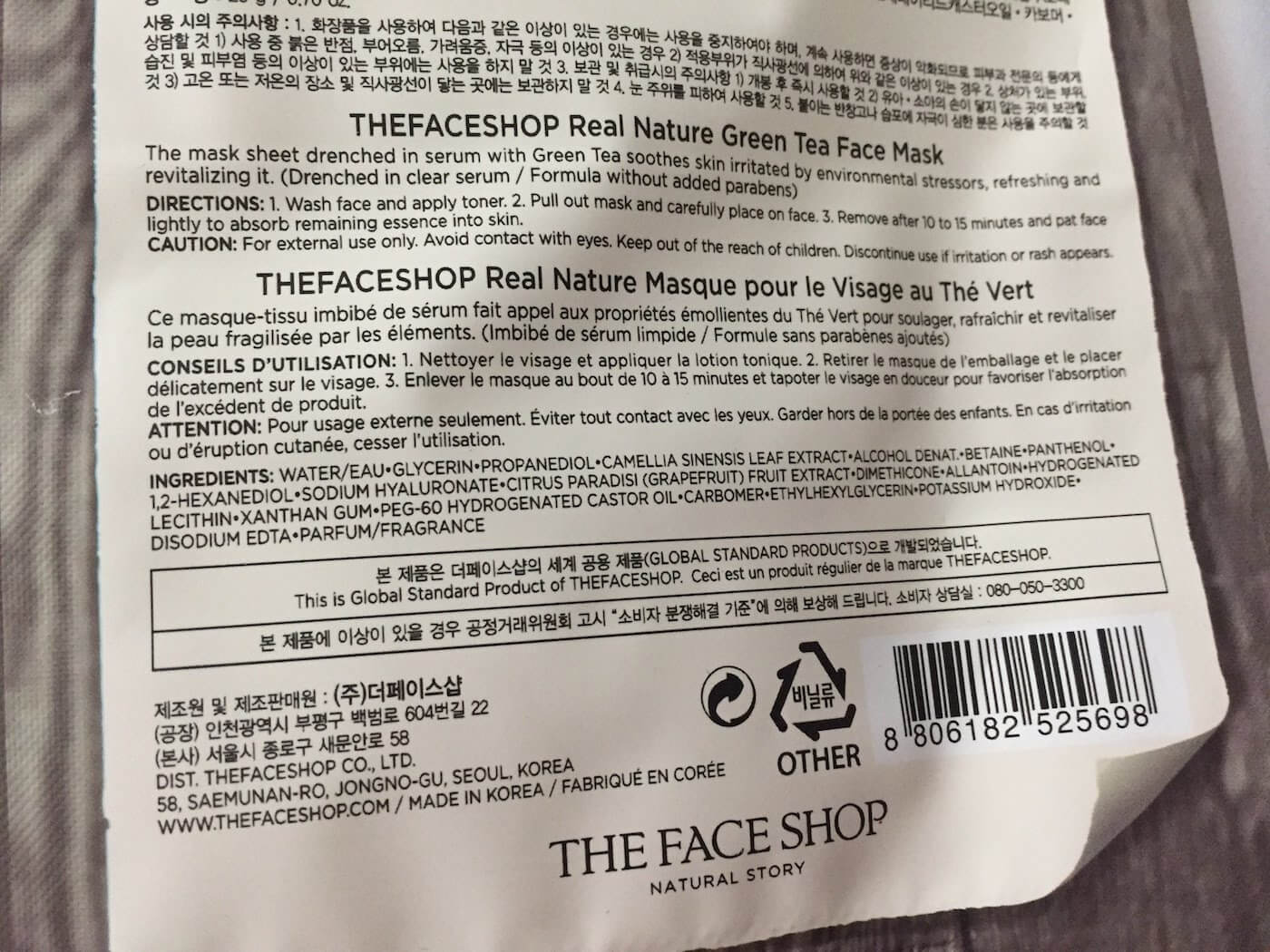 Each "Real Nature" sheet mask package highlights the main ingredient in the name, whether it's white tea, calendula, peony, or longan. This particular mask showed green tea leaves, and the ingredients include camellia sinensis leaf extract (green tea extract). However, the ingredient right after that is denatured alcohol, which comes before more beneficial ingredients like sodium hyaluronate, dimethicone, and allantoin, which is not a good sign.
Mask material + fit
The material of the mask was noticeably less velvety than the sheet included in Leaders AC Dressing Face Mask Review, making it a less comfortable experience. The instructions say to leave the mask on for 10–15 minutes, but I couldn't last the whole 15 minutes. The mask also didn't fit my face very well. I felt like some parts of my face didn't get much contact with the mask, but when I tried to pull them over those parts, the mask ended up getting into my eyes.
Amount of serum
The amount of serum on this mask is pretty similar to every other face mask I've used—it's a generous amount, and definitely won't dry out within 15 or maybe even 30 minutes. There is enough overhang on the mask for you to be able to smooth some of the serum onto your neck as well.
Fragrance
The fragrance of this mask is quite strong, but not unpleasant. It does carry a faint whiff of a rubbing alcohol-esque scent, but that could have been my imagination/paranoia at seeing denatured alcohol in the ingredients.
Final thoughts
Overall, I wouldn't repurchase this face mask again, which is why I'm not including an affiliate link to it in this post. I'd recommend trying another face mask like Leaders AC Dressing Face Mask or My Beauty Diary Aloe Vera Face Mask, but that's just my personal preference.
Further reading
Note: This post uses affiliate links, which means that I'll receive a commission if you make a purchase after clicking a link (at no extra cost to you). See our
disclosure policy
.