This oil-free facial sunscreen is super runny in consistency, but soaks nicely into the skin.
Lancome Bienfait UV SPF 50+ Super Fluid Facial Sunscreen is a premium product, so I was definitely excited to see that it was one of the two full-sized products included in Sephora's Sun Safety Kit 2018. I like the fact that it's specifically labeled as a "facial sunscreen," because it makes me think that it's been developed to be less irritating and less likely to aggravate acne. I'm not sure if there's any truth to that—it's just the way I feel.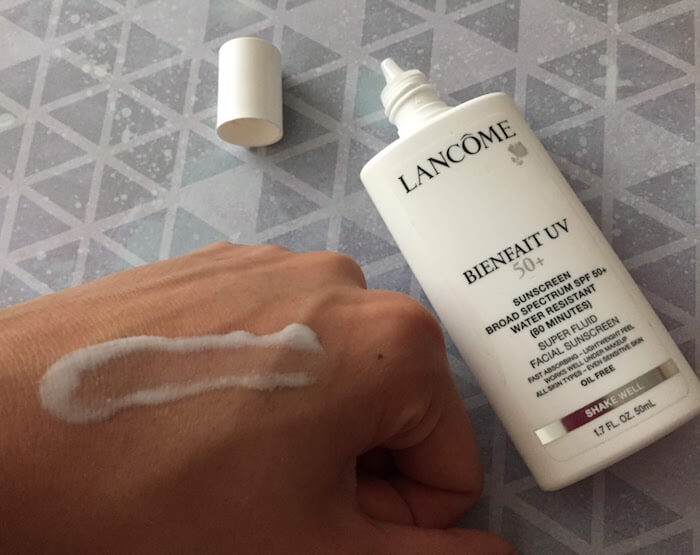 This purely chemical sunscreen includes a mixture of four active ingredients: homosalate, oxybenzone, octocrylene, and octisalate. Homosalate, octocrylene, and octisalate protect against UVB rays, while oxybenzone protects against UVB and UVA2 rays. This means that there is no protection against UVA1 rays. Avobenzone and zinc oxide are the only FDA-approved actives that protect against UVA1. Nevertheless, since this sunscreen is rated at SPF 50+, it protects against at least 98 percent of UVB rays.
Lancome Bienfait UV SPF 50+ Super Fluid Facial Sunscreen ingredients
Active ingredients: homosalate (15%), oxybenzone (6%), octocrylene (5%), octisalate (5%)
Inactive ingredients: water, cyclopentasiloxane, alcohol denatured, silica, dicaprylyl ether, styrene/acrylates copolymer, diethylhexyl syringylidenemalonate, peg-30 dipolyhydroxystearate, dimethicone, cyclohexasiloxane, polymethylsilsesquioxane, nylon-12, dicaprylyl carbonate, phenoxyethanol, lauryl peg/ppg-18⁄18 methicone, sodium chloride, caprylyl glycol, methylparaben, poly c10-30 alkyl acrylate, disteardimonium hectorite, disodium edta, dodecene, poloxamer 407
Like many sunscreens (particularly Asian ones where the "elegance" of the consistency is top of mind), this sunscreen includes alcohol denatured in it, which could be drying for some skin types. However, as my dad explained here, alcohol denatured is often used as a solvent to dissolve sunscreen actives and to make sunscreen feel less greasy.
Lancome Bienfait UV SPF 50+ Super Fluid Facial Sunscreen review
When Lancome Bienfait UV SPF 50+ Super Fluid Facial Sunscreen says it's "super fluid" it sure means it. The directions on the label say "shake well" and indeed, when you shake it, you can hear the liquid shaking around in there—this sunscreen is certainly not very thick at all. It's more like a runny glue than it is a cream or lotion. It goes on a bit milky white at first, but then easily absorbs into the skin. Although it's oil-free, it feels slightly oily, and glides right onto my skin the way that most chemical sunscreens tend to do.
So if your skin tends to lean toward the oily side, like mine, then don't expect Lancome Bienfait UV SPF 50+ Super Fluid Facial Sunscreen to do you any favors, even though it's labeled as "oil-free." One thing I didn't like about it was that it leaves my skin feeling a tad bit oily (or maybe "dewy"). If you like that, this is probably a good option for you. I
The inclusion of alcohol denatured may also be troublesome for anyone who tends to have problems with that ingredient. However, I personally didn't find this sunscreen to be irritating.
I liked how quickly it sank into my skin, which makes it a good beginner-friendly sunscreen for anyone who has always been wary using sunscreen for fear of goopiness and/or white cast. This sunscreen tackles both of those problems quite successfully.
Although I tend to prefer physical sunscreens because they're less likely to irritate my sensitive skin. However, if I were to try using a chemical sunscreen, I would probably opt for Biore UV Aqua Rich Watery Essence Sunscreen over this one from Lancome. I thought Biore's was less oily than this sunscreen, and it's also more affordable. Lancome's version is preferable if you like feeling more dewy after applying a sunscreen, and you like a super liquidy/runny consistency from your sunscreen. It is also fragrance-free, which is a nice bonus.
Related reading
Note: This post uses affiliate links, which means that I'll receive a commission if you make a purchase after clicking a link (at no extra cost to you). See our
disclosure policy
.