This sunscreen provides the highest-caliber UVA protection, and blends into your skin like a dream—but it also contains potential irritants like fragrance and alcohol (ethanol).
During my trip to Japan last fall, I tried to keep an eye out for the most popular cosmetics (specifically, I was mainly interested in face masks and sunscreens). Biore UV Aqua Rich Water Essence was definitely one of the most commonly spotted products on many shelves, so it seems like it's pretty popular.
I picked up a bottle of Biore UV Aqua Rich Watery Essence Sunscreen at a drugstore, and brought it back with me in my TSA-approved carryon bag of liquids. I have heard wonderful things about how "cosmetically elegant" Japanese sunscreens tend to be, so I was excited to try this one and see if it lived up to its reputation. It also includes active sunscreen ingredients that aren't approved in the U.S. yet.
Biore UV Aqua Rich Watery Essence Sunscreen SPF 50+ PA++++ ingredients
water, ethanol, ethylhexyl methoxycinnamate, lauryl methacrylate/sodium methacrylate crosspolymer, alkyl benzoate, bisethylhexyloxyphenol methoxyphenyl triazine, diethylamino hydroxybenzoyl hexyl benzoate, dimethicone, ethylhexyl triazone, silica dimethyl silylate, dipropylene glycol, xylitol, dextrin palmitate, acrylates/ c10-30 alkyl acrylate crosspolymer, dimethicone/vinyl dimethicone crosspolymer, polysilicone-9, glyceryl stearate, aminomethyl propanol, vinyl dimethicone/ methicone silsesquioxane crosspolymer, agar, isoceteth-20, c30-45 alkyl methicone, polyvinyl alcohol, c30-45 olefin, sodium hydroxide, butylene glycol, propylene glycol, sodium hyaluronate, royal jelly extract, citrus aurantium dulcis fruit extract, citrus grandis fruit extract, lemon fruit extract, phenoxyethanol, edta-2na, bht, fragrance
This formula lists "ethanol" pretty high on the ingredient list, which is used as a solvent to dissolve sunscreen actives. Although this helps create a more "cosmetically elegant" formula that doesn't leave a white cast, it may dry out or irritate some people's skin. However, my dad has noted in the past that you can offset these drying effects by including moisturizing ingredients like glycerin, dimethicone, and sodium hyaluronate in the same formula, like Biore has done with this sunscreen.
This formula also contains silicones, which may cause breakouts in some people (though my skin doesn't seem to react negatively to silicones). It also includes royal jelly extract, which is used more commonly in Asia than in the U.S. According to this article, royal jelly is applied topically to help reduce inflammation and moisturize the skin.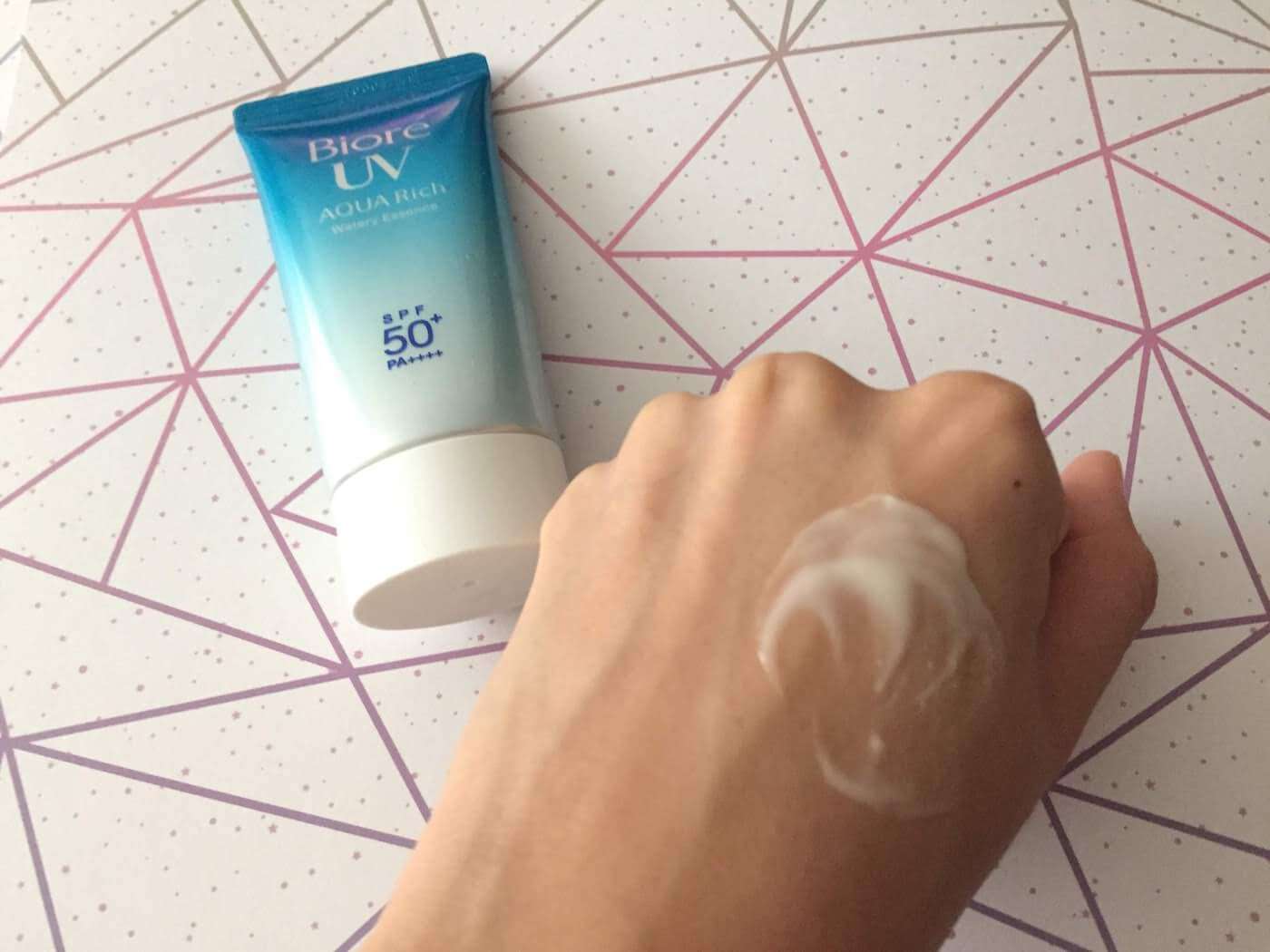 Active sunscreen ingredients in Biore UV Aqua Rich Watery Essence Sunscreen
Unfortunately, Japanese sunscreens don't list the percentage of active sunscreen ingredients at the top of the label, the way American ones do. So it took a bit of research to find the active sunscreen ingredients in this formula:
Ethylhexyl methoxycinnamate (octinoxate aka Uvinul MC 80; provides UVB protection)

Bis-ethylhexyloxyphenol Methoxyphenyl Triazine (also known as bemotrizinol or Tinosorb S), which provides broad spectrum protection and becomes more powerful when combined with Ethylhexyl Triazone (also in this formula)

Diethylamino Hydroxybenzoyl Hexyl Benzoate (also known as Uvinul A Plus, provides UVA protection)

Ethylhexyl Triazone (also known as octyltriazone or Uvinul T 150) protects against UVB (read more about it here)

Octinoxate is the only FDA-approved active that is included in this product. The other three are not currently approved for use in U.S. sunscreens, they have been approved outside the U.S. for some time. This article from BASF (the maker of these sunscreen actives) explains it. Tinosorb S is an oil-soluble UVA filter that peaks in protection around 350nm, and has been available in Europe since 2000 (with approval in Japan and Australia about five years after that). Uvinul A Plus's protection peaks around 355 nm. This makes both Tinosorb S and Uvinul A Plus good sources of UVA protection (hence the high PA++++ rating for this sunscreen).
My Dad the Chemist's review of Biore UV Aqua Rich Water Essence SPF 50+ PA++++
Dear Emily, when I worked on sunscreen formulas for Europe, I still use US approved sunscreen actives even though Europe has approved a few other effective sunscreen actives as those in the Japanese formula.

US FDA is very cautious on the approvals of drugs, it can take longer than a decade, they want to make sure long term safety test data.

However, these actives has good field data from years of European consumers, I think it should be a good formula based on the ingredient list.

Just need to confirm the stability of this formula (stable emulsion without separation)one way to tell is to squeeze Product to your palm and observe if any running liquid coming out from the cream or not.

Love,
Dad
My dad formulated sunscreens for American companies that sold their products in Europe, but still didn't use actives that weren't approved in the U.S. So he doesn't have personal experience with these non-U.S.-approved actives. However, he does think that the actives have very good field data and have performed well for European consumers over the years. Therefore, he thinks that this sunscreen will be a good formula, as long as it's stable.
He also provided a tip for testing how stable a sunscreen is: Squeeze some into your palm and see if there is any liquid oozing out from the cream portion or not. I've definitely seen this separation occur in old sunscreens when they've been sitting around too long.
When I tried conducting this test on Biore UV Aqua Rich Watery Essence Sunscreen (see image above), it looked like a pretty nicely emulsified formula, since it didn't look like the water was separating from the cream at all. Therefore, I think it should be a pretty effective sunscreen since it's stable. Plus, it is rated at PA++++, which is the highest level (there is no PA+++++ with five plus signs). This effectively means that it has a PPD factor of at least 16. See this page for more details. It also has an SPF factor of 50+, meaning that it provides pretty great overall protection against both UVA and UVB rays.
My general impressions: - light citrusy fragrance that's not too overpowering, but still might bother some people
- It blends really quickly into the skin, and didn't leave much of a sticky residue
- It's definitely not going to do your pores or oily skin any favors. But it's probably for layering with makeup
- If you don't normally wear makeup, you might want to opt for a tinted sunscreen like Australian Gold instead, which helps blur imperfections, delivers a matte finish to reduce shine at the end of the day (and is also rated PA++++).
All in all, I was pretty excited to try some new UVA filters that haven't been approved in the U.S. yet. It's a great souvenir to bring back from Japan, but if you're not planning to travel there anytime soon, no worries—you can easily find it on Amazon here. Yay for globalization!
Related reading
Note: This post uses affiliate links, which means that I'll receive a commission if you make a purchase after clicking a link (at no extra cost to you). See our
disclosure policy
.