This sunscreen is a great option for sensitive skin, since it's 100% fragrance-free, alcohol-free, and essential oil-free. Plus, it's 100% white-cast-free and provides great UVA protection.
In the U.S., the only physical sunscreen filter that provides good UVA protection is zinc oxide, and any product that has a high concentration of this ingredient usually screams: "I'm wearing sunscreen!"—which is why I generally have more luck with tinted sunscreens. Countries in Europe and Asia allow a greater variety of sunscreen filters (including ones that provide excellent UVA protection), which means that they're able to create sunscreens that provide high UVA/UVB protection and still blend nicely into your skin. But one thing I have noticed about Asian sunscreens is that they tend to include alcohol, fragrances, and essential oils that can irritate sensitive skin. I don't care if I'm getting PA++++ protection if it makes my face itchy and dry. So when PURITO reached out to me to see if I'd like to try any of their products, I was instantly drawn to PURITO Centella Green Level Unscented Sunscreen because it was fragrance-free, alcohol-free, and essential oil-free. I also love centella asiatica, or tiger grass, because it's such a soothing ingredient.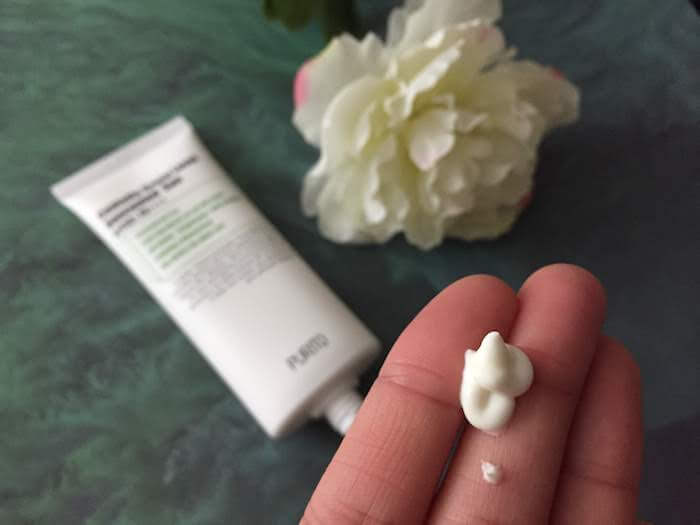 PURITO kindly gifted me a bottle of the Centella Green Level Unscented Sunscreen so I could try it out. Now that I've used it for several weeks, I'm ready to share my honest review.
PURITO Centella Green Level Unscented Sunscreen SPF 50+ PA++++ ingredients
water, butylene glycol, butyloctyl salicylate, glycerin, diethylamino hydroxybenzoyl hexyl benzoate, hydrogenated polyisobutene, acrylates copolymer, silica, 1,2-hexanediol, niacinamide, dibutyl adipate, ethylhexyl triazone, polyglyceryl-3 methylglucose distearate, cetearyl olivate, cetearyl alcohol, dicaprylyl carbonate, sorbitan olivate, glyceryl stearate, methyl glucose sesquistearate, sorbitan stearate, centella asiatica extract(4315ppm), madecassoside, asiaticoside, madecassic acid, asiatic acid, pentaerythrityl tetra-di-t-butyl hydroxyhydrocinnamate, disodium edta, adenosine, hyaluronic acid, caprylyl glycol, ethylhexylglycerin, tocopherol
The sunscreen filters are:
diethylamino hydroxybenzoyl hexyl benzoate (Uvinul A Plus), which provides UVA protection

ethylhexyl triazone (Uvinul T 150), which provides UVB protection

My Dad the Chemist's review of PURITO Centella Green Level Unscented Sunscreen SPF 50+ PA++++
Dear Emily, the base formula contains good ingredients and has great water resistance. Unfortunately, neither of these two sunscreen filters is approved as a sunscreen active ingredient by the US FDA.

Sunscreen in US is a drug products, it's regulated by FDA, US FDA is very strict on approving sunscreen actives due to the safety issues. This Korean formula may be sold and make SPF claim with proven clininical testing in Europe because sunscreen is a cosmetic product in Europe, not a drug, the regulation is different.

Love,
Dad
I didn't mention that this was a Korean sunscreen to my dad, so he assumed that it was European. But Korea is the same as Europe in the sense that it does not classify sunscreen as a drug. Instead, it calls it a "functional cosmetic". My dad is a stickler for FDA-approved sunscreen actives, and he doesn't think that you should use foreign sunscreens if they only contain sunscreen filters that haven't been approved in the U.S. The FDA has been slow about approving sunscreen filters that are being used in other countries' sunscreens—and unless you have a crystal ball, there's no way to tell when (or if) these sunscreen filters will get approved in the U.S.
The two sunscreen actives included in PURITO Centella Green Level Unscented Sunscreen haven't been approved by the FDA yet, but that doesn't necessarily mean that they're not effective—other countries conduct their own testing, after all. We all live on the same Earth and are all exposed to the same sun, regardless of what country we're living in.
Thanks to the internet, you can get a hold of this Korean sunscreen even though it contains sunscreen filters that haven't (yet) been approved by the US FDA. However, if you are concerned about the letter of the law in the U.S. like my dad, or if you're worried that these filters are reef-safe (since they are chemical filters), I would suggest sticking with zinc oxide sunscreens instead. That said, I don't personally have a problem with using sunscreens from other countries, since I assume that they conduct their own testing to validate the SPF and PPD rating claims. And I find it frustrating that U.S. sunscreens don't voluntarily print the UVAPF rating on their labels—just the vague, ubiquitous "broad spectrum" term.
PURITO Centella Green Level Unscented Sunscreen review
PURITO Centella Green Level Unscented Sunscreen is a joy to apply. I've used other Asian sunscreens before, like Biore UV Aqua Rich Watery Essence Sunscreen (that one featured the same two filters as PURITO's sunscreen, as well as two others: octinoxate and Tinosorb S). Biore's contained alcohol so it evaporated rather quickly and didn't leave my skin feeling hydrated at all. In contrast to that one, PURITO Centella Green Level Unscented Sunscreen took slightly longer to blend in, and had no odor at all. It almost felt like rubbing aloe vera into my skin. The viscosity is similar to a cross between CeraVe Daily Moisturizing Lotion (if you're familiar with that product) and a gel moisturizer.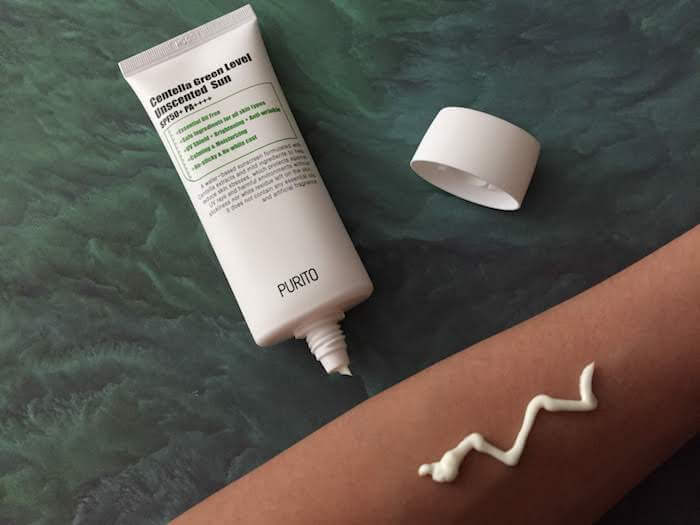 Moisturize and protect your skin, all at once
This product is more like a moisturizer than a sunscreen, since it blends in so nicely and hydrates your skin without leaving the slightest hint of a white cast. I love how it blends invisibly into your skin without leaving it oily at all. It suits my combination skin perfectly, by hydrating the dry areas (my cheeks and edges of my nose), without making the oily parts of my face (forehead, nose) feel more greasy than usual.
It's very lightweight, and takes about two seconds to blend in. At first, it leaves a somewhat slimy film on top of your skin. See the before picture here: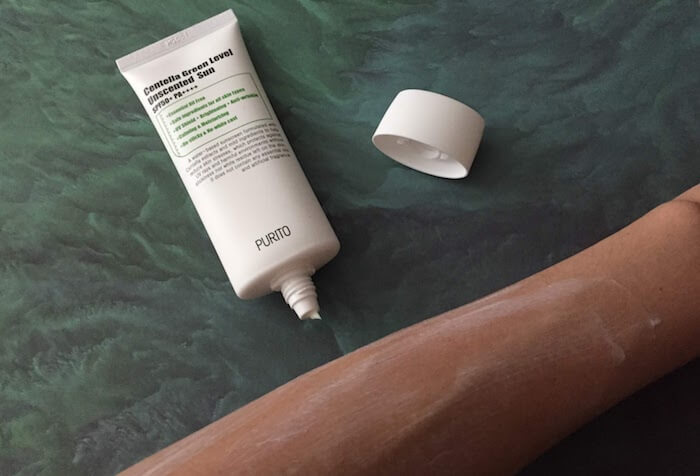 After you rub a little more, it soaks in nicely while leaving it feeling hydrated (without feeling too sticky or tacky, the way a sheet mask might). The tacky feeling gets even less noticeable after you let it dry for a few minutes. Eventually, it will completely disappear—almost as if you never applied anything at all. It's like the hydration fairy came for a visit and then bid adieu with a poof.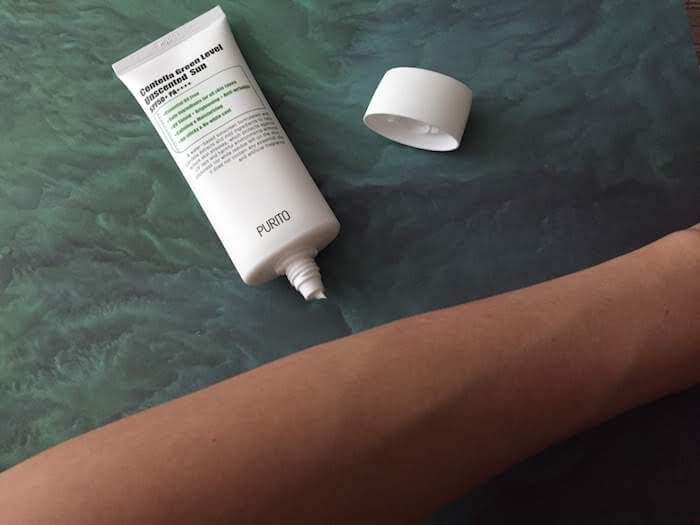 PPD rating (UVA protection) and SPF
This sunscreen's UVA protection comes from diethylamino hydroxybenzoyl hexyl benzoate (Uvinul A Plus). According to the PURITO rep who sent me this sunscreen, this product has a PPD rating of 18. Anything above 16 earns a PA++++, the highest possible rating for UVA protection.
It also provides excellent UVB protection (via Uvinul T 150), since it's rated at SPF 50+ (filters at ~98 percent of UVB rays).
Non-sunscreen-related beneficial ingredients
Interestingly, the ingredients list advertises the actual amount of centella asiatica extract included in this sunscreen: 4315 ppm (parts per million?). Surprisingly, this sunscreen doesn't have a medicinal smell that accompanies other products that contain this fragrant ingredient (lookin' at you, Origins Mega Mushroom Soothing Treatment Lotion), so maybe 4315 ppm isn't actually that much.
It also contains niacinamide, another all-around skincare superhero that helps smooth out wrinkles and delivers anti-inflammatory benefits.
The life-changing magic of unscented sunscreen
I highly recommend this sunscreen for anyone who has sensitive skin or is sensitive to fragrances. Though many other Asian sunscreens are typically just as easy to blend in as this one, I've noticed that those products typically include a bunch of other extraneous ingredients that can cause sensitive skin to flare up, such as alcohol, fragrances, and essential oils. PURITO Centella Green Level Unscented Sunscreen provides a breath of fresh air for those of us who want excellent UV protection without a side of fragrances, alcohols, and other irritants.
Related reading
Note: This post uses affiliate links, which means that I'll receive a commission if you make a purchase after clicking a link (at no extra cost to you). See our
disclosure policy
.