This hair mask includes sea buckthorn oil, jojoba oil, panthenol, and other conditioning agents that work together to leave your hair oh-so-glossy after just five minutes.
I received a travel-friendly bottle of Amika Soulfood Nourishing Mask in a Sephora Summer Hair Sample Set, and it couldn't have come a minute sooner. My hair has been feeling pretty dull and lackluster because of the humidity, but this hair mask helped revive it in just five minutes.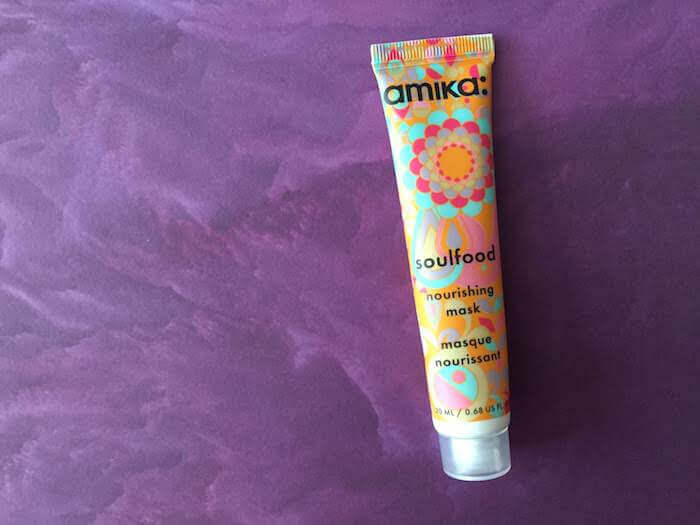 Isma looked at her reflection in the mirror, hair "texturized" into "beachy waves," as Mona of Persepolis Hair in Wembley had promised when she recommended a product that could counter frizzy, flyaway hair without attaining the miracle of straightening it. Her hair said "playful" and "surprising." Or it would if it didn't come attached to her face. She opened the drawer in which she kept her turbans and headscarves, closed it, looked in the mirror once more, opened it again.
—Home Fire, Kamila Shamsie
Home Fire was one of the best books I've read this year. I'm always drawn to stories that skillfully reveal how many sides we have, how many interpretations, and how many masks we wear, even in our own homes. I love books that describe how members of the same family can interpret—and react to—the same circumstances so differently. I saw this quote about frizzy hair and headscarves, and thought I'd better write it down since I was about to try out the Amika Soulfood Nourishing Mask. Is this mask good enough to make your hair look beach-ready but not frizzy?
Amika Soulfood Nourishing Mask ingredients
water, cetyl alcohol, cetearyl alcohol, simmondsia chinensis (jojoba) seed oil, panthenol, behentrimonium chloride, dimethicone, propylene glycol, hippophae rhamnoides (sea buckthorn) seed oil, phenoxyethanol, cetrimonium chloride, isopropyl alcohol, fragrance, ascorbic acid, citric acid, butylphenyl methylpropional, limonene, hydroxycitronellal, hydroxyisohexyl 3-cyclohexene carboxaldehyde
My Dad the Chemist's review of Amika Soulfood Nourishing Mask
I asked my dad if he thought this mask was good enough to use in place of a normal hair conditioner, or if it was designed to serve as a post-conditioner product. Here's what he said about that, as well as what he thought about the product's ingredients:
Dear Emily, this hair mask formula is a hair conditioner, yes, it shouldn't need more conditioner after that. Yes, it has many conditioning agents such as Simmondsia Chinensis (Jojoba) Seed Oil, Panthenol, Behentrimonium Chloride, Dimethicone, Hippophae Rhamnoides (Sea Buckthorn/Argousier) Seed Oil, and Cetrimonium Chloride, should be a decent formula.

Love,
Dad
On Amika's website, behentrimonium chloride and cetrimonium chloride are marked with asterisks to signify that they are "antistatic agents." My dad pointed them out as conditioning agents. The other ones that are more intelligible include panthenol (the vitamin that serves as the basis for Pantene's name), jojoba seed oil, and sea buckthorn oil. He also pointed out dimethicone, a silicone that's commonly used in hair care products.
This mask's jojoba seed oil and sea buckthorn oil are probably what make this mask so "nourishing." Sea buckthorn oil is rich in vitamins A, C, E, and K, and also contain amino acids and fatty acids. Ascorbic acid (vitamin C) is used in skincare to provide UV protection, so it's possible that its inclusion in this hair mask will help protect your hair from damaging UV rays as well. It's strange to think about, but hair proteins can also get damaged by UV rays, and you can't very well apply sunscreen to your hair. According to this study, UVB rays can damage hair protein, while UVA rays affect the color of your hair. Antioxidants like vitamin C can help ward off these damaging rays.
Amika Soulfood Nourishing Mask Review
The label says to leave on the Amika Soulfood Nourishing Mask for two to five minutes and then rinse off. I followed my dad's advice and used it in place of a conditioner. I left it on for about five minutes to make sure it really had time to soak in. The texture of the mask is nice, not too thick or runny. It felt like it easily distributed through my hair, and after I rinsed it out, I immediately felt like my hair was glossier and sleeker. After letting my hair air dry, it was still a bit frizzy, but only 10% as frizzy as it normally gets on a summer night. The next morning, my hair was nice and silky—I must say that I rather enjoyed running my fingers through my hair. Not bad for five minutes of your time!
The only thing I don't particularly like about this mask is that it has a rather strong fragrance. It really penetrated my hair (maybe because I left it on for five minutes before rinsing it out), and felt like it was hanging around me even through the next day. If you're normally sensitive to fragrances, this hair mask might not be for you. If you prefer to have fragrance in your hair, this will only accentuate your experience. It's not an unpleasant smell—just stronger than I normally prefer.
Related reading
Note: This post uses affiliate links, which means that I'll receive a commission if you make a purchase after clicking a link (at no extra cost to you). See our
disclosure policy
.