This cream contains goodies like sweet almond oil, tiger grass extract, sodium hyaluronate—and CBD, a cannabinoid derived from hemp that may help reduce inflammation and acne.
I've been curious about CBD oil and its potential benefits for skincare for some time now. However, since CBD is such a new ingredient, it's hard to confirm if you're getting a pure, quality product that's going to be THC-free. I knew that if I was going to try out a CBD skincare product, it would need to come from a company that would be transparent about its CBD sourcing process and the amount of CBD included in the products. Joy Organics is a family-oriented business that delivers on both of these fronts. The company kindly gifted me a jar of CBD Day Cream so I could explore this new area of skincare. In this post, I'll share my honest thoughts about this product after using it for several weeks.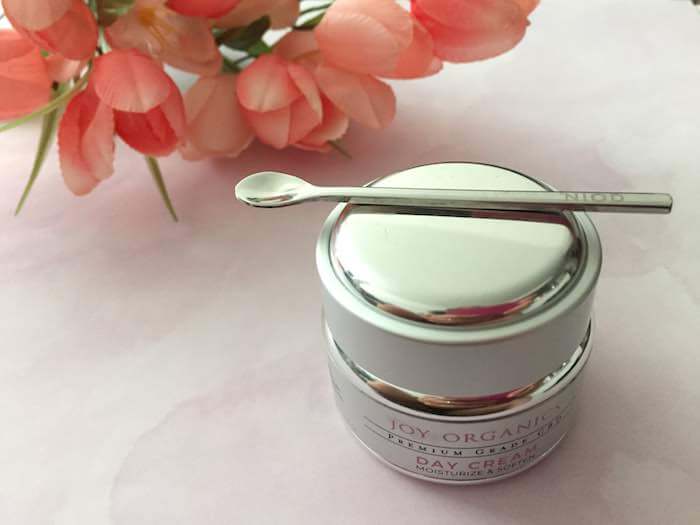 Joy Organics makes a few types of CBD skincare products: a CBD sheet mask, a CBD day cream, and a CBD face serum. I sent my dad the ingredients list of the CBD day cream and the face serum because I couldn't decide which one I wanted to review. He said that he preferred the day cream, because it "contains more skin conditioning moisturizing ingredients," so I decided to give that one a try.
Joy Organics CBD Day Cream ingredients
water, sweet almond oil, glyceryl stearate se, cetyl alcohol, dimethicone, isopropyl palmitate, c12-15 alkyl benzoate, sucrose acetate isobutyrate, stearic acid, phytocannabinoid rich hemp oil (100 mg of cbd), polysorbate 80, polysorbate 20, glyceryl stearate, peg-100 stearate, butyrospermum parkii (shea butter) fruit, ashwagandha extract (winter cherry), sodium hyaluronate, chondrus crispus extract, lotus extract, gotu kola (centella asiatica), citrus chamomile essential oil, panthenol, glycerin, phenoxyethanol, caprylyl glycol, ethylhexylglycerin, hexylene glycol, xanthan gum, propanediol, trisodium edta, carbomer and sodium hydroxide
My Dad the Chemist's review of Joy Organics CBD Day Cream
I asked my dad what he thought about Joy Organics CBD Day Cream. I was also curious to see why the label only recommended applying it in the daytime, so I wanted to see if he had any thoughts about that.
Dear Emily, I think this is a good formula but I don't know why claimed only for use in the daytime, a good daytime moisturizer should be a SPF 30+ moisturizing day cream because the potential UV only occurs during daytime.
Yes, hemp oil may help balance out oily skin, hydrate it and regulate skin oil's production.

Love,
Dad
My dad is just as confused as I am when it comes to why they only recommend using this Day Cream in the daytime. I think it could moisturize your skin just as nicely at night. If it included SPF, I would be less confused about why this is marketed as a daytime-only cream.
It would have been a nice bonus if it included SPF since it's marketed as a day cream. However, this may actually be a blessing in disguise, since it actually forces you to remember to apply a separate layer of sunscreen on top. Sometimes non-sunscreen, SPF-powered products can give you a false sense of assurance that you're getting enough UV protection, when in reality, the tiny amount included in these non-sunscreen products doesn't provide adequate protection.
Joy Organics CBD Day Cream review
I've been using the Joy Organics CBD Day Cream every morning for a few weeks now, and I'm ready to share my thoughts on it. Long story short, I like this cream a lot, but it does come at a premium price point because of its premium ingredients, namely 100 mg of CBD. If you're curious if CBD can improve your skin, it makes sense to only opt for skincare products from a reputable company like Joy Organics, since CBD is still so new to the market. There are no "battle-tested" companies when it comes to CBD skincare, because it's simply too early to recognize which ones are the cream of the crop. Joy Organics actually publishes lab results to confirm that its CBD is THC-free, and provides a lot of information about how and where it sources its CBD, which I find to be a reassuring indicator of the company's commitment to the quality of its products.
This day cream has a nice, creamy consistency, but doesn't feel overly heavy at all. It's slightly richer than a gel moisturizer like Origins GinZing Gel Moisturizer, but not as thick or heavy as some other creams, like CeraVe Moisturizing Cream. It has a light/medium citrus fragrance, probably because of the citrus essential oil.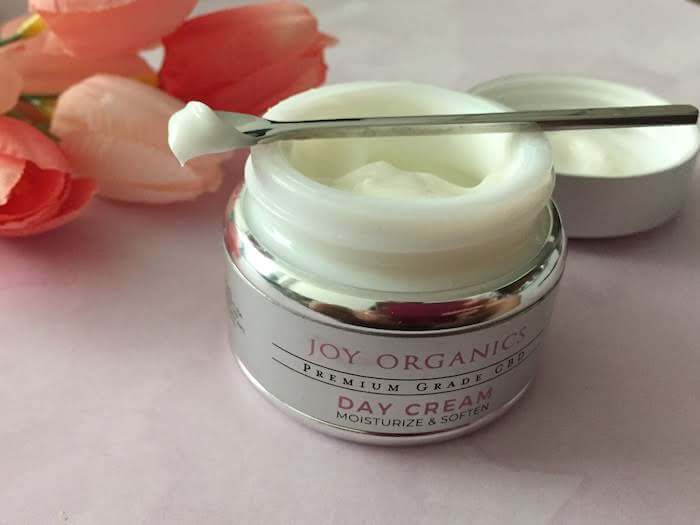 CBD benefits for skin
The star ingredient in this day cream is CBD, and I think it's great that Joy Organics states exactly how much CBD is included in this cream: 100 mg per 1-oz. jar. In the U.S., hemp plants must contain no more than 0.3% THC in order to be legally classified as hemp rather than marijuana. Joy Organics sources its CBD from hemp plants grown in the U.S. and is very upfront about the fact that its CBD oil is completely THC-free, so you can rest easy knowing exactly what you're getting. It even publishes third-party lab results to confirm that its products are 100% THC-free.
The research on CBD is still very preliminary, so unfortunately we don't have access to rigorous studies that can ascertain a clear link between CBD and its potential benefits for skin (or its long-term effects on your body). However, the research so far is promising, indicating that CBD may provide anti-inflammatory benefits, and may help treat skin conditions like psoriasis and acne.
If you're still unsure about CBD skincare, just remember that lots of other skincare products use plant-derived ingredients like borage seed oil, and you don't question it. Just think of CBD as another type of plant-derived ingredient that could provide benefits for skin.
Other moisturizing ingredients
Aside from the star ingredient (CBD), this moisturizer also features sweet almond oil as a main component. According to this study, sweet almond oil may help improve the complexion of your skin and reduce scarring. Sweet almond oil is also a main ingredient in Cetaphil Moisturizing Cream, so if you like that moisturizer, you might think of the Joy Organics CBD Day Cream as a nice way to explore the potential benefits of CBD skincare.
Other powerhouse ingredients include sodium hyaluronate (an efficient moisturizer) and gotu kola (tiger grass) extract, which is in some of my favorite skincare products, including Origins Mega Mushroom Relief Treatment Lotion and Dr. Jart+ Cicapair Tiger Grass Color Correcting Sunscreen. Tiger grass is always pretty effective at soothing my skin—and this herb has been found to deliver benefits for wound healing, eczema, and psoriasis.
Last thoughts
At the end of the day, I think Joy Organics CBD Day Cream is a premium-grade moisturizer that includes a variety of quality moisturizing ingredients, with the addition of one unusual one: CBD. This day cream left my combination skin feeling hydrated, but not oily, which is a tough balance to achieve.
I think it's a good choice for anyone who has dry or oily skin, since it does a great job of hydrating your skin without leaving it feeling overly heavy or oily. As my dad mentioned, hemp oil is good for balancing out oily skin, and may help regulate your skin's natural production of oil. However, it's important to keep in mind that you're paying a premium for the inclusion of THC-free CBD, not just ordinary hemp oil. If you're curious to see if this new ingredient could help improve your skin complexion and reduce inflammation, I think this is a good product to try, since Joy Organics is transparent about where it sources its CBD, and it provides lab results that confirm that its CBD products are completely THC-free.
You can learn more about Joy Organics CBD Day Cream here on their website (use code MDTC to get 15% off your purchase). If you make a purchase and use this code, you'll be supporting my blog, which is much appreciated.
I wasn't sure what to expect from my first CBD skincare experience, but I think was pleasantly surprised. After using Joy Organics CBD Day Cream, I'm more open to the possibility of trying other products that make use of this ingredient. I'm also excited to see more research around CBD's potential skincare benefits.
Have you used CBD skincare products before? Let me know if there are other CBD skincare products I should try.
Related reading
Note: This post uses affiliate links, which means that I'll receive a commission if you make a purchase after clicking a link (at no extra cost to you). See our
disclosure policy
.