If your skin is in need of some tender loving care, give it a taste of this Mega Mushroom Soothing Treatment Lotion.
I grew up eating Fruity Pebbles and coffee cake for breakfast, so I didn't start thinking about nutrition until I first started working for a nutritionist in college. At that job, I learned about Dr. Weil, whose website served as a trusted resource for that particular nutritionist. Our skin is an organ, and whatever we apply to our skin is like nutritious food. So it makes total sense that Origins would partner with Dr. Weil to create a Mega Mushroom Soothing Treatment Lotion, based on this superfood.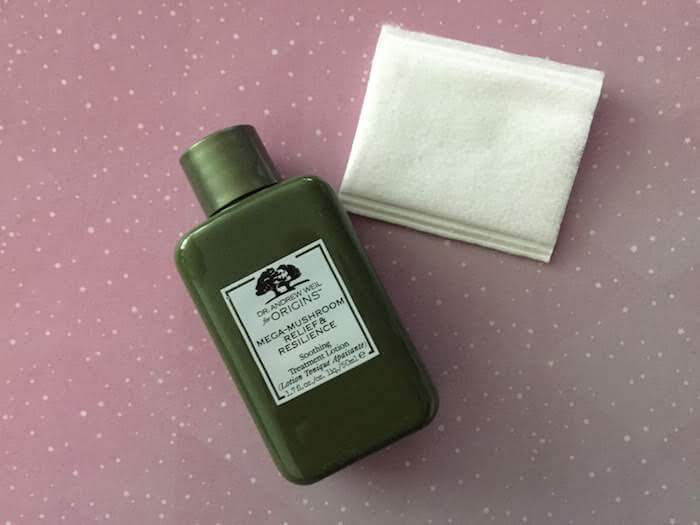 "Satoru and Toru had skillfully prepared the mushrooms they had collected. Toru had cleaned the mushrooms of any dirt or mud, and Satoru had torn the large ones into pieces, leaving the smaller ones as they were, before briefly sautéing them in a small frying pan they had also brought along. Then he put the sautéed mushrooms into the pot of already boiling water, stirred in some miso, and let it all simmer for a little while."

--Strange Weather in Tokyo, Hiromi Kawakami
Sometimes I wonder what life would be like if I were a vegetarian. I don't think I could ever seriously consider if it I weren't allowed to eat mushrooms. I love them all kinds of mushrooms: enoki, shitake, oyster, you name it. I actually prefer oyster mushrooms over real oysters. Luckily, mushrooms also happen to be very healthy—they contain vitamins, antioxidants, and anti-cancer compounds. If you've ever heard of vitamin C serum, you know that this antioxidant is great for you, whether you ingest it (as orange juice, for example) or apply it topically to the skin. It makes sense that mushrooms fit into this line of logic as well.
Origins Mega Mushroom Soothing Treatment Lotion ingredients
water, butylene glycol, peg-4, citrus aurantium dulcis (orange) oil, lavandula angustifolia (lavender) oil, pogostemon cablin (patchouli) oil, citrus nobilis (mandarin orange) peel oil, pelargonium graveolens flower oil, boswellia carterii (olibanum) oil, limonene, linalool, citronellol, geraniol, ganoderma lucidum (reishi mushroom) extract, fuscoporia obliqua sclerotium extract, cordyceps sinensis (mushroom) extract, ergothioneine, camelina sativa seed oil, lactobacillus ferment, hippophae rhamnoides extract, zingiber officinale (ginger) root extract, curcuma longa (turmeric) root extract, ocimum sanctum (holy basil) leaf extract, helianthus annuus (sunflower) seed oil, silybum marianum fruit extract, saccharomyces lysate extract, centella asiatica (hydrocotyl) extract, hypnea musciformis (algae) extract, caffeine, sucrose, salvia sclarea (clary) extract, saccharomyces ferment filtrate, peg-40 hydrogenated castor oil, gellidiella acerosa extract, trideceth-9, glycerin, glycereth-26, polysorbate 20, sodium hyaluronate, tocopheryl acetate, maltodextrin, pentylene glycol, sodium hydroxide, citric acid, potassium sorbate, phenoxyethanol, organic sunflower oil, organic sea buckthorn extract, organic ginger extract, organic turmeric extract, organic sucrose (brown sugar)
As you can see, this Origins Mega Mushroom Soothing Treatment Lotion is chock full of natural extracts and oils. The main mushroom-derived ingredients that go into its "Mega Mushroom" name are reishi mushroom extract and cordyceps sinensis extract.
A few highlights:
Origins Mega Mushroom Soothing Treatment Lotion Review
Origins Mega Mushroom Soothing Treatment Lotion is more like a toner than a lotion. It's very watery, and the directions recommend shaking up the bottle before applying some to your hands and patting it on your face. It has a nice medicinal smell, due to the centella asiatica/tiger grass. I personally like the smell, but some people might find it unattractive. I feel like it has helped soothe my skin after applying acids—when I was using The Ordinary Glycolic Acid Toner, I used this Mega Mushroom Soothing Treatment to help keep my irritated skin from complaining too much.
Personally, I don't like the super liquidy consistency of this treatment lotion, but I guess it's so packed with natural extracts that a little goes a long way. The ingredient list reads like a nutritious tonic that you could eat (except for butylene glycol, maybe). Applying this Mega Mushroom Soothing Treatment Lotion won't be quite as satisfying as eating a delicious pan-fried oyster mushroom, but at least it will deliver a similar level (or higher) of nutritious benefits for your skin.
Related reading
Note: This post uses affiliate links, which means that I'll receive a commission if you make a purchase after clicking a link (at no extra cost to you). See our
disclosure policy
.