This face wash is great for travel (a little goes a looong way), but may not be suitable for acne-prone and/or sensitive skin.
I've you've ever been unlucky enough to suffer from cystic acne, you probably know that touching your face—or letting anyone else touch it—is a no-no. It's a sad, but no matter how much I love someone, I really don't want that person's hands to make contact with my face unless (a) it's a matter of life or death; or (b) that person has impeccably clean hands. If you think that sounds crazy, you're either a better person than I am or you've never had really bad acne before.
I just finished a page-turner of a novel, Dark Rooms, by Lili Anolik; the protagonist is a recent high school grad who's trying to find her younger sister's murderer. I recommend reading it if you liked Reconstructing Amelia and other books that talk about discovering just how little you knew about someone after he/she dies. This book included a passage where the protagonist tells her mom not to touch her face; though she claims that it's because she's afraid of breakouts, it's also because she's angry at her mom and afraid that she'll become less angry if she lets her mom get too close to her:
"You look exactly the same. You're just the same."

Her words are like a slap to the face, hurting me but waking me up, too. How could I have forgotten? That she seems perceptive and sympathetic but is really neither? That I love her but that I don't trust her, not for a second? And, most important, that I can never, never as in never ever, make myself vulnerable to her?

I catch her hand roughly by the wrist. "No touching," I say. "My skin'll break out."

Mom looks puzzled, even a little hurt, but vanity as a motivating force is something she understands all too well, so she nods her head.

—Dark Rooms, Lili Anolik
Anyway, this is all a long way to say that even though I'm vigilant about not touching my face, for some reason, I don't always inspect the ingredients list of every single product before using it, especially if it was gifted to me, rather than something I bought on my own.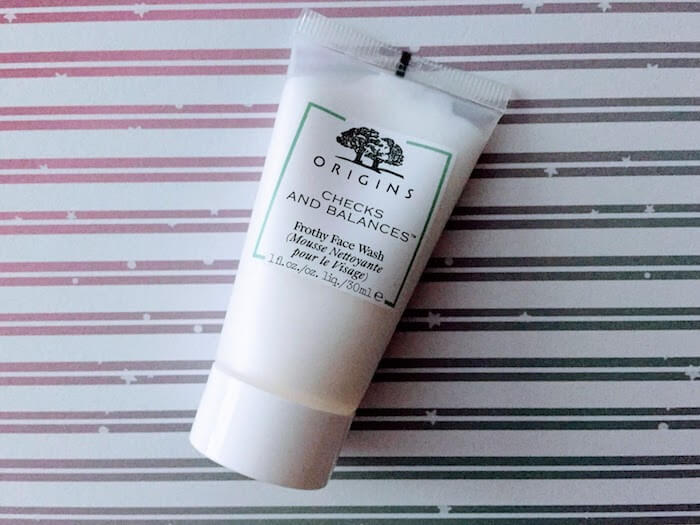 One example is Origins Checks and Balances Face Wash, which I tried and liked, before later realizing that it contains several comedogenic ingredients. Now that I'm aware of that fact, will I continue to use it? Maybe, but I don't know if I would recommend the same for anyone else who struggles with acne. Read on to learn about the ingredients in this face wash and what I liked and didn't like about it.
Origins Checks and Balances Face Wash ingredients
water, lavandula angustifolia (lavender) flower water, myristic acid, glycerin, behenic acid, sodium methyl cocoyl taurate, palmitic acid, potassium hydroxide, lauric acid, stearic acid, anthemis nobilis flower oil, mentha viridis (spearmint) leaf oil, pelargonium graveolens flower oil, lavandula hybrida oil, citrus aurantium bergamia (bergamot) fruit oil, styrax benzoin gum, linalool, peg-3 distearate, tourmaline, laminaria saccharina extract, hydrolyzed wheat protein, cetearyl alcohol, polyquaternium-7, butylene glycol, disodium edta, methylchloroisothiazolinone, methylisothiazolinone
Like MUJI Face Soap, Origins Checks and Balances Face Wash contains two fatty acids that may be comedogenic, according to Acne.org: myristic acid and lauric acid. Acne.org recommends avoiding products that contain comedogenic ingredients in the first seven ingredients, and this product violates that requirement: It includes myristic acid (which has a comedogenic score of 3) as the third ingredient. Lauric acid has a slightly higher comedogenic score (4) but it doesn't appear within the first seven ingredients.
Another few things to note about the ingredient list: it includes methylchloroisothiazolinone and methylisothiazolinone, two preservatives that are normally included in shampoos, and are potentially more irritating than other preservatives, since they're only permitted in "rinse-off" products (anything that's designed to be rinsed off, such as a shampoo or conditioner, rather than a leave-in conditioner or facial moisturizer). This tells you something about the potential irritation factor of the preservative: if it's only allowed in rinse-off formulas, but banned from leave-on products, that means that it's potentially too irritating to be left on the skin for long periods of time. Therefore, I think this face wash may not be a good choice for anyone who is particularly sensitive to preservatives, or has noticed problems in the past with products that contain these rinse-off-only preservatives.
Origins Checks and Balances Face Wash review
I started using Origins Checks and Balances Face Wash without paying too much attention to the ingredients list, because it was included in a "best of Origins" skincare gift set that my friend gave to me for my birthday. I loved the size (1 oz.) for travel, and best of all, you only need a very small amount of this face wash to thoroughly cleanse your face, so the small travel-size bottle lasts for a really long time. The consistency of the face wash is almost like melted caramel. You really only need about a pea-sized amount of this face wash to cover your whole face and dissolve physical sunscreen without a problem.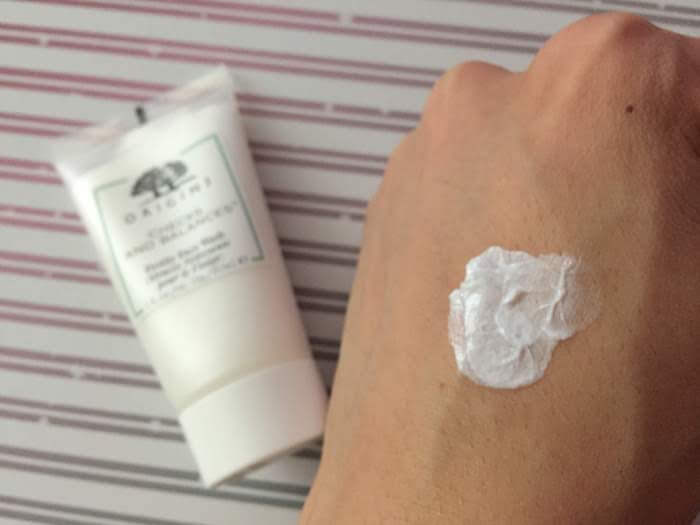 Normally, when I'm at home, I double cleanse with an oil cleanser like Kose Softymo Deep Treatment Cleansing Oil (read the review here), and then follow up with a non-foaming cleanser like Whole Foods Gentle Skin Cleanser. However, when you're traveling it's a pain to keep up the double-cleanse method, so I prefer to use a foaming cleanser that will be able to remove my physical sunscreen at the end of the day. Origins Checks and Balances Face Wash fit that bill perfectly. I have used it on a handful of trips already and I'm still only about halfway through the bottle. It is fragrance-free but contains essential oils that give it a nice citrusy scent. To me, the bergamot oil probably comes through the strongest, even though lavender water is the second ingredient. It also leaves your skin feeling pleasantly cool and refreshed. It's somehow both energizing and relaxing when it needs to be—in the morning, it's invigorating (maybe because of the spearmint oil), and at night, it leaves your face feeling nice and oil-free, without being overly drying.
In my case, not checking the ingredients list probably turned out to be a good thing for me, because the myristic acid and lauric acid, as well as the preservatives, might have scared me away from using it. But I didn't notice that it caused any breakouts or irritation. However, you might not get as lucky as I did. I recommend patch testing it by cleansing just a small portion of your face (maybe your jawline?) to see if it causes any irritation or breakouts.
Related reading
Note: This post uses affiliate links, which means that I'll receive a commission if you make a purchase after clicking a link (at no extra cost to you). See our
disclosure policy
.