My first impressions of this serum after a few weeks of use. Plus, what kind of retinol (and what concentration) does it actually contain?
THE INKEY LIST, to put it in Zoolander lingo, is…"so hot right now." This company continues to take the world of skincare by storm, following in the tradition of transparent, affordable skincare that has garnered so much success for the The Ordinary. However, instead of The Ordinary's signature glass bottles with droppers, THE INKEY LIST products are packaged in plastic tubes or bottles with black-and-white labels. The company only sells 20 skincare products, all of which cost under $20—which maybe explains why, when I checked a few minutes ago, over half of those products were sold out.
In the U.S., you can buy THE INKEY LIST products either on the company's website or from Sephora. I've been curious about this brand for a while, so I bought THE INKEY LIST Retinol Serum from Sephora and will be reviewing it today. It's not just my first time using any INKEY LIST product—it's also my first experience with using any retinol product. So I thought it would be helpful to compare it to one of the more established over-the-counter retinol brands, RoC, available at just about any drugstore. This company has cornered the drugstore retinol market for years, so I was curious to get my dad's thoughts on how THE INKEY LIST's Retinol Serum stacks up against the RoC Retinol Correxion Max Daily Hydration Crème (which costs about twice as much). I chose the fragrance-free version, since THE INKEY LIST's retinol serum is also fragrance-free.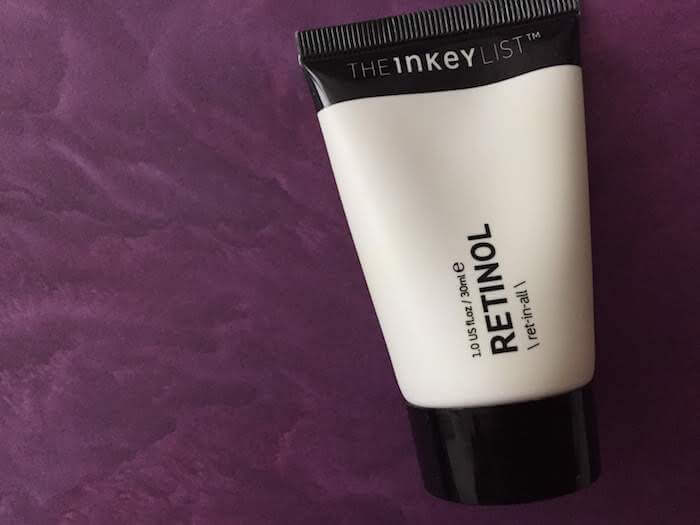 THE INKEY LIST Retinol Serum ingredients
water, glycerin, butylene glycol, propanediol, dicaprylyl carbonate, dimethicone, hydroxyethyl acrylate/sodium acryloyldimethyl taurate copolymer, caprylyl glycol, phospholipids, caprylic/capric glycerides, squalane, dimethyl isosorbide, glycine soja (soybean) extract, carbomer, sodium ascorbate, tocopherol, polysorbate 60, tocopheryl acetate, glycolipids, sodium hydroxide, disodium edta, hydroxypinacolone retinoate, retinol, glycine soja (soybean) sterol, leuconostoc/radish root ferment filtrate, peg-40 hydrogenated castor oil, hyaluronic acid, polysorbate 20, palmitoyl tetrapeptide-7, palmitoyl tripeptide-1, phenoxyethanol
THE INKEY LIST Retinol Serum: What type (and concentration) of retinol does it include?
THE INKEY LIST Retinol Serum actually includes RetiSTAR, which is a form of stable retinol mixed with tocopherol, sodium ascorbate, and PEG-40 hydrogenated castor oil in caprylic/capric triglycerides. It also contains 0.5% granactive retinoid (aka hydroxypinacolone retinoate). It is slightly yellow in appearance, perhaps because of the castor oil.
According to BASF, the maker of RetiStar, 1% RetiStar is equivalent to 0.05% retinol concentration, so this serum contains much less retinol than you would think. According to this double blind study, 0.2% retinol was found to be just as effective for anti-aging as 0.025% tretinoin (a form of retinoic acid available by prescription only). However, 0.2% retinol is four times as much concentration as 0.05% retinol (the amount in THE INKEY LIST Retinol Serum, though this serum also include 0.5% granactive retinoid). The RetiStar information sheet also mentioned that it should not be combined with vitamin C (ascorbic acid, ascorbyl palmitate, sodium ascorbate) or vitamin E (tocopherol), since they may decrease the stability of RetiStar. THE INKEY LIST Retinol Serum includes two of these no-no ingredients: sodium ascorbate and tocopherol. Other forms of vitamin C (sodium ascorbyl phosphate) and vitamin E (tocopheryl acetate) are compatible with RetiStar, but THE INKEY LIST doesn't use those. Instead, it chose to incorporate two "incompatible" ingredients with its 1% RetiStar, for some reason. This means that the retinol included in this serum may be less stable than it
Retinol (aka Vitamin A) is touted for its anti-aging benefits, but there are so many derivative forms on the skincare market that it's hard to keep track of them all. Tretinoin is probably the most widely researched retinoid that has proven effects for treating signs of aging and acne. However, it is also known to be irritating, and is only available via prescription.
RoC Retinol Correxion Max Daily Hydration Crème Fragrance Free ingredients
water, pentaerythrityl tetraethylhexanoate, glycerin, dimethicone, ppg-15 stearyl ether, stearyl alcohol, cetearyl alcohol, butylene glycol, glyceryl behenate, ceteareth-20, isohexadecane, dimethicone crosspolymer, cyclopentasiloxane, polyethylene, sodium polyacrylate, phenoxyethanol, caprylyl glycol, sodium acryloyldimethyltaurate/vp crosspolymer, polyacrylamide, ptfe, c13-14 isoparaffin, chlorphenesin, polysorbate 20, hydrolyzed mytrus communis leaf extract, retinol, bht, sodium hyaluronate, disodium edta, sodium hydroxide, laureth-7, ascorbic acid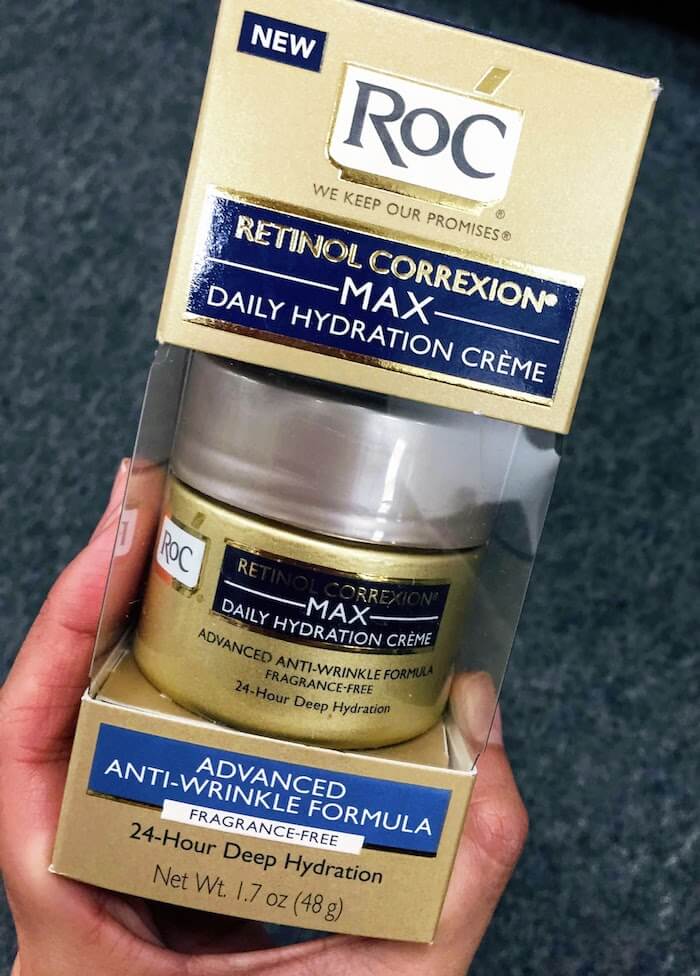 RoC Retinol Correxion Max Daily Hydration Crème Fragrance Free didn't say anything about the retinol percentage included. I sent my dad both ingredient lists. Here's what he said.
My Dad the Chemist's review of The Inkey List Retinol vs. RoC Retinol Correxion Max Daily Hydration Crème (Fragrance-free)
Dear Emily, if neither formula claims as OTC Drug Product, ( list "Drug Facts: X% Retinol ") the first formula should be as or more effective than the second formula unless the second formula contains higher amount of stable retinol. Both formulas contain Caprylyl Glycol and Phenoxyethanol as preservatives, and the combination is one of the safest and effective preservation systems.

Love,
Dad
The "first formula" was THE INKEY LIST Retinol Serum in this case. It's hard to say which of these products contains a higher percentage of stable retinol, since RoC doesn't advertise this information. He thinks that both products use safe and effective preservatives: caprylyl glycol and phenoxyethanol.
The Inkey List Retinol review
I've been using THE INKEY LIST Retinol Serum for a few weeks now. According to the FAQs on the website, this retinol serum is not recommended for use with alpha hydroxy acids (lactic acid and glycolic acid) or vitamin C due to potential irritation. If you want to use it in conjunction with an acid, they recommend adding a 20-minute buffer period to reduce irritation. The site also advises using it only at night, since it increases your sensitivity to UV radiation. I use it at night, and use vitamin C in the morning.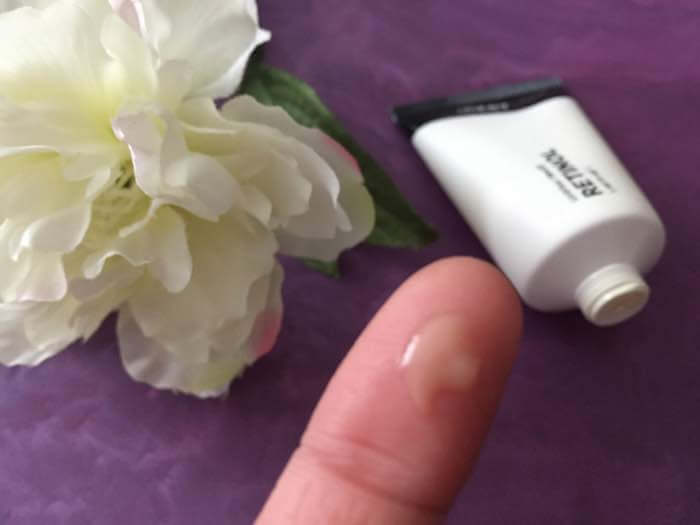 I wasn't sure if it was ok to use Differin at the same time as this retinol, but I haven't noticed any irritation. Differin, also known as adapalene, is also a retinoid. I only apply a pea-sized amount of each, so maybe that's why. I haven't experienced any extra dryness or irritation from using this retinol, but I also make sure to use rosehip oil to keep my skin moisturized at night. The squalane and glycerin in this formula help moisturize the skin and protect it from getting dry. THE INKEY LIST Retinol Serum includes moisturizing ingredients like glycerin, hyaluronic acid, dimethicone, and squalane that help offset irritation/dryness from the retinol/retinoid.
Why I won't be repurchasing THE INKEY LIST Retinol Serum
THE INKEY LIST Retinol Serum is affordable, but the percentage of "stable" retinol included is quite low: just 0.05% retinol. It does also contain 0.5% granactive retinoid, but it's unclear how much benefit that ingredient delivers. I like that it's fragrance-free, but I don't like how it contains ingredients (tocopherol and sodium ascorbate) that may reduce the stability of the retinol in RetiStar, THE INKEY LIST Retinol Serum's star ingredient. even though tye're listed right in the RetiStar technical information sheet, and available for the public to see.
Why THE INKEY LIST Retinol Serum may be right for you
Aside from these misgivings that I have about THE INKEY LIST Retinol Serum, I do think it has helped slightly improve the texture of my skin in the mornings after using it. I haven't noticed any major results, but I do see a few reasons why it could potentially be worth trying, especially at its enticing price point.
It provides a gentle, budget-friendly introduction to retinoids: This product is a very affordable way to see if RetiStar could be effective at achieving your anti-aging goals.

As a bonus, you also get two peptides in this formula: palmitoyl tetrapeptide-7 and palmitoyl tripeptide-1, to help enhance the anti-aging benefits that the retinol and granactive retinoid are already delivering. This means that it contains multiple types of multi-aging ingredients—not only retinoids but also peptides—for a one, two punch.

it contains moisturizing glycerin, hyaluronic acid, dimethicone, and squalane to help offset potential irritation.

If you do end up choosing to try this product out, make sure you keep it in a cool place, to prolong the stability of the retinol. According to BASF, the maker of RetiStar, it stays stable for a minimum of 18 months when stored at low temperatures (5-10 Celsius, or 41-50 Fahrenheit). After it has been opened (exposed to air), it can last at those ideal temperatures for a few weeks without losing more than 10% retinol.
THE INKEY LIST Retinol Serum seems like a good option for anyone who's afraid of the potential irritation factor that retinol products will introduce. I do think it offers a nicer entry-level alternative than RoC, which is more expensive even though it doesn't state the concentration of retinol included in the formulation. However, if you're interested in finding the most effective anti-aging product, you are probably better off looking for a prescription-level product like tretinoin, since it's probably going to be much more potent than anything you'll find in over-the-counter options.
Related posts
Note: This post uses affiliate links, which means that I'll receive a commission if you make a purchase after clicking a link (at no extra cost to you). See our
disclosure policy
.