Learn about our stay at this luxury resort, which included an upgrade to an Ocean View room in the Napua Tower, idyllic sunsets—and even complimentary sunscreen.
Grand Wailea is possibly the best hotel we've ever stayed at. We were initially concerned when booking the hotel, since reviews we read online said that the property was dated, and only suitable for families (not adult couples). Fortunately, we didn't find any of this to be true, and we had an awesome time. As a matter of fact, we also stayed at the Four Seasons (right next door to the Grand Wailea) for the last night of our trip, and we much preferred our time at the Grand Wailea. Our stay was exceptional in part because we made good use of our Hilton Diamond Status (since Grand Wailea is a Hilton property), but we would have enjoyed it regardless.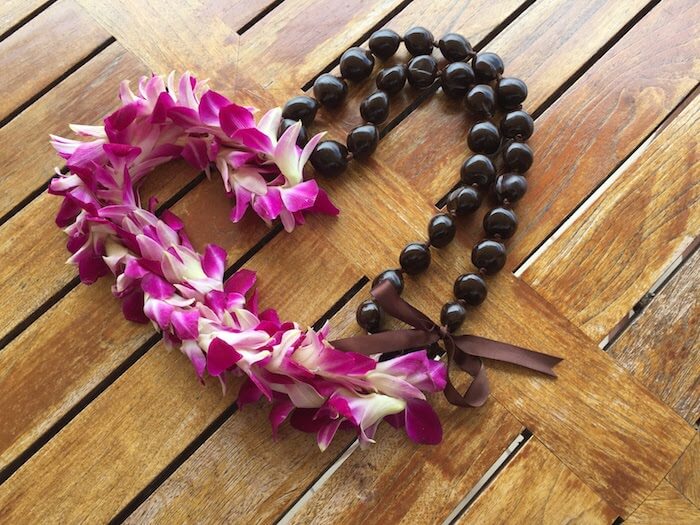 Initial impressions: Are we in heaven?
The hotel lobby was impressive—it was even more majestic and beautiful than we had expected. We had watched a few YouTube videos that walked through the property, but they simply didn't do it justice. Once we arrived at the property, even after a long day of travel, we instantly felt relaxed and knew we made a good choice in hotels. And we were each greeted with a beautiful lei.
The Grand Wailea Ocean View room: Best. Balcony. Ever.
When we checked in, we were expecting an upgrade to an Ocean View room (from a Terrace View room) due to our Hilton Honors Diamond Status. However, when we checked in, we were fortunate enough to find out that not only did we get an upgrade to an Ocean View room, but we also got upgraded to the Napua Tower.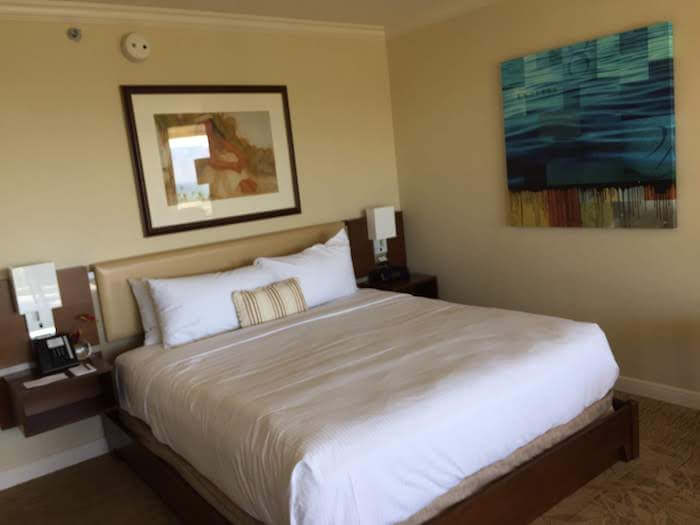 Grand Wailea recently renovated its rooms in 2017, and they're pretty large and clean. The bed was also very comfortable. The bathroom was spacious and included generously sized toiletries from Grand Wailea Spa Grande, the on-site spa. You can read a review of the shampoo, conditioner, body wash, and lotion in a separate post.
What made the room really special to us was the balcony that overlooked the ocean. We spent every morning drinking our coffee and eating our breakfast from the Napua Lounge here, and watching sunsets in the evening. Though the rooms themselves are the same between the Ocean View rooms and the Terrace View rooms, the view is what really made the room special to us.
Here was the view from our balcony on the eighth floor: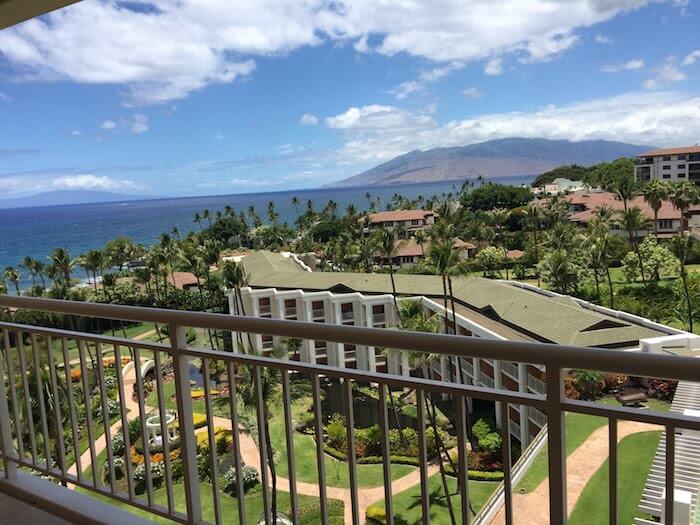 Maui really does have the most breathtaking sunsets I've ever seen in my life. Make sure to look up the sunset time every day so you can plan to watch for it, instead of being stuck inside. You'll be sorry if you miss this wonderful but short (only 10-15 minutes) spectacle on any night of your stay.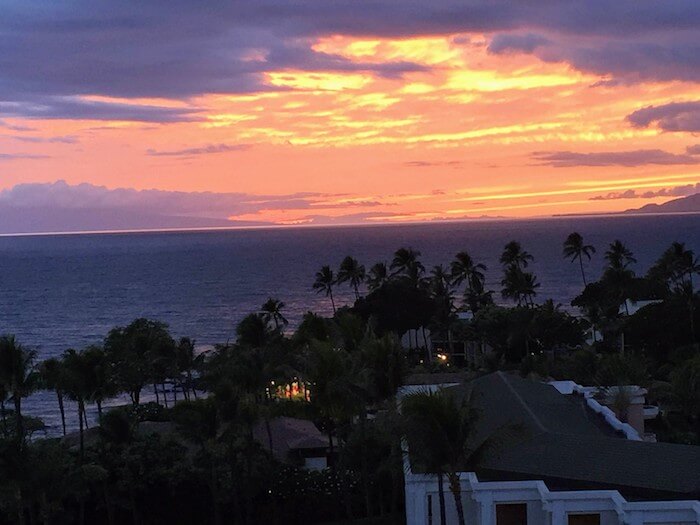 The price difference between the Terrace View and Ocean View rooms is ~$150 a night which is a bit steep. However, if you get the Hilton Amex Aspire card (described below), you are very likely to get upgraded to an Ocean View room.
The Napua Lounge
The Napua Lounge is a lounge accessible only to those staying in the Napua Tower. We've read online that even though we have Diamond Status with Hilton, that it's really rare to get upgraded to the Napua Tower, but we got lucky. You can also upgrade to the Napua Tower when you check in, but it'll cost somewhere between $100-$150/night, which I probably wouldn't pay for myself. Rooms in the Napua Tower are the same as Ocean View rooms elsewhere, so you're only paying for the food and drinks.
The Napua Lounge gives you:
Free breakfast each morning (which you can take back to your room and enjoy on your balcony)

Appetizers in the evening (which are substantial enough to serve as a meal)

Free drinks/cocktails in the evening

Free bottled water

Free reef-safe sunscreen / aloe vera (although these are also available at the front desk and throughout the pool area)

Here was the schedule of Napua Club benefits they gave us: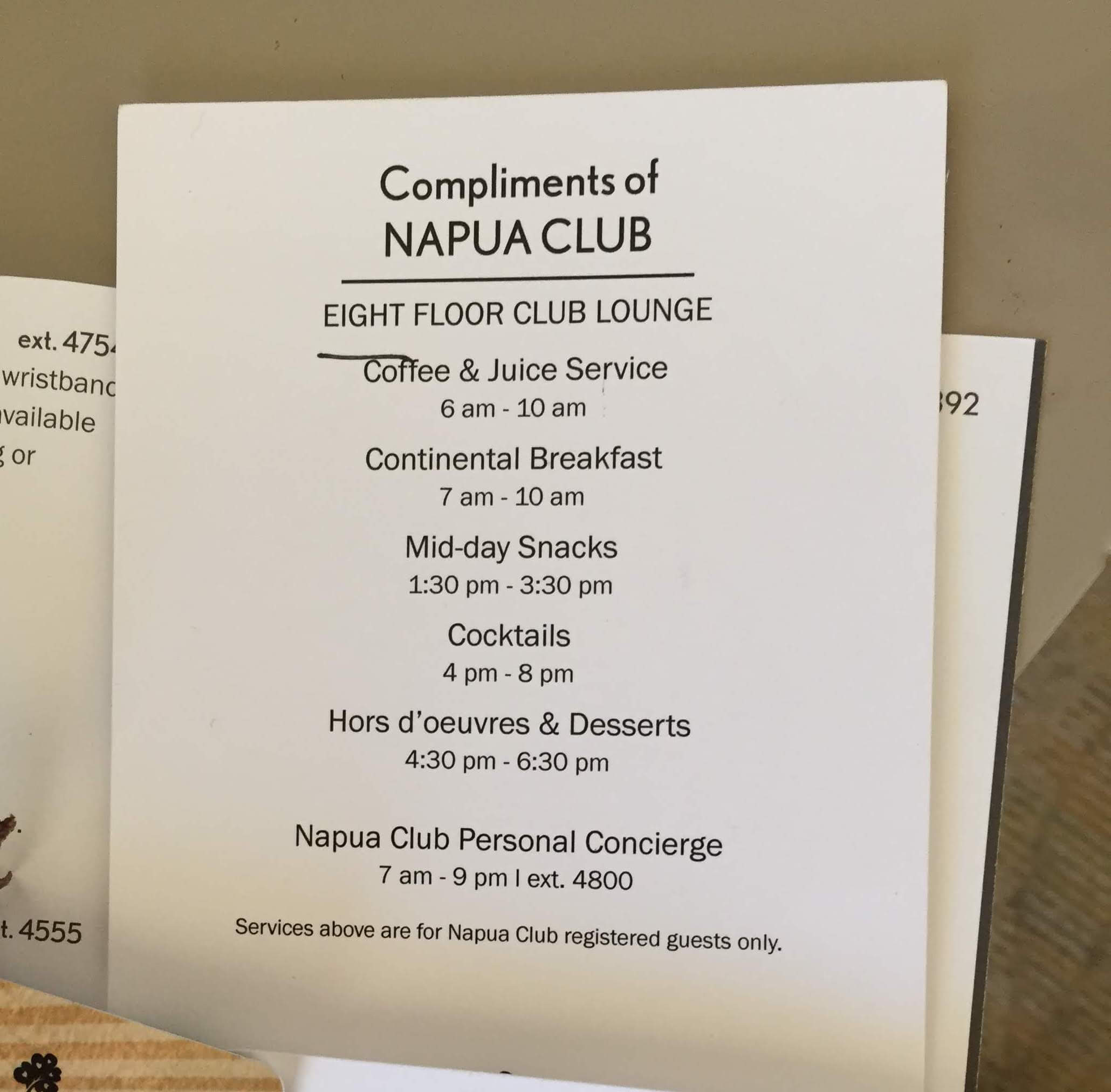 We especially liked the evening appetizers (4:30–6:30pm every day), which had several healthy and tasty food options. If you're not too hungry, you could just eat these appetizers for dinner. Each day's hors d'oeuvres featured two main appetizers and two smaller appetizers.
Main appetizers (usually one meat- or seafood-based option and one vegetable) during our stay included: miniature-sized Beef Wellington with chimichurri sauce, clams with collard greens (yum), roasted asparagus, and broccoli rabe. Side appetizers included: tuna poke, oysters rockefeller, and crab salad on slices of cucumber. I was surprised to see that the appetizers actually changed every day, though some things stayed the same—you could always get the salad bar, charcuterie, and cheese, for example.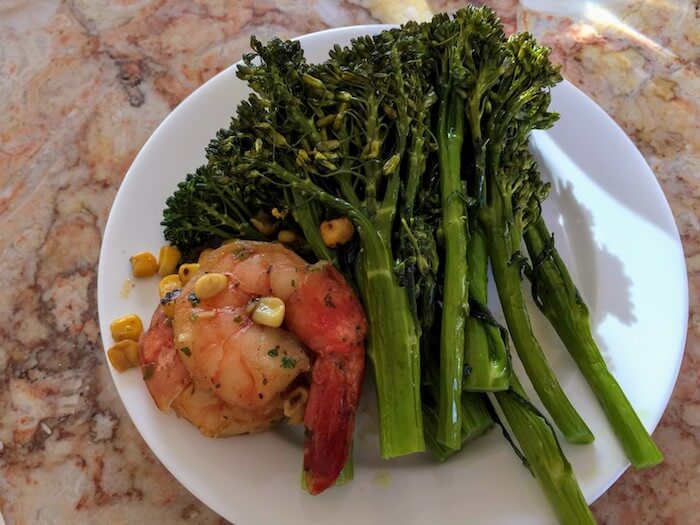 And of course, I appreciated the free sunscreen and aloe vera—we made heavy use of these during our stay.
The Grand Wailea Maui Pool & Beach
The prime beachfront location and the pool area are ultimately why people stay at Grand Wailea. The beach walk is a great place to view the sunset every night. This path provides the scenic route from the Grand Wailea to other resorts along the beach, including the Marriott, the Four Seasons, and the Fairmont Kea Lani.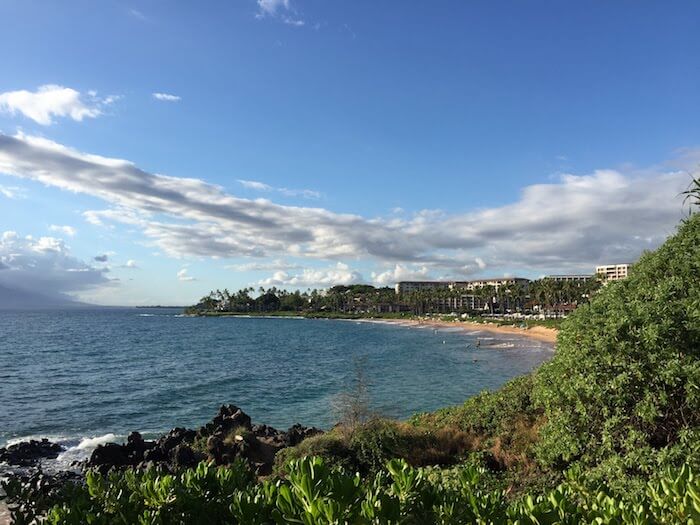 Grand Wailea is pretty famous for its water park, which is great for both kids and adults. We really enjoyed riding down the various water slides. Some of the smaller water slides are suitable for very young kids, but there are also larger waterslides for adults. The slides close at 5pm every day, so make sure to get there before then or you won't be able to enjoy them. You'll also need to pick up a new pool wristband from the concierge in the morning if you plan to hit the pool that day. Though we enjoyed going down the various slides, we didn't end up spending too much time in the pools, since we personally prefer spending our time at the beach. Sunscreen is also provided at the front desk.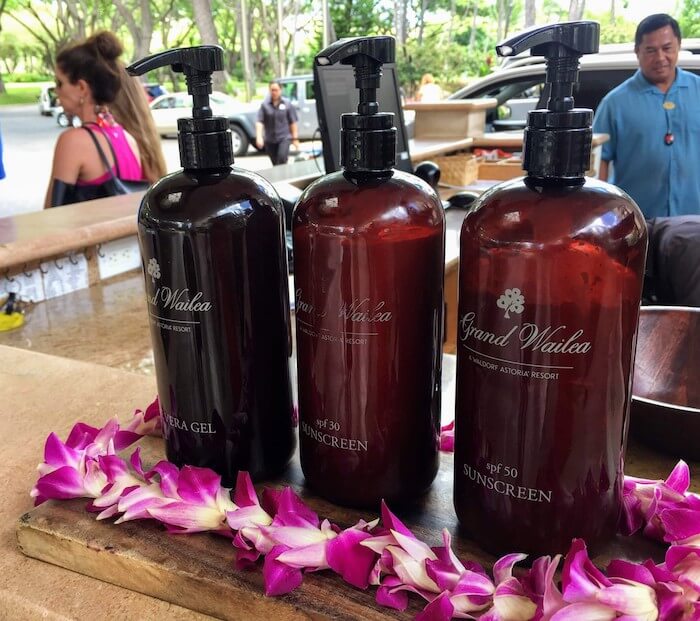 Speaking of which, the beach is incredible! It's a bit crowded, but for good reason. We didn't feel the need to visit other beaches during our stay, even though Maui has several beautiful beaches.
As part of the Grand Wailea resort fee, you get free access to beach chairs and umbrellas to protect you from the sun. When you head down to the beach, there's a little beach valet station where they'll provide you with towels and connect you with someone who will help set you up with a beach chair and umbrella. The valet station also provides complimentary sunscreen, so you can reapply while waiting. There's a one-hour grace period for beach chairs, meaning that you may lose your spot if you leave it unattended for longer than an hour. However, if you do lose your seat, it's not a big deal since you can always ask for another.
The ocean water was pretty clear, and we even saw a turtle very close to the shore! We noticed some people snorkeling, but when we tried it out for ourselves, we found that there wasn't much to see. If you're looking for snorkeling, you should probably go elsewhere or sign up for a dedicated tour. The waves can also get pretty big, especially in the afternoon, so the ocean may not be suitable for very small kids—they should probably stay at the pool or up a little higher on the beach.
Grand Wailea dining review: Go for Sunday brunch
Honestly, we were a bit underwhelmed with the food at Grand Wailea. Though the website lists several dining options, we found the selection to be pretty limited.
HUMUHUMU is Grand Wailea's high-end restaurant, serving Hawaiian fare and seafood. Though the prices were high, the food wasn't necessarily memorable. I think you're mostly paying for the view at this place, rather than a grade-A culinary experience. Overall, we'd suggest skipping it.
The one thing we did find to be exceptional was the Sunday Brunch at Grand Wailea, which featured various types of seafood and other hot dishes. We especially liked the crab legs and oysters. For $65/person, we thought it was a great deal, and probably the best meal we had during our trip. Unfortunately, it only happens on Sundays—on other days, it's just the typical breakfast buffet (no special seafood). I also liked the desserts, particularly the blueberry tart (I probably ate three of these despite the fact that I was already pretty stuffed by the time I discovered them).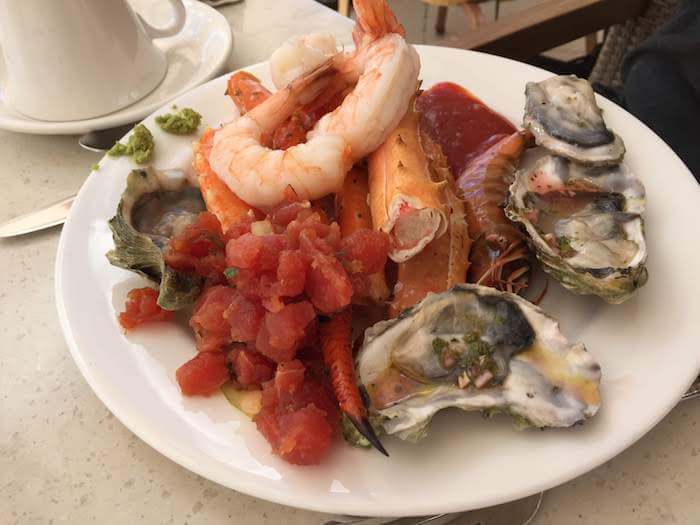 The other bright spot at Grand Wailea if you're looking for some affordable food options is at Cafe Kula. Here, you can get reasonably priced sandwiches, salads, burgers, and pizza. If you're looking for something fast and easy, Cafe Kula is a pretty good option. You can also order a whole Maui Gold pineapple (they'll cut it up for you) here.
Other than that, there are some reasonable food options within walking distance at The Shops at Wailea, which is a retail area that's maybe a 5 or 10-minute walk from Grand Wailea. We went to Lappert's for ice cream a few times during the trip, and the Island Gourmet Markets grocery store to eat poke (we heard that some of the best poke is at the local grocery stores) and to pick up a bottle of Clear Care contact solution (a must-have when we travel anywhere for longer than a few days).
Grand Wailea room rate: Pricey unless you plan ahead
We got an incredible price for our room, thanks to our Hilton Honors status, and due to other various credit card promotions we qualified for.
At the time we were booking, the cheapest rooms were going for ~$650/night + 14.42% tax and $40 resort fee, which come out to about $782 a night. Based on my research, this is about typical for the hotel. Though this may be an eye-popping price, hotels in Maui are generally pretty pricey. All of the other top resorts in the Wailea area (Four Seasons, Andaz, Fairmont Kea Lani) all being in a similar price range.
If you must, paying for the room in cash is certainly an option. To help subsidize the cost though, I'd highly recommend applying for the American Express Hilton Aspire credit card beforehand, which will get you:
Automatic Hilton Diamond Status
150,000 Hilton Honors points (at the time of this writing)

A $250 resort credit (which applies to Grand Wailea)
1 free weekend night certificate per year
An estimated ~20% cashback in Hilton Honors points (if you assume a .6c/point valuation, which is what most bloggers value these points at)
Free room upgrades
Note that the card has certain requirements to get these perks: You have to spend $4,000 within the first three months to get the Hilton Honors points. This card also has a $450 annual fee—but you can easily make up for that by leveraging the benefits above. The free weekend night certificate alone is worth ~$782 if you use it at the Grand Wailea Maui.
We ended up paying for our 6-night stay using HHonors points. Since we have status with Hilton, if you pay for 4 nights with points, you get the 5th night free. Each night at the Grand Wailea costs 95,000 Hilton HHonors points (and as a bonus, when you book with points, you don't have to pay taxes or fees), so we ended up paying 95,000 * 4 = 380,000 points.
If we were paying in cash, this would have cost us $782*5 = $3,910. (However, if we were paying in cash, we would have also received roughly 20% cashback in points, so let's say it would have cost us $3,910 * .8 = $3,128.) This means that we were able to redeem our points at a .8c/point valuation, which is substantially more than the typical .6c/point valuation that many personal finance bloggers typically give. We also used the free weekend night certificate that came with our Hilton Aspire card.
In addition, we were able to use our $250 resort credit at the property. We were also able to charge tours (booked through the Napua Club concierge) and some food to the room. Since we paid for these room charges with the Hilton Aspire card, we got roughly 20% cashback on those purchases, which effectively amounted to a 20% discount.
All in all, we feel like we got a great deal, mainly because of the benefits that came with our Hilton Aspire credit card. Otherwise, we would have had felt a little less happy about spending so much on a vacation.
A grand time at the Grand Wailea
During our trip, we stayed at Grand Wailea and the Four Seasons Maui. My sister and her husband also stayed at the Fairmont Kea Lani, so we were able to see that room and property. Out of these three hotels, our personal favorite is the Grand Wailea, especially if you're able to get an Ocean View upgrade or an upgrade to the Napua Lounge (which, admittedly, can be hard to come by).
Related posts
Note: This post uses affiliate links, which means that I'll receive a commission if you make a purchase after clicking a link (at no extra cost to you). See our
disclosure policy
.