Learn all about the ginseng, caffeine, peptides, and other powerhouse ingredients that put the 'zing' in this eye cream.
I've always thought of eye creams like bandages—the wound is already there, you're just trying to cover it up. Chances are, if you're tired enough to have baggy eyes, you probably need more sleep. No amount of eye cream is going to deflate the puffiness. That said, I do get that there is some sort of psychological benefit that comes along with dabbing a bit of eye cream under your eyes when you've had a less-than-restful night. I tend to use it when I need to get up slightly earlier than usual for some reason. It helps me feel like I'm pampering and rewarding myself for getting up at that painfully early hour (I'm not a morning person).
Origins's GinZing Eye Cream was included in the Origins bestseller gift set I received from a friend, so I've been giving it a try whenever I feel like my morning needs a boost of luxury. The name "GinZing" comes from a mixture of "ginseng" and "zing," I suppose. And the "zing" comes from caffeine, which is an ingredient that's actually pretty commonly found in the skin care world, and particularly eye creams. Coffee doesn't just wake up your brain—it also wakes up your skin.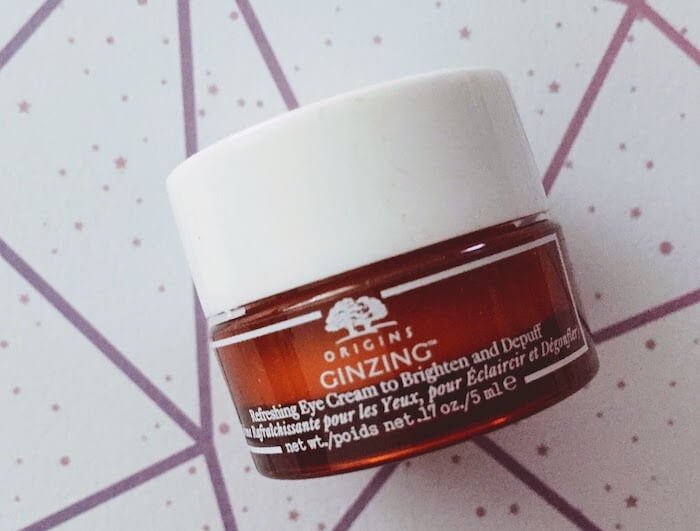 Origins GinZing Eye Cream ingredients
water, methyl trimethicone, butylene glycol, peg-100 stearate, dimethicone, cetyl ricinoleate, silica, olea europaea (olive) fruit oil, glycerin, behenyl alcohol, cucumis sativus (cucumber) fruit extract, panax ginseng (ginseng) root extract, castanea sativa (chestnut) seed extract, camellia sinensis (green tea) leaf extract, cordyceps sinensis extract, magnolia officinalis bark extract, pyrus malus (apple) fruit extract, scutellaria baicalensis root extract, pantethine, panthenol, caprylic/capric triglyceride, butyrospermum parkii (shea butter), caffeine, coleus barbatus extract, yeast extract, folic acid, hydrogenated lecithin, jojoba wax peg-120 esters, biotin, tribehenin, myristyl alcohol, palmitoyl tetrapeptide-7, trehalose, sodium hyaluronate, ascorbyl tocopheryl maleate, hesperidin methyl chalcone, sodium sulfite, sodium metabisulfite, steareth-20, dipeptide-2, ethylhexylglycerin, carbomer, tromethamine, sorbic acid, chlorphenesin, phenoxyethanol, mica, titanium dioxide (ci 77891), iron oxides (ci 77491, ci 77492, ci 77499)
This product contains a number of interesting ingredients, including:
- ginseng root extract: ginseng is a root that is touted for its medicinal properties particularly in Asia. I've definitely had more than a cup of ginseng tea in my day. Ginseng contains ingredients like peptides and fatty acids that can provide benefits to the skin as well. This study showed that ginseng provides anti-inflammatory and antioxidant benefits that help fight the enzymes that cause hyperpigmentation.
- caffeine is commonly used in eye creams, because it is an antioxidant that helps protect the skin from UV damage (and therefore delivers anti-aging properties). It also stimulates blood circulation, which may help relieve under-eye circles and puffiness.
- green tea extract: also a source of rich antioxidants, this can also provide an extra boost of protection against damaging UV rays.
- cordyceps sinensis extract: cordyceps is a type of fungus that is may help increase energy and eliminate fatigue, when taken orally. I'm not sure what benefit it has when applied topically, but it doesn't hurt. Read more about cordyceps here.
- biotin: we all have heard of taking biotin supplements for healthier hair, skin, and nails, but how about applying it topically? Even the National Institutes of Health states that more studies need to be conducted in order to verify the effectiveness of using biotin supplements to improve hair, nail, and skin health. This may be one of those ingredients that's included simply for name recognition.
- moisturizing ingredients like shea butter and sodium hyaluronate.
- palmitoyl tetrapeptide-7: Peptides have been shown to help improve the appearance of aged skin. This study found a collagen-like peptide helped reduce the appearance of wrinkles in the under-eye area. Another study found that a cream that contained palmitoyl tetrapeptide-7, vitamin E, xylitol, and other ingredients helped improve the appearance of wrinkles, and boosted elasticity, when applied to the face over the course of four weeks.
Origins GinZing Eye Cream review
Origins's GinZing Eye Cream comes packaged in a tiny travel-friendly tub. I use my pinky to dab it along my under-eye area and the outer corner of each eye as the last step in my morning routine. One day I accidentally applied it to the under-eye area before inserting my contacts, which was a mistake. I usually need to pull gently down on that area in order to make the surface area of my exposed eyeball larger, so I can insert my contacts. This led to some stinging as I got some eye cream on my fingertips and then transferred it to my contacts somehow. Anyway, just remember to be smarter than me and put this eye cream on after you've already inserted your contacts (if you wear them).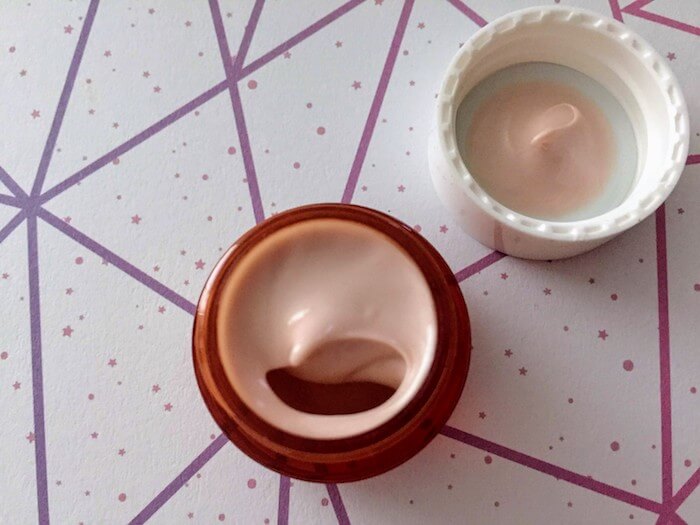 Interestingly this eye cream is tinted with iron oxides, just like a tinted moisturizer. Perhaps it helps offset the darkness of raccoon eyes that appear when you get broken capillaries around that area. My under-eye area doesn't usually get that dark so I don't know if it would help with that problem. However, the tint wasn't enough to change the color of my skin. It seemed to blend pretty nicely into my skin, without leaving any noticeable trace that I had applied anything.
I do think this eye cream can be slightly irritating if you get it into your eyes for some reason. I also felt a bit of irritation, perhaps just because the area around my eyes tends to be more sensitive than the rest of my face.
Still, I do like how it includes moisturizing and anti-aging ingredients like peptides, sodium hyaluronate, caffeine, and ginseng, among others. However, since I'm afraid of irritating my eye area, I might try applying it to other areas of my face instead, such as my laugh line area or neck.
I'm also excited to try Origins GinZing Energy-Boosting Gel Moisturizer, since it also contains ginseng. I never knew that ginseng could help with brightening the skin and hyperpigmentation—I always just thought of it as something you drank in a tea or soup as a restorative medicine. So stay tuned for my review of the gel moisturizer sometime over the next few weeks!
Related reading
Note: This post uses affiliate links, which means that I'll receive a commission if you make a purchase after clicking a link (at no extra cost to you). See our
disclosure policy
.