A mom-approved sunscreen that's fragrance-free, lightweight, and doesn't clog pores.
From the name of this blog, you might (correctly) surmise that I tend to pepper my dad with more questions about the products I use every day. But today I'm going to flip the switch and talk about a product that came recommended by my mom: Olay Complete Moisturizer Sensitive (SPF 15). She bought a two-pack of this at Costco, and liked it so much that she suggested that I start using it, too. When someone like my mom recommends something to you, you listen, because she has pretty high standards. She also has sensitive skin (and passed that on to me), so she understands the importance of choosing products that are specifically developed to be gentler and less irritating.
My mom is actually one of the main reasons why I'm so obsessed with sunscreen to this day. I ended up liking this sunscreen so much that I used it all throughout college. Today I'm finally going to write a review of this tried-and-true sunscreen, more than 10 years after I first started using it. I no longer use it every day because I've graduated to higher-SPF products, but I still use it once in a while because it's so lightweight and easy to throw on right before you head out the door.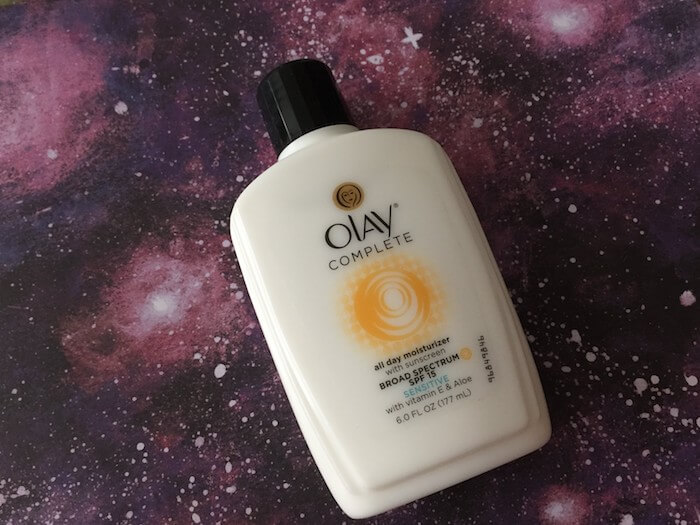 Olay Complete Moisturizer Sensitive SPF 15 ingredients
Active ingredients: octinoxate (6%), zinc oxide (3%)

Inactive ingredients: water, glycerin, isohexadecane, aloe barbadensis leaf extract, tocopheryl acetate, steareth-21, cyclopentasiloxane, polyacrylamide, stearyl alcohol, c13-14 isoparaffin, behenyl alcohol, dmdm hydantoin, cetyl alcohol, peg/ppg-20⁄20 dimethicone, laureth-7, steareth-2, disodium edta, triethoxycaprylylsilane, oleth-3 phosphate, bht, iodopropynyl butylcarbamate
This sunscreen contains one chemical sunscreen active (octinoxate) and one physical one (zinc oxide). It has also been formulated with moisturizing ingredients like glycerin, aloe extract, and fatty alcohols like stearyl alcohol and cetyl alcohol. It also contains vitamin E (tocopheryl acetate), which is an antioxidant that can help boost the UV-protective properties of this moisturizing sunscreen.
It's marketed as a moisturizer for sensitive skin, so it makes sense that fragrance is not listed as one of the ingredients. However, it does contain DMDM Hydantoin, a type of preservative that is a formaldehyde releaser and commonly found to be an allergen for some people with sensitive skin. It also was rated one of the more potentially hazardous preservatives in this research report by the Environmental Defense Fund.
Personally, I have never had a problem with this moisturizer and find it to be pretty gentle and non-irritating. However, it just goes to show that we all need to remember to actually look at the ingredients all the time—even if a product is labeled as "sensitive," it could still contain ingredients that trigger a reaction, or preservatives that are simply too irritating for our sensitive skin.
Olay Complete Moisturizer Sensitive SPF 15 review
Olay products are cruelty-free, which is a nice bonus. They also don't require their suppliers to test on animals. Though the SPF factor is smaller than I normally like, it still filters out 93 percent of UVB rays, according to the Skin Cancer Foundation. As a reference point, SPF 30 filters out 97 percent, while SPF 50 filters out 98 percent of UVB rays.
The texture of the sunscreen is a little thicker than a ranch dressing but not oily at all. It goes on pretty sheer without leaving much of a white cast at all. It doesn't smell strongly of anything. It's also fairly lightweight and doesn't seem to cause any new breakouts on my acne-prone skin (another reason why I used it all throughout college, back when my skin was even more acne-prone than it is now).
For those who have oily skin like me, note that this sunscreen doesn't go on as matte as something like Australian Gold Botanical Tinted Sunscreen (my current favorite for everyday use). But for days when I'm only planning to be outdoors for short periods of time, or during months when my skin tends to feel more dry, this moisturizer does a good job of keeping my skin moisturized without weighing it down or clogging pores.
Related reading