If your skin is dry or irritated, give it the chance to drink up this smoothie-like mask of soothing, moisturizing, and anti-inflammatory ingredients.
Every year, after the holiday season has come and gone, I'm left with the unsettling realization that we still have several months of cold weather ahead. Thankfully, we have Christmas (and in my case, birthday) presents to comfort us until spring finally decides to show up. I received an Origins bestsellers gift set from a dear friend of mine, and I've been slowly working my way through it—so look out for more Origins product reviews to come! Today's post will focus on the Origins Drink Up Intensive Overnight Mask, which comes packaged in a cute little green tube and includes avocado and Swiss glacier water as the main ingredients. Pretty luxurious, right? It's like a high-end avocado smoothie for your skin. First we'll take a look at what else goes in this mask. Then I'll share my personal thoughts about this product, now that I've given my skin a few chances to drink up this mask.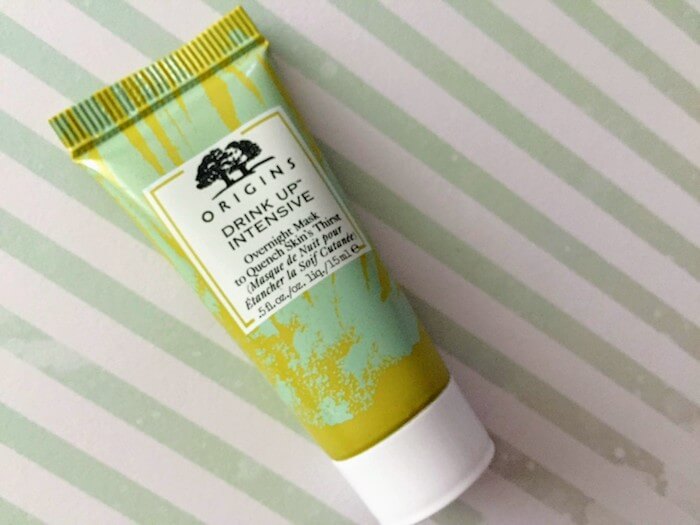 Origins Drink Up Intensive Overnight Mask ingredients
water, glycerin, cetyl alcohol, glyceryl polymethacrylate, niacinamide, hydroxyethyl urea, peg-75, dimethicone, persea gratissima (avocado) oil, ppg-15 stearyl ether, peg-8, glycereth-26, sorbitan stearate, citrus aurantium amara (bitter orange) leaf/twig oil, citrus aurantium dulcis (orange) peel oil, ricinus communis (castor) seed oil, osmanthus fragrans flower extract, rosa damascena extract, ribes nigrum bud extract, cinnamomum camphora (camphor) leaf extract, benzaldehyde, hexenyl acetate, gamma-decalactone, ionone, ethyl acetate, alcohol, linalool, limonene, isopropyl isostearate, peg-100 stearate, citrus aurantium dulcis (orange) peel wax, prunus armeniaca (apricot) kernel oil, mangifera indica (mango) seed butter, sucrose, hypnea musciformis (algae) extract, avena sativa (oat) kernel extract, triticum vulgare (wheat bran) extract, cladosiphon okamuranus extract, cetearyl alcohol, caffeine, oryza sativa (rice) extract, gelidiella acerosa extract, butylene glycol, aloe barbadensis leaf extract, pantethine, olea europaea (olive) fruit extract, cocos nucifera (coconut) oil, punica granatum (pomegranate) sterols, sorbitol, caprylyl glycol, tocopheryl acetate, oryzanol, trehalose, bisabolol, cetyl ethylhexanoate, sodium hyaluronate, carbomer, hexylene glycol, potassium hydroxide, dextrin, disodium edta, potassium sorbate, phenoxyethanol
Swiss glacier water
Origins Drink Up Intensive Overnight Hydrating Mask lists "water" as the first ingredient, but "water" doesn't do it justice—according to the official website, this mask is formulated with "Swiss glacier water."
Avocado oil
The other key ingredient highlighted on the product page is avocado, which takes the form of avocado oil in this ingredient list. Avocados include antioxidants (vitamin C and vitamin E). They also contain compounds like lutein and zeaxanthin, which help ward off radiation-related damage to skin when applied topically. Ingesting avocados was also found to help improve skin elasticity and lead to wrinkle reduction. See this article for more details (note that this article was sponsored by the HASS Avocado Board).
Osmanthus fragrans flower extract
At first glance, I thought that osmanthus fragrans flower extract was added mainly for fragrance purposes, but it turns out that this extract also lends anti-aging benefits.
Avena sativa (oat) kernel extract
I was happy to see that avena sativa (oat) kernel extract was included in this mask. This ingredient is often listed as the active ingredient in eczema lotions, as it is a very effective ingredient for soothing inflammatory conditions and improving the health of your skin barrier.
Rice (oryza sativa) extract
Rice (oryza sativa) extract includes palmitic, stearic, oleic, and linoleic acids, as well as antioxidants, that were shown to help soothe patients with atopic dermatitis (eczema) who bathed in a rice bran solution. See this article for more details.
Algae extract
Two types of algae extracts are also included in this mask. This study indicates that some algae extracts could help provide similar effects to kojic acid, by lightening skin/reducing melanin production (indicating that this ingredient could be used to treat hyperpigmentation). This product includes red algae (hypnea musciformis) extract and brown algae (cladosiphon okamuranus) extract. Brown algae is found in Japan and has been shown to exhibit anti-inflammatory benefits. Algae extract is also listed as an ingredient in:
Other goodies
This mask also includes a few other oldie-but-goodie standbys, like niacinamide and sodium hyaluronate. Bisabolol is also in this formula, which my dad highlighted as a "nice anti-irritant" when he saw it in Cetaphil Hydrating Eye Gel Cream (read the review here). All in all, I'm pretty impressed that Origins managed to pack so many beneficial ingredients into one formula.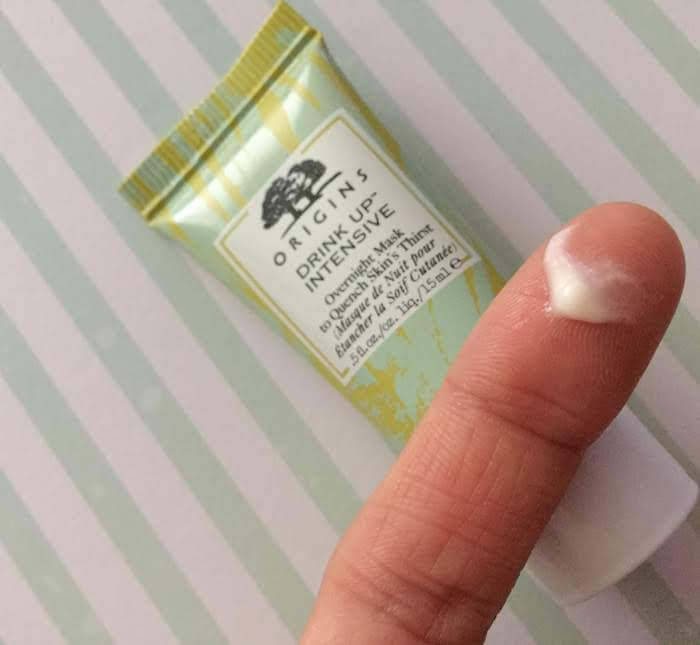 Origins Drink Up Intensive Overnight Mask review
So does this mask live up to the hype behind all of its ingredients? After using it a few times, I think I'm pretty pleased with this mask, even if it doesn't deliver any revolutionary improvements (but then again, what does?). I'd say it's a solid option to add to your rotation, if your skin needs extra soothing and moisturizing (such as after using an acid peel like this. The cream itself has a green tint as well, reminiscent of avocados, a main ingredient in this mask. However, since avocado oil (the source of avocados in this mask) is colorless, I'm not sure where the green color comes from.
The texture of this mask is similar to CeraVe Moisturizing Cream, except not as oily, since it doesn't contain any petrolatum. It sinks into the skin without feeling too heavy. It may actually be closer to a pastry cream or the inside of a fruit tart, if that makes sense.
It seems to sort of dissolve into your skin, like your skin really is following the command in the product name ("Drink up!"). The other thing you should know about this mask is that it smells like pears (but that might just be me, since I don't see pear listed in the ingredients). I know that avocado oil doesn't really have a fragrance (since I cook with it almost every day). Maybe the citrus ingredients in this mask are responsible for the scent. Anyway, even though it doesn't list "fragrance" as an ingredient, it's definitely not scent-free, so just keep that in mind if you're sensitive to strong fragrances (natural or otherwise).
I think this mask is actually light enough for daytime use if you live in an area with dry climate, or during the wintertime when your skin needs a bit of extra hydration. It will plump up your skin without making it feel oily at all. I have oily skin, but I wouldn't mind using it during the daytime even though it's labeled as an overnight mask.
You can buy it here on Amazon, at Sephora, or directly from Origins's website. If you buy from Sephora or Origins, remember to use Ebates to get 4% to 8% cash back on your purchase. And, if you're new to Ebates, you can get a $10 bonus—in addition to any cash back earned on your purchase—by using my referral link (and it would also help support this blog, so thanks in advance)!
Related reading
Note: This post uses affiliate links, which means that I'll receive a commission if you make a purchase after clicking a link (at no extra cost to you). See our
disclosure policy
.