This face mask was included in Sephora's Sun Safety Kit 2018, and includes probiotics, shea butter, and a slew of other skin-calming ingredients.
REN Clean Skincare is a London-based company that claims that its products don't contain any harsh chemicals, and that it only uses clean, natural ingredients that benefit skin. It's also clean as in green—the company has pledged to become waste-free by 2021. Sephora's Sun Safety Kit 2018 included this mask, perhaps as a soothing post-sun mask.
I recently tried it out for the first time and wanted to share my first impressions of this mask.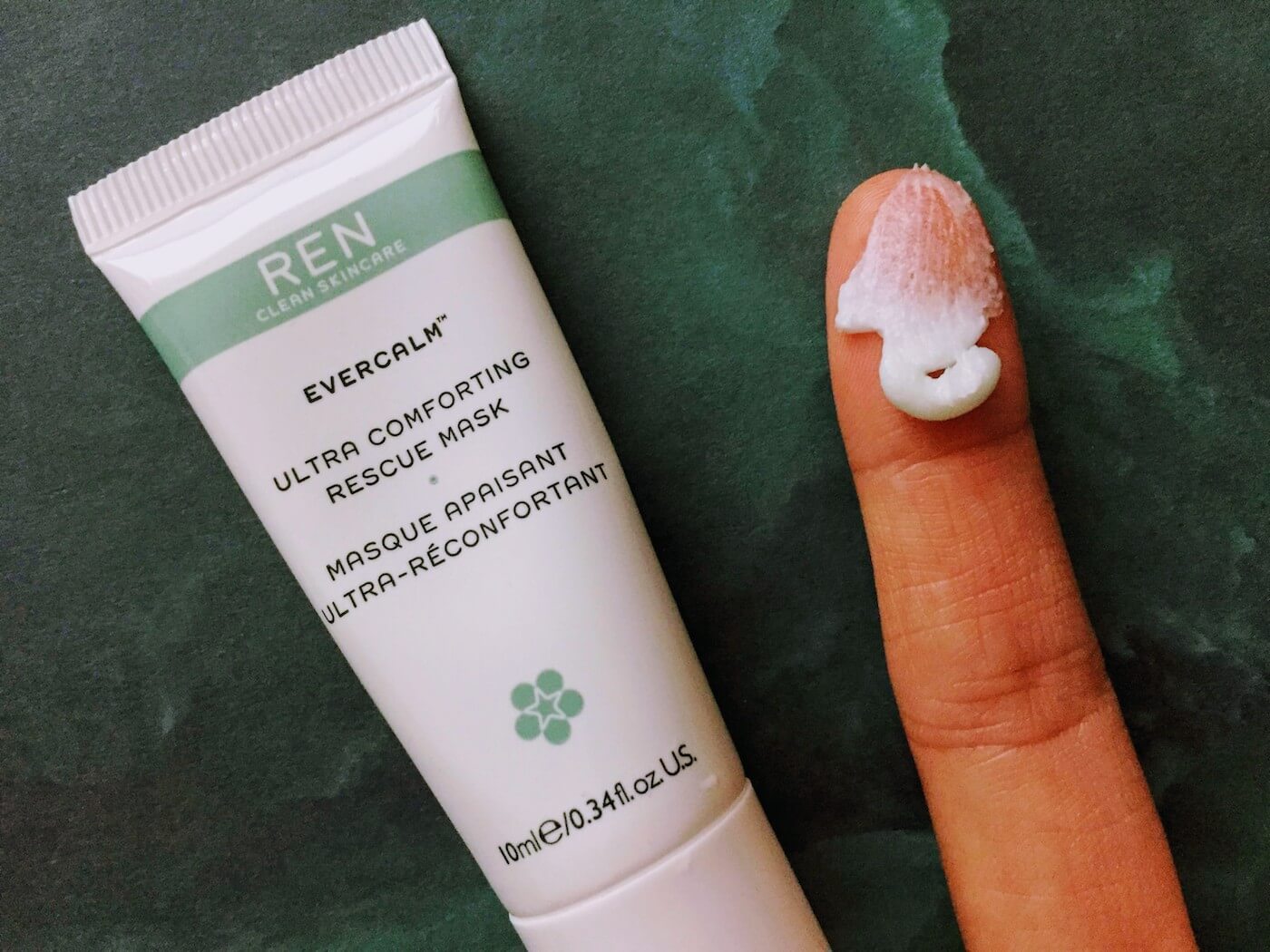 REN Clean Skincare Evercalm Mask ingredients
water, glycerin, cetearyl alcohol, caprylyl caprylate/caprate, olus oil, lactobacillus ferment, butyrospermum, parkii (shea) butter, helianthus annus (sunflower) seed wax, simmondsia chinesis (jojoba) seed oil, cetearyl glucoside, propanediol, algae extract, cetyl alcohol, lactobacillus, alpha-glucan oligosaccharide, fragrance, tocopheryl acetate, caprylic/capric triglyceride panthenol, carbomer, vaccinium vitas-idaea (lingonberry) seed oil, xanthan gum, arnica montana flower extract, camelina sativa seed oil, cocus nucifera (coconut) fruit extract, tocopherol, magnesium carboxymethyl beta-glucan, malachite extract, albatrellus ovinus extract, laminaria ochroleuca extract, glucose, phenoxyethanol, helianthus annuus (sunflower) seed oil, citric acid, sodium hydroxide, rosmarinus officinalis leaf extract, citronellol, geraniol, limonene, linalool
Good things come in twos
This mask contains a few interesting ingredients, including two mentions of "lactobacillus" bacteria: lactobacillus ferment (a probiotic bacteria) and lactobacillus. I'm not sure about the difference between these two, or why they're listed differently. Perhaps two strains of the same bacteria? The idea behind including probiotics in skincare is that it can help promote healthy bacteria that fights off unhealthy bacteria that damage the skin's defenses (such as in patients with atopic dermatitis/eczema). More details in this study.
It also contains two kinds of Vitamin E: tocopheryl acetate and tocopherol.
…and two sea-related ingredients: algae extract and laminaria ochroleuca extract (brown seaweed or kelp).
Other notable ingredients include: sunflower seed oil, jojoba seed oil, and rosmarinus officinalis leaf extract (rosemary leaf extract).
Olus oil is basically a fancy name for vegetable oil.
REN Skincare Evercalm Mask review
The instructions for REN Clean Skincare Evercalm Mask say to apply a "generous amount" to your face, leave it on for 10 to 15 minutes three times a week, and wipe off the excess instead of washing it off with water. The texture of the mask is somewhat oily and thick, a bit similar to CeraVe Moisturizing Cream. After following the instructions, my face felt a little bit like I'd just applied CeraVe cream and then wiped it off. It left a bit of oily residue, not an unpleasant feeling (it left my skin feeling moisturized), but I wasn't sure exactly if it felt any different than applying a thick layer of CeraVe cream (which is a lot cheaper than this mask).
I like product assortments like Sephora's Sun Safety Kit because they expose me to products that I'd never buy otherwise. I get to try out premium products like this REN Clean Skincare Evercalm Mask, and decide if I think they're worth repurchasing. When it comes to this particular mask, I don't think that it's worth it for me to pay the premium, but that's not to say that it wouldn't be a good option for people who react well to probiotic/fermented skincare products, and have very dry skin. I prefer my Freeman's masks and The Ordinary AHA 30% + BHA 2%, because they help my oily and acne-prone skin.
Related reading
Note: This post uses affiliate links, which means that I'll receive a commission if you make a purchase after clicking a link (at no extra cost to you). See our
disclosure policy
.