This sunscreen has been developed with WetForce technology that is supposed to enhance its UV-protective powers in the presence of water/sweat.
I've heard of water-resistant sunscreen before, but what about sunscreen that is not just resistant to water, but actually further enhanced by water? Shiseido claims that its WetForce technology does just that. Shiseido Ultimate Sun Protection Lotion WetForce Sunscreen SPF 50+ was included in the Sephora Sun Safety Kit 2018. This sunscreen is water-resistant for up to 80 minutes and includes a mixture of four FDA-approved sunscreen ingredients: avobenzone, octinoxate, octocrylene, and oxybenzone. At first glance, it looks just like any other chemical sunscreen, but let's take a closer look.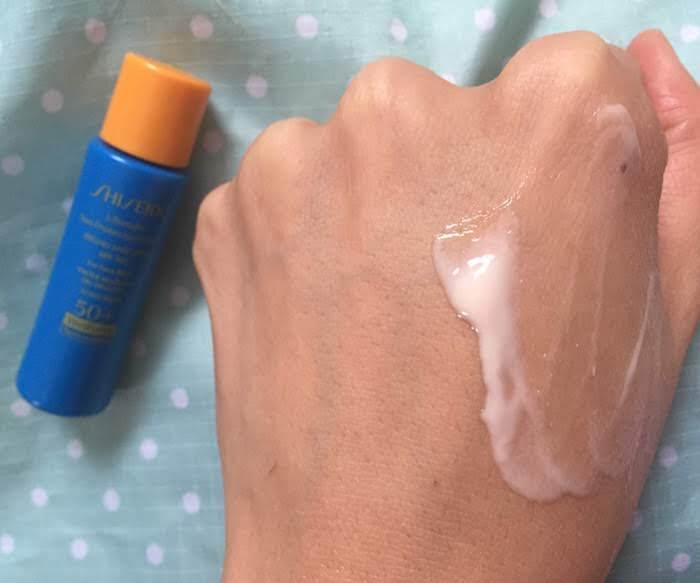 Shiseido Ultimate Sun Protection Lotion WetForce Sunscreen SPF 50+ ingredients
Active ingredients: avobenzone (2.5%), octinoxate (4.9%), octocrylene (5%), oxybenzone (3%)

Inactive ingredients: water, dimethicone, sd alcohol 40-b, talc, methyl methacrylate crosspolymer, isododecane, cetyl ethylhexanoate, diisopropyl sebacate, triethylhexanoin, lauryl peg-9 polydimethylsiloxyethyl dimethicone, glycerin, dextrin palmitate, sucrose tetrastearate triacetate, polybutylene glycol/ppg-9⁄1 copolymer, trimethylsiloxysilicate, xylitol, silica, sodium chloride, peg/ppg-14⁄7 dimethyl ether, saxifraga sarmentosa extract, sophora angustifolia root extract, disteardimonium hectorite, isostearic acid, calcium stearate, trisodium edta, vinyl dimethicone/methicone silsesquioxane crosspolymer, alcohol, bht, butylene glycol, stearic acid, sodium metabisulfite, syzygium jambos leaf extract, tocopherol, polysilicone-2, methylparaben, fragrance, iron oxides
The active sunscreen ingredients in Shiseido Ultimate Sun Protection Lotion are all approved for use in the U.S. by the FDA: avobenzone, octinoxate, octocrylene, and oxybenzone. Oxybenzone, octinoxate, and octocrylene are NOT reef-safe ingredients, meaning that they are harmful to coral and other marine life. So even though this sunscreen is designed to remain effective in the presence of water, it may be best to stick to a swimming pool rather than the ocean.
It also contains two references to alcohol: sd alcohol 40-b (aka denatured alcohol), followed by just "alcohol" later in the ingredient list. I wonder why it's listed twice. It also includes xylitol and sucrose tetrastearate triacetate, two skin conditioning agents that sound like they belong in food. Xylitol is a type of artificial sweetener, but it's also used in cosmetics because it helps soothe and moisturize skin, according to my dad. This ingredient was also used in one of Shiseido's other products: Ultimune Power Infusing Eye Concentrate. Sucrose tetrastearate triacetate is a mixture of "esters of stearic acid, acetic acid, and sucrose." Sucrose, of course, is regular ol' table sugar.
Shiseido Ultimate Sun Protection Lotion WetForce Sunscreen SPF 50+ review
Shiseido Ultimate Sun Protection Lotion is an SPF 50+ chemical sunscreen that is water-resistant for up to 80 minutes. The main thing that distinguishes it from other chemical sunscreen is that it has been formulated with Shiseido's "WetForce technology," which claims that its UV-protective powers actually get stronger after being exposed to water for 15 minutes, or after you've been sweating for 30 minutes. WetForce technology is based on the idea that this sunscreen is formulated with negative ions that bond to the positive ions in sweat and water, forming a more even layer of sun protection across your skin. See this page for more details.
I applied a few squeezes of this sunscreen to my face before heading to the gym. I have to say that I was impressed that the sunscreen didn't start pilling after my workout (as some other supposedly sweat-resistant sunscreens have been prone to do when I wear them while working out). I didn't see any streaks of white appear after sweating a good amount, the way I see sometimes with other sunscreens. It also didn't irritate my eyes even though I was sweating quite a bit.
Now moving on to the things I didn't particularly like about this sunscreen. I actually really disliked the fragrance of this sunscreen. It has a potent floral scent, like old-fashioned perfume. If you're sensitive to that type of scent, like I am, then avoid this sunscreen (or sniff it out at your local Sephora before you plunk down any cash to buy it). If you're intrigued by WetForce technology but you don't like fragrances, Shiseido also makes a version of this sunscreen for sensitive skin that looks promising. It uses physical sunscreen actives (titanium dioxide and zinc oxide) and doesn't list "fragrance" in the ingredients.
The texture of the sunscreen was also a little bit off. It felt watery/oily in some places and creamy in others. I'd prefer the whole thing to be uniformly creamy instead. On the plus side, it did blend into my skin without leaving any white cast. But the inconsistent texture made me think that maybe this formula hasn't remained so stable since the time I bought this about a year ago. Maybe it's my fault for waiting so long before trying it.
I remember from my dad's notes on Biore UV Aqua Rich Water Essence that you could test the stability of a sunscreen formula by how nicely it was emulsified:
Just need to confirm the stability of this formula (stable emulsion without separation) one way to tell is to squeeze product to your palm and observe if any running liquid coming out from the cream or not.
Shiseido Ultimate Sun Protection Lotion did not pass this test. It definitely seems like it has started separating. I don't know if you can see it that clearly, but some of the liquid has separated from the rest of the cream (look at the bottom-right edge of the cream). Even after I shook up the bottle, it seemed like it was still not that well blended.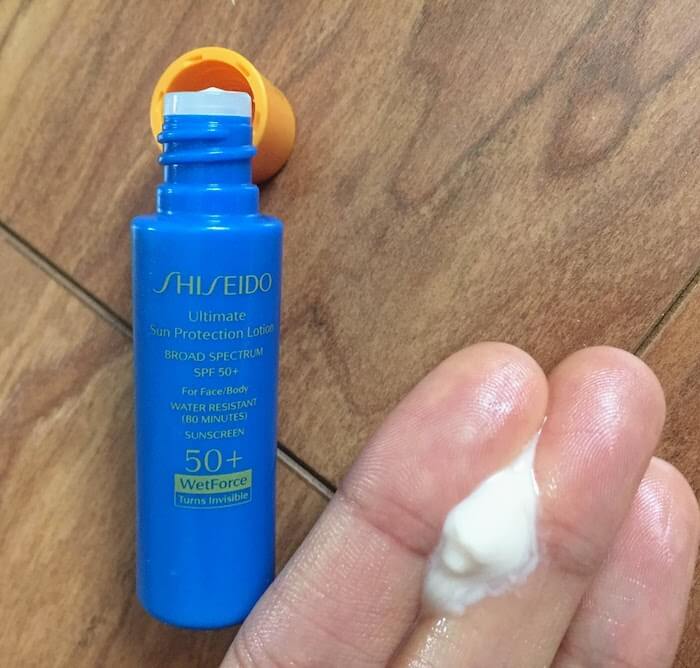 This sunscreen from Shiseido is intriguing, and is probably a good option for whenever you plan to exercise or swim (but remember, only for swimming in a pool, not the ocean, since it's not reef-safe). As long as you don't mind a floral fragrance and you find a fresh bottle that has remained stable and nicely emulsified, this could be a solid option for any day when you plan to sweat/swim and generally just have fun in the sun (without fearing the sun). It's also a pretty sheer formula, which makes it suitable for a range of skin tones.
If you want a more budget-friendly option that's also SPF 50 and water-resistant for up to 80 minutes (but is also unfortunately not reef-safe), check out NO-AD Sport Sunscreen (read my review here).
Related reading
Note: This post uses affiliate links, which means that I'll receive a commission if you make a purchase after clicking a link (at no extra cost to you). See our
disclosure policy
.