I picked up this physical sunscreen at my local TJ Maxx—but unfortunately, it turned out to be a bit too oily for my skin.
My local TJ Maxx recently revamped its layout, and significantly improved its beauty section. I was really excited to score two physical sunscreens, each priced at less than 50 percent of their retail value. One of them was CoTZ Plus SPF 58 Mineral Sunscreen, which I'm reviewing today.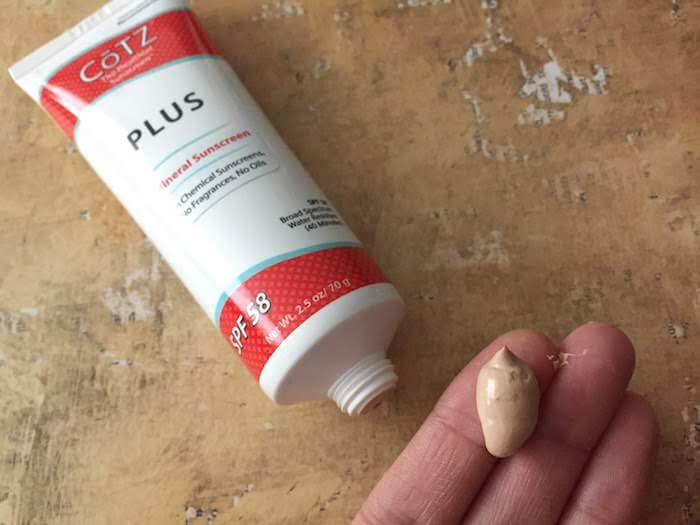 CoTZ has an interesting story behind its name. It actually stands for "Contains only Titanium and Zinc"—the company has doubled down on physical sunscreens, so all of its sunscreens are formulated with either a combination of titanium dioxide and zinc oxide, or only zinc oxide.
A while ago, I wrote a comparison of EltaMD UV Physical Tinted Facial Sunscreen SPF 41 vs. CoTZ Face Natural Skin Tone Tinted Sunscreen SPF 40, and my dad picked EltaMD's formula as the winner over CoTZ's because it used more zinc oxide, which he finds is a better, more effective sunscreen ingredient. He also liked that EltaMD's formula used a more lightweight base than CoTZ. This review is focused on a different CoTZ sunscreen, a higher-SPF option that was not specifically targeted as a "tinted face" sunscreen, but ended up being tinted anyway.
CoTZ Plus SPF 58 Mineral Sunscreen ingredients
Active ingredients: titanium dioxide (10%), zinc oxide (3%)
Inactive ingredients: acrylates c10-30 alkyl acrylates crosspolymer, butylene glycol, butyloctyl salicylate, butylparaben, capric/caprylic triglyceride, cetearyl alcohol, cetearyl glucoside, cyclohexasiloxane, cyclohexapentasiloxane, dimethicone, ethylhexyl hydroxystearate benzoate, glyceryl stearate, iron oxides, isobutylparaben, isopropylparaben, melissa officinalis (balm mint) extract, octyldodecyl neopentanoate, peg-100 stearate, phenoxyethanol, retinyl palmitate, simethicone, sorbitan laurate, stearic acid, styrene/acrylates copolymer, talc, tocopherol, tocopheryl acetate, triacontanyl pvp, trisodium edta, water, xanthan gum
The ingredients on the label of CoTZ Plus SPF 58 Mineral Sunscreen were listed in alphabetical order, which I find annoying. I wish that companies would just be more transparent about listing ingredients in decreasing order of prominence, if they can't be totally upfront about the exact concentration included.
This formula contains more titanium dioxide than zinc oxide. And though it's not marketed as a "facial suncreen," I checked its ingredient list against Acne.org's list of comedogenic ingredients and it got a score of 0 (meaning that it does not contain any ingredients on that list).
Like other tinted sunscreens, the tint in the formula comes from iron oxides, an FDA-approved ingredient that is used to provide color in many types of cosmetics.
My Dad the Chemist's review of CoTZ Plus SPF 58 Mineral Sunscreen
Dear Emily, Yes, it contains good and effective ingredients, should be a decent formula.

Love,
Dad
My dad has always been a fan of physical sunscreens particularly for sensitive skin, and he thinks that it looks like it will be an effective formula.
CoTZ Plus SPF 58 Mineral Sunscreen Review
I'll start with the things I like about this sunscreen. I like that it's a physical sunscreen, since that tends to be gentler on sensitive skin. I also like that it is non-comedogenic (or at least, it doesn't contain any of the warning flag ingredients on Acne.org's list). The high SPF rating is also a plus, and it has been tested to stay water-resistant for up to 40 minutes. That isn't quite as long as the max, 80 minutes, that you tend to see on sunscreen labels, but it's better than nothing if you expect to use it when you're sweating or swimming.
If you're worried about the percentage of active sunscreen ingredients, it contains a higher percentage of titanium dioxide than Australian Gold Botanical Tinted Sunscreen (that one contains 4% each of zinc oxide and titanium dioxide), but a lower percentage of zinc oxide.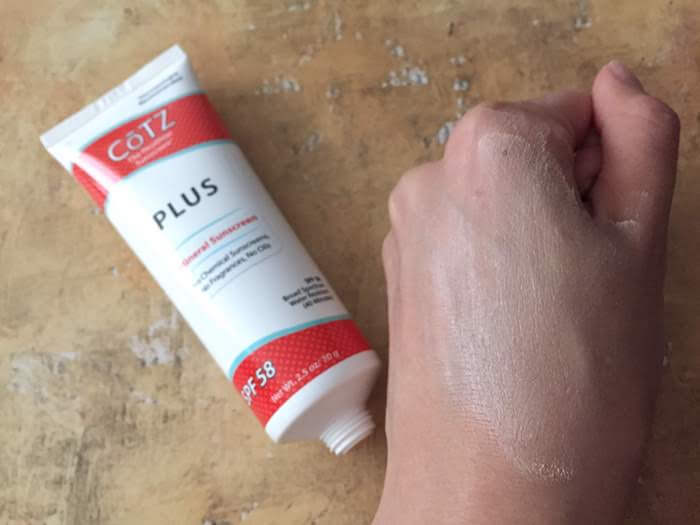 Now onto the bad news. I found the consistency of this sunscreen to be rather disappointing. At first, I was pleased to see that it was tinted, since I hoped that it would help blur my hyperpigmentation and offset any whitening effect of the zinc oxide. However, I found it to be rather chalky and oily at the same time. It went on thick and stayed like an oily layer on my face, so it definitely didn't do my oily skin any favors. The day I tried it out, it was pretty humid, so my face got sweaty on the way to work, and I could feel the sunscreen sitting on my face all day. It's probably more suitable for people who have dry skin. It may also do better during the wintertime and/or in dry climates.
I think this product appeared at TJ Maxx because it's being discontinued. After taking a look at the website, the packaging of the sunscreens looks significantly different, and the FAQ's page says that none of the products contain parabens. However, this particular sunscreen that I picked up at TJ Maxx does contain parabens. The website also doesn't show an SPF 58 option anymore—the highest it goes is SPF 50. The SPF 58 product I reviewed here contains parabens and phenoxyethanol, two types of preservatives. The CoTZ website now says that products are "preservative-free." I'm not sure how they can claim this—maybe they've found other natural stand-in ingredients that help serve as preservatives without strictly being categorized in the same boat as "chemical" preservatives?
All things considered, I would recommend passing on this tinted sunscreen if you see it at TJ Maxx or your local discount retailer. The new CoTZ formulas might be better, but I haven't personally tried them. For now, I'm going to stick with my tried-and-true tinted facial sunscreen, since it dries matte and doesn't make my skin feel quite so oily: Australian Gold Tinted Face Sunscreen.
Further reading
Note: This post uses affiliate links, which means that I'll receive a commission if you make a purchase after clicking a link (at no extra cost to you). See our
disclosure policy
.