This eye cream contains peptides for anti-aging benefits, as well as moisturizing ingredients like oils and extracts. Plus, anti-aging advice from my dad.
I don't usually buy eye creams, but they are a "nice to have" that I'll check out from time to time. That means, if someone gifts an eye cream to me, I'll give it a try and use it whenever I feel like my under-eye area is in need of a bit of brightening. This Eyes Eyes Baby Eye Cream was one of three products gifted to me by the newly launched skin care brand, Fleur & Bee.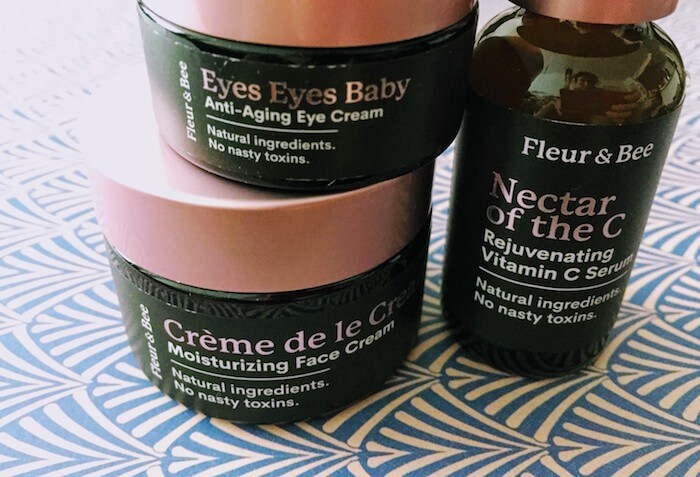 Let's take a closer look at the ingredients in the eye cream, and ask my dad what he thinks of its anti-aging potential.
Fleur & Bee Eyes Eyes Baby Eye Cream ingredients
water, glycerin, organic sunflower seed oil, stearic acid, cetearyl alcohol, glyceryl stearate, safflower seed oil, organic aloe vera leaf juice, squalane, niacinamide, tocopherol, tocopheryl acetate, palmitoyl tripeptide-1, palmitoyl tetrapeptide-7, caffeine, organic gotu kola extract, italian honeysuckle flower extract, isopropyl palmitate, japanese honeysuckle leaf extract, decyl glucoside, wild geranium extract, glyceryl caprylate, sodium carbomer, horsetail extract, butylene glycol, carbomer, organic dandelion extract, polysorbate 20, lecithin, alcohol, algae extract, escin, potassium phosphate, lavender oil, phenoxyethanol, ethylhexylglycerin, organic green tea extract, pomegranate fruit extract
This eye cream includes squalane, derived from olive oil. Like Australian Gold's Botanical Tinted Sunscreen also uses squalane derived from olives.
Other key ingredients in this eye cream are:
niacinamide, an anti-inflammatory ingredient that may help with treating hyperpigmentation and providing photoprotective benefits.

peptides, which have been shown to help improve the appearance of aged skin. This study found a collagen-like peptide helped reduce the appearance of wrinkles in the under-eye area. Another study found that a cream that contained palmitoyl tetrapeptide-7, vitamin E, xylitol, and other ingredients helped improve the appearance of wrinkles, and boosted elasticity, when applied to the face over the course of four weeks.

caffeine, commonly found in eye creams, because it is an antioxidant that helps protect the skin from UV damage (and delivers anti-aging properties). It also stimulates blood circulation, which may help relieve under-eye circles and puffiness.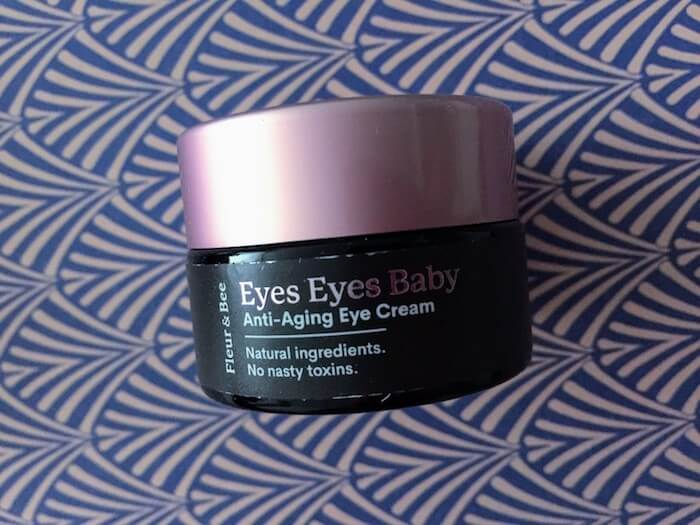 My Dad the Chemist's review of Fleur & Bee Eye Cream
Yes, that looks good, with all the great extracts, oils, and essential vitamins for the skin and provide moisturization as needed.

Also notice two peptides are used in the formula, they should add extra benefits and efficacy for anti-wrinkle, good to use as night cream, but to get the best result, apply as night cream before going to bed, reapply if shower in the morning, to get better result and protection, put something with SPF 30+ on the top if you going to get UV outdoor or through windshield or office window during the daytime.

Love,
Dad
Fleur and Bee Eye Cream review
This eye cream is slightly less thick than Fleur and Bee's Crème de la Cream Hydrating Face Cream. Though it is fragrance-free, note that it has a medium-strong scent, probably because of the lavender oil. It's not overbearing, but it is noticeable. Another thing I noticed is that the directions specify that you should only use a very small amount. They say that with good reason—I accidentally applied too much the first time, and the smell was a bit too strong.
By the way, if you find that the skin around your eyes ever gets irritated, try applying petroleum jelly to it, according to the American Academy of Dermatology Association. You should also be using your ring finger to apply products around your eyes. Why? Because it's weak as heck so it's less likely to disrupt the thin skin around your eyes—have you ever tried pushing an elevator button with your ring finger?
I like that this eye cream is formulated without any synthetic fragrances. It also includes a bunch of anti-aging ingredients like peptides. For optimal anti-aging benefits, my dad recommends using it at night and then applying it again in the morning after you shower. Fleur & Bee's packaging also recommends using it in the morning and evening. My dad also recommends using an SPF 30+ sunscreen if you're really serious about anti-aging, just to make sure you're covering all your bases. The sun is powerful—protect yourself! Even if you're going to be driving or indoors at the office—UVA rays can penetrate glass.
I don't think I'm the kind of person who should be using eye cream. A few times, I ended up getting this cream into my eyes overnight, and I woke up with slightly irritated, teary eyeballs. If, like me, you rub your eyes during the night, this might not be the best product for you. However, because I'm a strong believer in upcycling beauty products, I'm going to use this eye cream as a neck cream instead. After all, my neck definitely needs anti-aging love, too. Let's not feel bad about our necks (that's a reference to a book by Nora Ephron, btw). Perhaps one way to do that is by using your eye cream as a neck cream.
Note: This is not a sponsored post. I received this product as a free sample, but all opinions are my own.
Related reading
Note: This post uses affiliate links, which means that I'll receive a commission if you make a purchase after clicking a link (at no extra cost to you). See our
disclosure policy
.