This SPF 40 sunscreen is a little oily, but it doesn't leave too bad of a white cast. It also contains some nice ingredients like jojoba oil and green tea extract.
Shopping at Trader Joe's was always such an ordeal when I lived in NYC. Right when you get in the store, you see the back of the line, because it snakes around the entire store. It's actually more efficient to go there with a partner, so one person can stand in line while the other weaves through the aisles and frantically swipes items off the shelves. It is not a relaxing experience, to say the least. Now that I live in California, shopping at Trader Joe's is a normal experience again. It still gets crowded on the weekends, but it's nowhere near the madhouse it was in NYC. I actually have time to browse through all the aisles without feeling like I'm in someone's way. On one of my recent trips, I spotted a new mineral sunscreen I had never seen before: Trader Joe's Mineral Sunscreen SPF 40. It came in a 5-oz tube and wasn't a bad price. After scanning through the ingredients to make sure it didn't contain fragrances, I plopped it into my shopping cart. It was definitely an impulse buy, since I didn't actually need more sunscreen at the time, but I'm glad I bought it because it actually turned out to be a pretty decent sunscreen.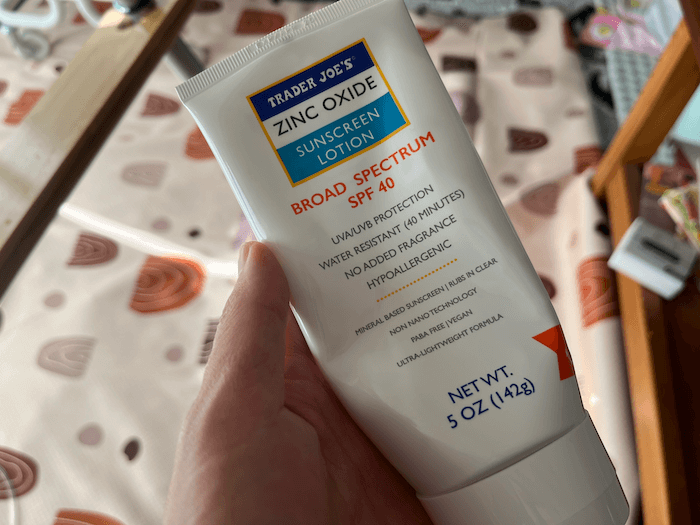 Trader Joe's Mineral Sunscreen SPF 40 ingredients

Active ingredient: zinc oxide (20.5%)

Inactive ingredients: water, isopropyl palmitate, caprylic/capric triglyceride, hydrogenated methyl abietate, glycerin, sorbitan laurate, octyldodecyl citrate crosspolymer, polyhydroxystearic acid, simmondsia chinensis (jojoba) seed oil, phenoxyethanol, ammonium acryloyldimethyltaurate/vp copolymer, sodium stearoyl glutamate, methylcellulose, sodium lauryl glucose carboxylate, polyglyceryl-4 laurate, lauryl glucoside, xanthan gum, dilauryl citrate, ethylhexylglycerin, sodium phytate, leuconostoc/radish root ferment filtrate, aloe barbendensis leaf juice, lonicera japonica (honeysuckle) flower extract, populus tremuloides bark extract, tocopherol, glycine soja (soybean) oil, gluconolactone, ginkgo biloba leaf extract, camellia sinensis leaf extract, bambusa arundinacea stem extract
My Dad the Chemist's review of Trader Joe's Mineral Sunscreen SPF 40
Dear Emily, I like the ingredients for the formula, I think it should be a great formula。SPF 30 blocks about 97% of UVB, SPF 50 blocks 98% of UVB, therefore SPF 40 blocks 97.5% of UVB. The difference of sun protection among them doesn't make meaningful difference, only costs higher due to higher amount of active ingredient(s).

Love,
Dad
I asked him if any of the inactive ingredients helped boost the SPF of this sunscreen, and here's what he said:
Dear Emily, this formula contains octyldodecyl citrate crosspolymer and ammonium acryloyldimethyltaurate/vp copolymer which may help boost SPF, generally speaking, with 20% Zinc Oxide as sole active ingredient, the SPF is @ about 32 without any other booster.

Love,
Dad
Trader Joe's Mineral Sunscreen SPF 40 review
I wasn't expecting much out of Trader Joe's Mineral Sunscreen SPF 40, so it pleasantly surprised me. I don't think I've ever tried an SPF 40 sunscreen before, but it still offers a good level of protection against UVB rays, as my dad calculated based off of stats for SPF 30 and SPF 50. I found it interesting to learn that zinc oxide of 20% only provides about SPF 32 protection. The max concentration of zinc oxide allowed by the FDA is 25 percent, but most of the zinc oxide sunscreens I've seen don't reach that level. Other "inactive" ingredients can still help serve a purpose by helping boost SPF protection. Octyldodecyl citrate crosspolymer is also found in Aveeno Positively Mineral Sunscreen SPF 50 and Neutrogena Sheer Zinc Face Sunscreen SPF 50 (reviewed here).
This product is definitely not perfect, but it's pretty good compared to other mineral sunscreens that have a high percentage of zinc oxide. It leaves a bit of a white cast, but that's to be expected. I would say that it definitely blends in more elegantly than a Coppertone mineral sunscreen, so it's a notch above that experience. It does leave your skin feeling more oily than usual, though, so it's probably better for people who have dry skin. But most importantly, it did a decent job of preventing me from getting sunburned at the beach.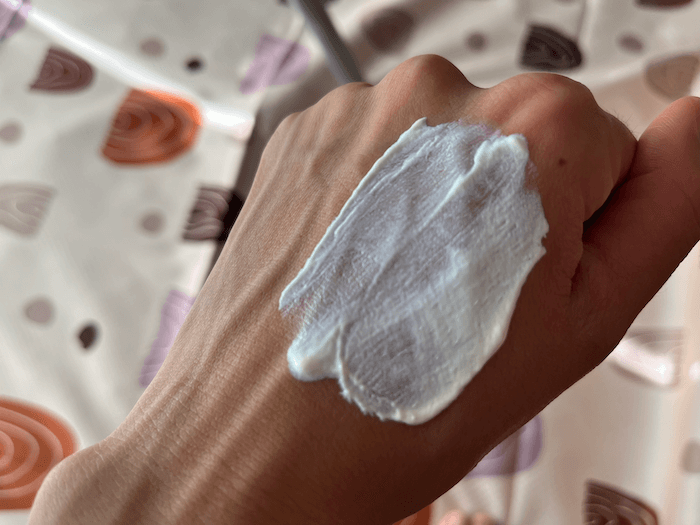 Next time I'm at Trader Joe's, I'll probably pick up another bottle of this sunscreen. And maybe a bag of chips so I can stuff my face while walking around the beach with a slightly pasty (but well protected) face. I'd recommend giving this Trader Joe's mineral sunscreen a try if you're a fan of zinc oxide-based sunscreens and want something that's a notch above Coppertone Sport Mineral Sunscreen SPF 50. But if you're used to truly "invisible" sunscreen and you don't have extremely pale skin, then this may not be the product for you.
Related reading
Note: This post uses affiliate links, which means that I'll receive a commission if you make a purchase after clicking a link (at no extra cost to you). See our
disclosure policy
.