A good mineral SPF lip balm is hard to find. This one's a keeper.
Chapped lips are a nuisance—and they can get so bad that it becomes painful to eat (one of my favorite activities!). I was recently reading a book where this was the case for a little girl who couldn't stop using Lip Smacker lip gloss and licking it off her lips. Licking your lips only makes them more dry, sadly…so it became a vicious cycle for her. Another character in the book recommended using Vaseline, which makes me respect this author more. She knows where the good stuff is at. Vaseline is definitely the way to go when your skin is cracked and super dry. It works wonders.
"Then she got up from our fold-out dining chair, stood still, looked at my big crusty lips, and said, 'You should use Vaseline.' And as she walked out the door, I was like, 'What?' and she said, 'For your lips. I used to have that problem, too. Just smother the whole area with Vaseline,'" —*All That's Left Unsaid*, Tracey Lien
I don't use a lot of lip balm, but I've been thinking about it more lately because I've always felt guilty for neglecting my lips in my sunscreen application routine. When I apply sunscreen to my face, I oftentimes forget about my lips. Sometimes I wonder if I can just use regular sunscreen on my lips, but then I'm afraid that I'll accidentally forget to wipe it off before eating. For some reason, I feel safer using a lip-specific product on my lips because it's meant to be applied to that area.
One good thing about SPF lip balm is that it protects your lips from the sun and also moisturizes your lips at the same time—which is very important during this dry summer heat we're getting here in California. I recently tried out Sun Bum Mineral Lip Balm (SPF 30), and I've been quite pleased with it so far.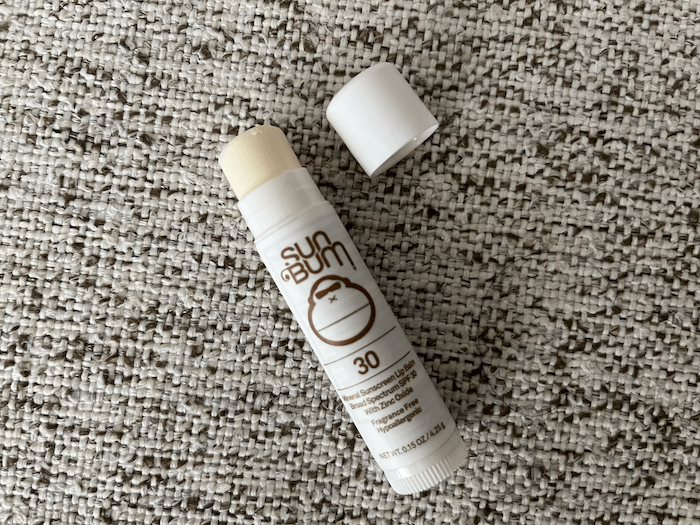 Sun Bum Mineral Lip Balm ingredients
Active ingredient: zinc oxide (8%)

Inactive ingredients: prunus amydalus dulcis (sweet almond) oil, simmondsia chinensis (jojoba) seed oil, butyrospermum parkii (shea) butter, cera alba (beeswax), euphorbia cerifera (candelilla) wax, argania spinosa kernel (argan) oil, caprylic/capric triglyceride, tocopheryl acetate, copernica cerifera (carnauba) wax, tocopherol, glycine soja (soybean) oil, glyceryl caprylate, bisabolol, polyhydroxystearic acid, polyglyceryl-3-polyrincoleate, isostearic acid, lecithin, glyceryl undecylenate
My Dad the Chemist's review of Sun Bum Mineral Lip Balm
Dear Emily, I like all ingredients used in this formula, I think it should protect the lips from the UV.

Love,
Dad
Do lip balm ingredients need to meet stricter requirements?
Next, I asked him if there are stricter requirements for the kinds of ingredients that can be used in lip products, since they're more likely to get eaten/licked off. Here's what he had to say.
Dear Emily, the only ingredient in this formula if eaten accidentally may be a concern is Zinc Oxide, but, because all lip balm formulas are wax(&oil) based, therefore they're water resistant, if this balm accidentally licked by the tongue, the real amount of the balm may be eaten accidentally will be very limited, shouldn't have too much toxicity concern in my view.

Love,
Dad
My dad also reassured me that I could use this product without being paranoid about eating it. I often forget to wipe off lip balm before drinking water or eating food, so this is a real concern for me. :P It's interesting to see that the only ingredient of concern is zinc oxide. The waxes don't just make this product water-resistant—they also make it spit-resistant. So if you accidnetally lick your lips, you don't have to worry about eating something that you shoudln't be eating. Yay!
Sun Bum Mineral Lip Balm review
I used to have a Banana Boat SPF lip balm that I would apply to my lips whenever I went to the beach, but it always kind of made my lips feel weird and tingly, for some reason. I figured that maybe it was the chemical SPF ingredients, since those tend to irritate sensitive skin more than mineral/physical sunscreen. So when I decided to buy another SPF lip balm, I specifically looked for one that had zinc oxide as the active ingredient.
I've tried one other mineral lip balm in the past (Sprouts), but that one was only SPF 15 and left more of a noticeable white cast on my lips, so I stopped using it after a while. It also didn't go on quite as smoothly as this Sun Bum lip balm.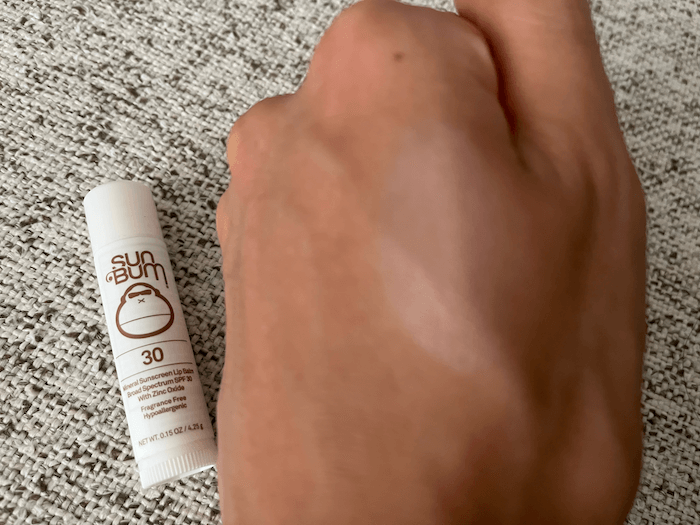 Sun Bum Mineral Lip Balm does leave your lips looking slightly paler, but I don't think it's super noticeable. I like that it's really easy to apply, and it feels like it's actually nourishing my lips, rather than simply protecting them from UV rays.
So if you've been considering using a mineral SPF lip balm, but you're afraid that it will make you look like you just ate a jelly doughnut, check out Sun Bum Mineral Lip Balm. Most people probably won't even notice that it's there…which is exactly what we're all looking for in a sunscreen product.
Related reading
Note: This post uses affiliate links, which means that I'll receive a commission if you make a purchase after clicking a link (at no extra cost to you). See our
disclosure policy
.