This cute little tub can protect your lips from cold, dry winters—and even make them look rosy and glossy, too.
Vaseline is one of the products that was always in my family's medicine cabinet growing up. It's extremely oily, so it leaves residue on your skin, on your clothes, and basically on anything that you touch—but I haven't found anything that's more effective at sealing in moisture and smoothing dry, flaky skin, without aggravating my eczema. This winter, I owe a big thank you to Vaseline Lip Therapy Rosy Mini for hydrating my lips.
I just finished reading The Ensemble by Aja Gabel, and I was amused to see a passage that mentioned Vaseline, one of my favorite products for hydrating super-dry skin without irritating my eczema:
Without warning, his throat would burn and contract, the muscles behind his eyes get syrupy, and he'd think of everything at once, everything sad and wonderful and potentially terrible, lost pleasures as well as felt pleasures. Just a glimmer of each, so that when he was crying, he wasn't really crying about anything, couldn't tell you if you asked him to—it was like trying to pinch a penny with Vaseline on your fingers. The quicksilver futility made him cry harder.

—The Ensemble, Aja Gabel
Indeed, as the passage indicates, Vaseline can be really oily and greasy—it can stain your clothes and make it hard to pick up things like pennies. That's why I usually only stick to applying it to my hands at night. But during the daytime, I still like to apply it to really dry areas like my lips. Although I try to apply sunscreen lip balm before heading outdoors, in the wintertime, my lips get so dry that I need something more heavy-duty.
Vaseline Lip Therapy Rosy Mini is the perfect size for throwing into your handbag, so your lips will never go without a much-needed moisture boost. Since I started using it, Vaseline has really made such a dramatic improvement in the texture of my dry lips—and it even adds a nice glossy aftereffect.
Vaseline Lip Therapy Rosy Mini ingredients
petrolatum, flavor, red 30 lake, yellow 5 lake
Vaseline uses triple-refined petrolatum, or petroleum jelly in all of its products, including this one. Other than petrolatum only other ingredients listed are dyes (to provide the rosy tint) and "flavor," which is often included in other products that may come into contact with your taste buds (such as toothpaste).
If you recall from my review of zinc oxide sunscreen lip balms, the FDA allows companies to list "flavor" in the ingredients to signify that they have added something to cover up undesirable odor or taste. Although I'm not sure as to the exact composition of what the "flavor" component is, I think it's ok as long as you try not to lick your lips unnecessarily. Usually I just wipe it off before drinking or eating anything, and then reapply a fresh coat after I'm done.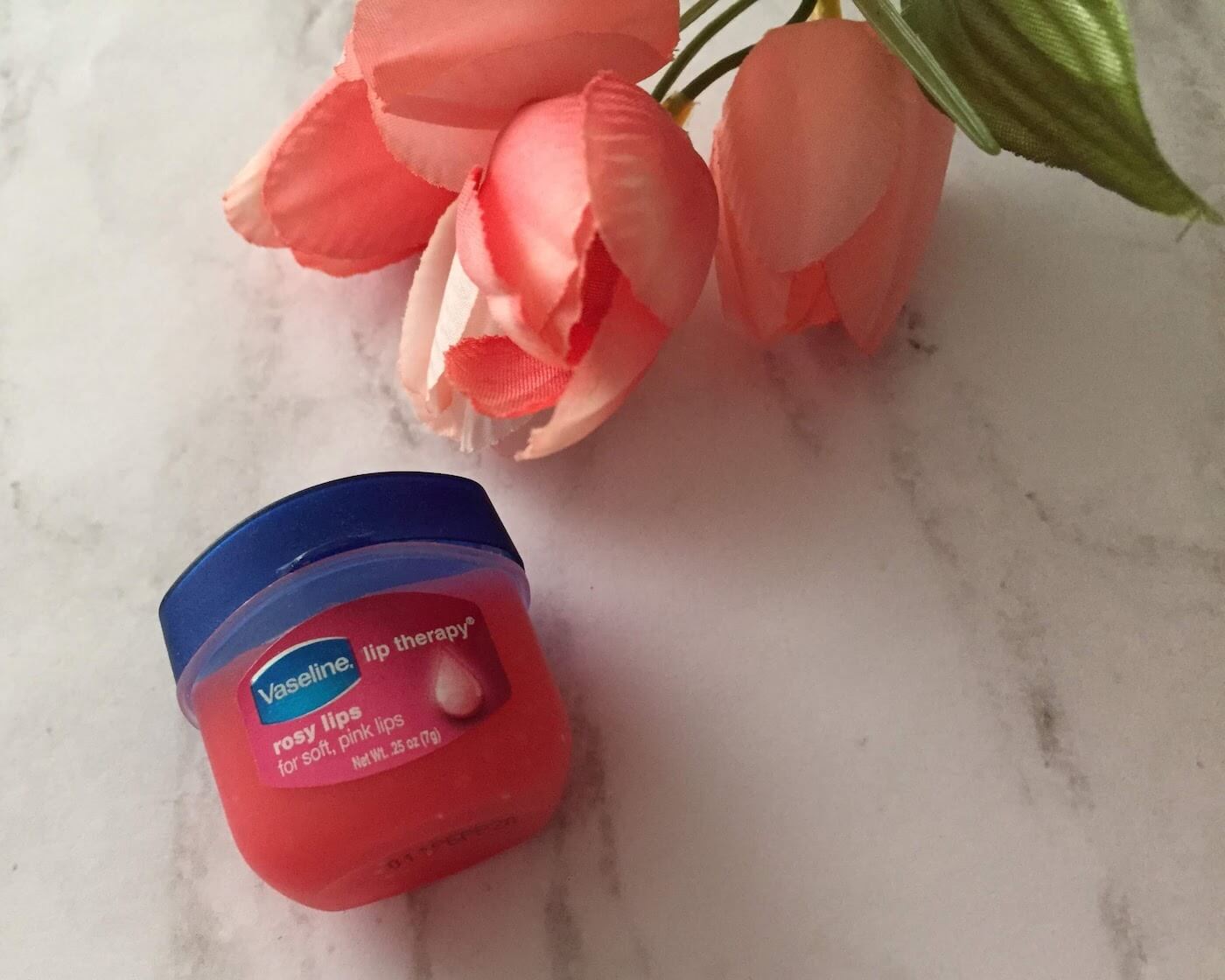 Vaseline Lip Therapy Rosy Lips Mini review
Vaseline Lip Therapy Rosy Mini has quickly become my go-to lip care treatment during the daytime. The only thing it's missing is SPF protection—but that's easily fixed by applying a sunscreen lip balm first and layering Vaseline Lip Therapy Rosy Mini on top.
If you're concerned about the colorings in this product, or you don't want or need a tint added to your lips, I suggest buying Vaseline Lip Therapy Advanced Healing, which comes in an easy-to-apply tube. You might not be accustomed to feeling the oily residue on your lips, but it will definitely help keep your lips from getting overly dry or cracking all winter long.
Related reading
Note: This post uses affiliate links, which means that I'll receive a commission if you make a purchase after clicking a link (at no extra cost to you). See our
disclosure policy
.