What's the difference between squalane and squalene? And is squalane safe to use on acne-prone skin?
I mentioned this in yesterday's post, but I noticed a bit of jawline acne pop up a few months ago. It happened around the same time that I started using The Ordinary 100% Squalane, so I thought that might have been the culprit—but now I realize that it was probably because the double cleansing method was failing to remove all of my physical sunscreen (specifically, Australian Gold Botanical Tinted Sunscreen).
I also decided to take a look at my Ingredient Database to check which other products I was already using might contain this ingredient already. Lo and behold, Australian Gold Botanical Tinted Sunscreen includes squalane as an ingredient, and it has never caused me to break out in the past.
This just goes to show something: Don't change more than one element of your skincare routine at a time—if something goes south, you won't know which thing is to blame.
In this case, I discovered that maybe squalane isn't so bad for my skin. I originally purchased The Ordinary 100% Squalane because it said it was non-comedogenic and non-irritating. Plus, the ingredient list was short and sweet: squalane.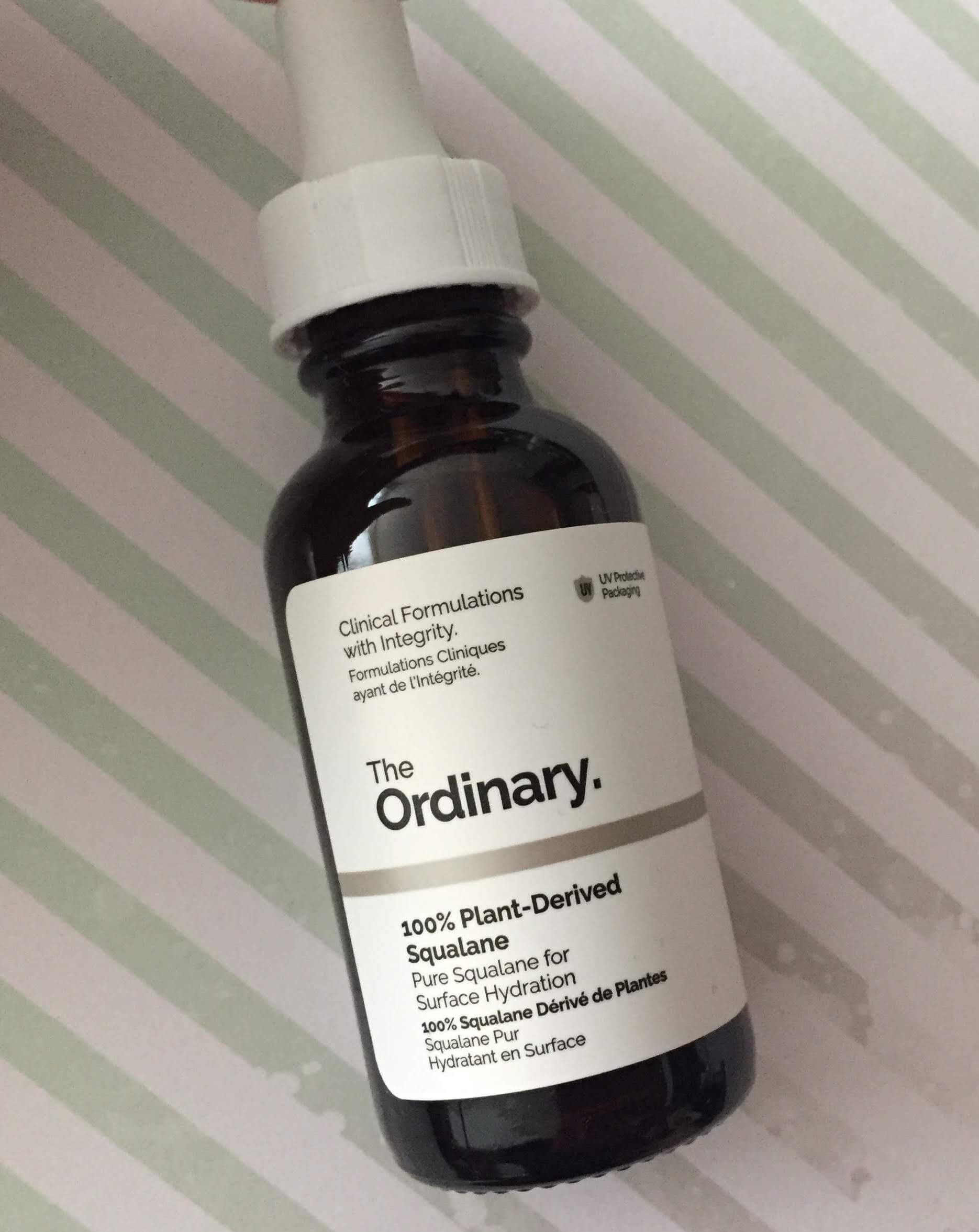 What is squalane?
Squalane is an ingredient that's naturally found in human sebum, the oily stuff that our skin secretes. Homo sapiens's sebum is made up of about 13 percent squalene (we'll get to the differences between squalene vs. squalane shortly). Sebum is something that a lot of Asian beauty/skincare products claim to help address—for example, this "no sebum" powder from innisfree.
So why would you want to rub a component of sebum (the thing that supposedly promotes acne and makes our face oily) on your face? Keep in mind that squalane is not the same thing as sebum itself, so it shouldn't be treated as such. Studies show that squalene and squalane (the saturated version of squalene) function as antioxidants and are effective ways to hydrate your skin. Read more about squalane and squalene here.
Where do squalane and squalene come from?
Squalene and squalane are mainly found in fish oils (including, most famously, shark liver oil), but they can also be derived from plant sources like sugarcane and olives. For obvious reasons, most skincare products opt to source their squalane and squalene from plant sources—including The Ordinary.
The Ordinary doesn't say which plant its squalane comes from, but it does show a picture of what looks like sugarcane on the product page. Some other brands will explicitly say that they source their squalane from sugarcane, such as this one from Peter Thomas Roth.
I was curious about the source of squalane in Australian Gold Botanical SPF 50 Tinted Face Sunscreen, so I emailed them to ask. Here's what they said:
Australian Gold's response to my squalane question
Thank you for contacting us. Our squalene is derived from olives!
It's good to hear the Australian Gold also sources its squalane (squalene?) from plants—specifically, olives. At the time, I thought it was just a typo, but once I started researching this article, I realized that squalene was an actual thing (but still very closely related to squalane). Interestingly, even though the ingredient list includes squalane, not squalene, the employee wrote "squalene." I'm not sure what that's all about, but I suppose they're pretty closely related, so it's not a big deal.
Anyway, I think I'm going to start using The Ordinary Squalane again, now that I know that it's probably not to blame for my breakouts. I'm switching back to makeup remover wipes so I shouldn't have a problem with that anymore. I'll keep you posted if anything changes, but for now, I think that squalane should be a pretty safe, non-irritating choice for moisturizing dry (and even acne-prone) skin, all winter long.
Related reading
Other products that also contain squalane and have been reviewed on this blog:
Note: This post uses affiliate links, which means that I'll receive a commission if you make a purchase after clicking a link (at no extra cost to you). See our
disclosure policy
.