This chemical sunscreen spray includes antioxidant-rich ingredients, but also features a strong floral fragrance.
I still remember the first time I heard about AmorePacific. I was at Sephora with my sister, and a store representative was gushing about a new brand that was centered on natural ingredients, particularly bamboo sap. I remember making a joke in my head about pandas, but I never actually tried anything from the brand because it was pretty expensive. I don't normally buy premium skincare products because I can't seem to justify the expense on something that may or may not work. But I finally got to try this premium product because it was included in the Sephora Sun Safety Kit this year. So today, I'm finally getting around to sharing my review of this premium skincare product: AmorePacific Resort Collection Sun Protection Mist (SPF 30).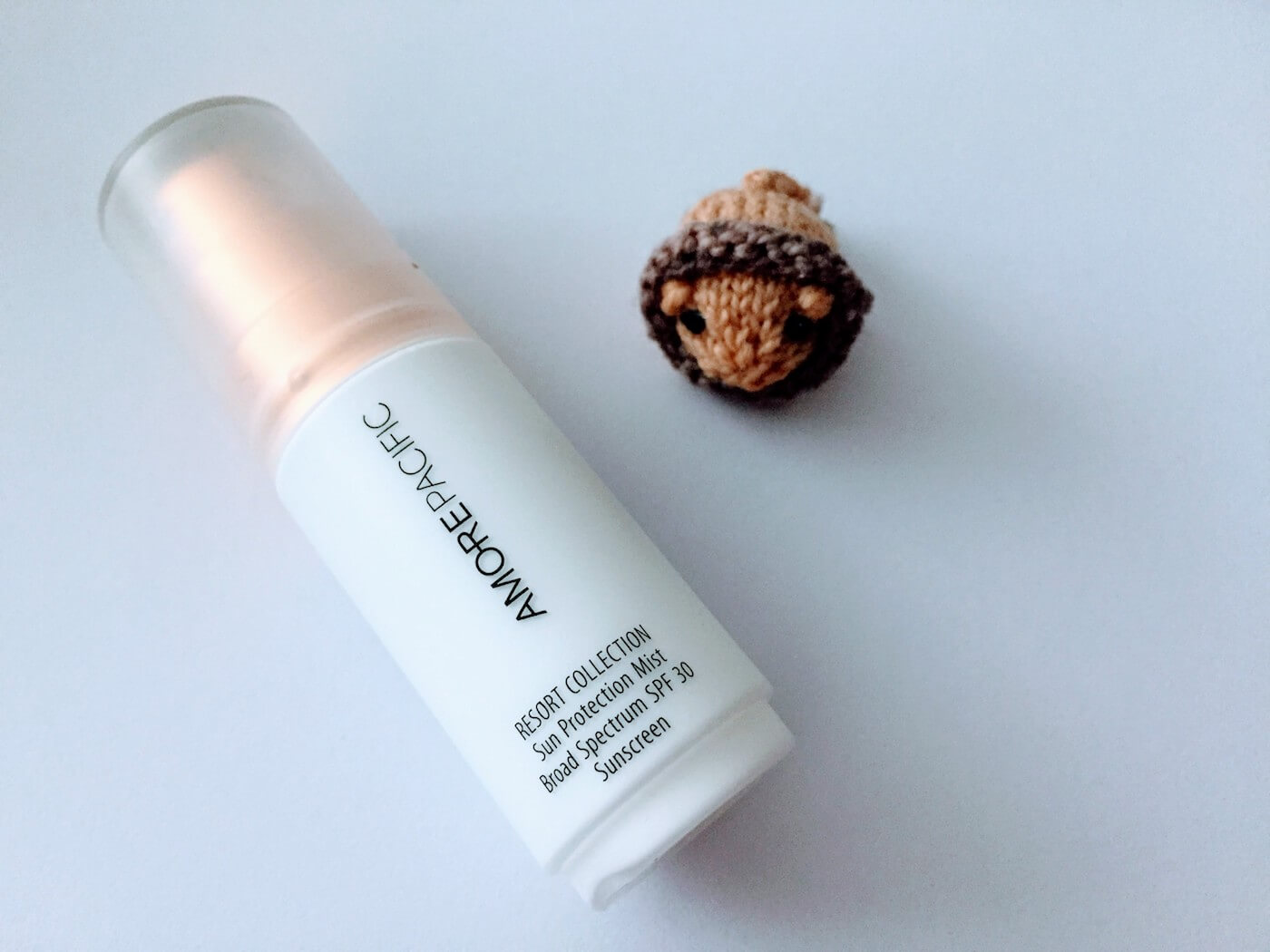 AmorePacific Resort Collection Sun Protection Mist (SPF 30) ingredients
Active ingredients: avobenzone (3%), homosalate (14%), octisalate (4.5%), octocrylene (9%)

All ingredients: polyethylene, isopropyl palmitate, polymethylsilsesquioxane, homosalate, octocrylene, phenyl trimethicone, squalane, butyloctyl salicylate, helianthus annuus (sunflower) seed wax, ethylhexyl salicylate, ricinus communis (castor) seed oil, butyl methoxydibenzoylmethane, phyllostachis bambusoides juice, portulaca oleracea extract, prunus mume fruit extract, camellia sinensis seed oil, glyceryl caprylate, butylene glycol, alcohol, fragrance
For some reason, the website listed the active ingredients in the ingredient list instead of separating them into active and inactive ingredients. Two of the ingredients appear differently than usual: butyl methoxydibenzoylmethane is also known as avobenzone, while octyl salicylate is also known as octisalate.
Now that that's all cleared up, here are a few notable ingredients in this sunscreen:
AmorePacific Resort Collection Sun Protection Mist (SPF 30) review
AmorePacific Resort Collection Sun Protection Mist is packaged in a tiny spray bottle. It doesn't spray out in a fine mist like an aerosol; instead, it's more like an actual spray bottle with a pump. This means that, like a soap pump, you have press down, and then release, and press down again, and so on, for as long as you want to keep spraying more product.
The sunscreen doesn't come out that smoothly—it will spray some drops that you'll then need to distribute evenly across your skin. One thing I immediately noticed about this sunscreen was that it had a very strong floral fragrance. If you read my other post on Laneige Water Bank Moisture Cream, you know that I have a strong aversion to floral scents. So if you're like me, and you can't stand that smell, then I definitely wouldn't recommend buying this sunscreen.
This is a chemical sunscreen that depends on four active filters: avobenzone, homosalate, octisalate, and octocrylene. Avobenzone provides UVA1 protection, while homosalate, octisalate, and octocrylene provide UVB protection. Avobenzone is notoriously unstable in the presence of sunlight, octocrylene has been shown to help stabilize avobenzone, so it's a good thing that this formula contains a mix of both. This sunscreen does not include any ingredients that filter out the UVA2 spectrum of light. Therefore, I don't recommend it for days when you'll be out in the sun for a long period of time, since you won't be getting protected from the full spectrum of UV light.
Overall, I thought AmorePacific Resort Collection Sun Protection Mist was pretty decent. It doesn't contain oxybenzone, which is the most potentially irritating chemical sunscreen filter. However, it does contain two other irritants: alcohol and fragrance. And as we already established, the fragrance is pretty overpowering.
This sunscreen features a smooth texture and doesn't leave any oily residue. It also blends nicely into your skin without leaving any white cast (but any chemical sunscreen worth its weight usually does). I liked the look of the packaging (very elegant), but I didn't particularly like the packaging's functionality (I prefer a sunscreen spray that comes out more "mist-like" so I don't have to distribute it across my skin as much after spraying).
I think that at this price point, you could find a better sunscreen—one that isn't so fragrant, one that sprays more evenly, and one that protects against the entire UV spectrum. Although this sunscreen does include a handful of premium, antioxidant-rich ingredients like bamboo sap, plum extract, and purslane extract, I think I'd rather get those ingredients by applying a serum, rather than a sunscreen. The antioxidants probably push this sunscreen into a premium price point. I'd rather not slather those ingredients all over my body, but just apply them to my face or someplace where they'll be more appreciated (and visible).
Related reading
Note: This post uses affiliate links, which means that I'll receive a commission if you make a purchase after clicking a link (at no extra cost to you). See our
disclosure policy
.