This mask is travel-friendly and the perfect heavy-duty defense against cystic acne and whiteheads.
I just got back from vacation, and realized that, despite having eaten tons of sugary and fatty food, my skin actually improved. Perhaps this helps validate a minimalist approach to skincare—it really forces you to ask yourself which products will truly help your skin stay on track. What goes into your TSA-friendly travel bag of skincare products? I'll get into mine in more detail in a future post, but today I want to highlight one of those travel-friendly essentials with you: the AcneFree Sulfur Mask.
This sulfur mask comes in a 1.7-oz. tube, which means that it won't take up much space in your travel bag…and trust me, it earns every bit of that space, and more. If you're worried that your acne will flare up when you're indulging in vacation carbs, this is just the mask you need to help allay those concerns. Note, however, that it contains a few potentially irritating ingredients that could trigger an adverse reaction in your skin. So I definitely recommend trying it out at home a few times before you bring it with you on vacation—the last thing you want to do is run the risk of freaking out your skin with a new product when you should be enjoying every minute of your vacation.
Let's take a closer look at the key ingredients in the AcneFree Sulfur Mask—the good, the potentially irritating, and everything in between.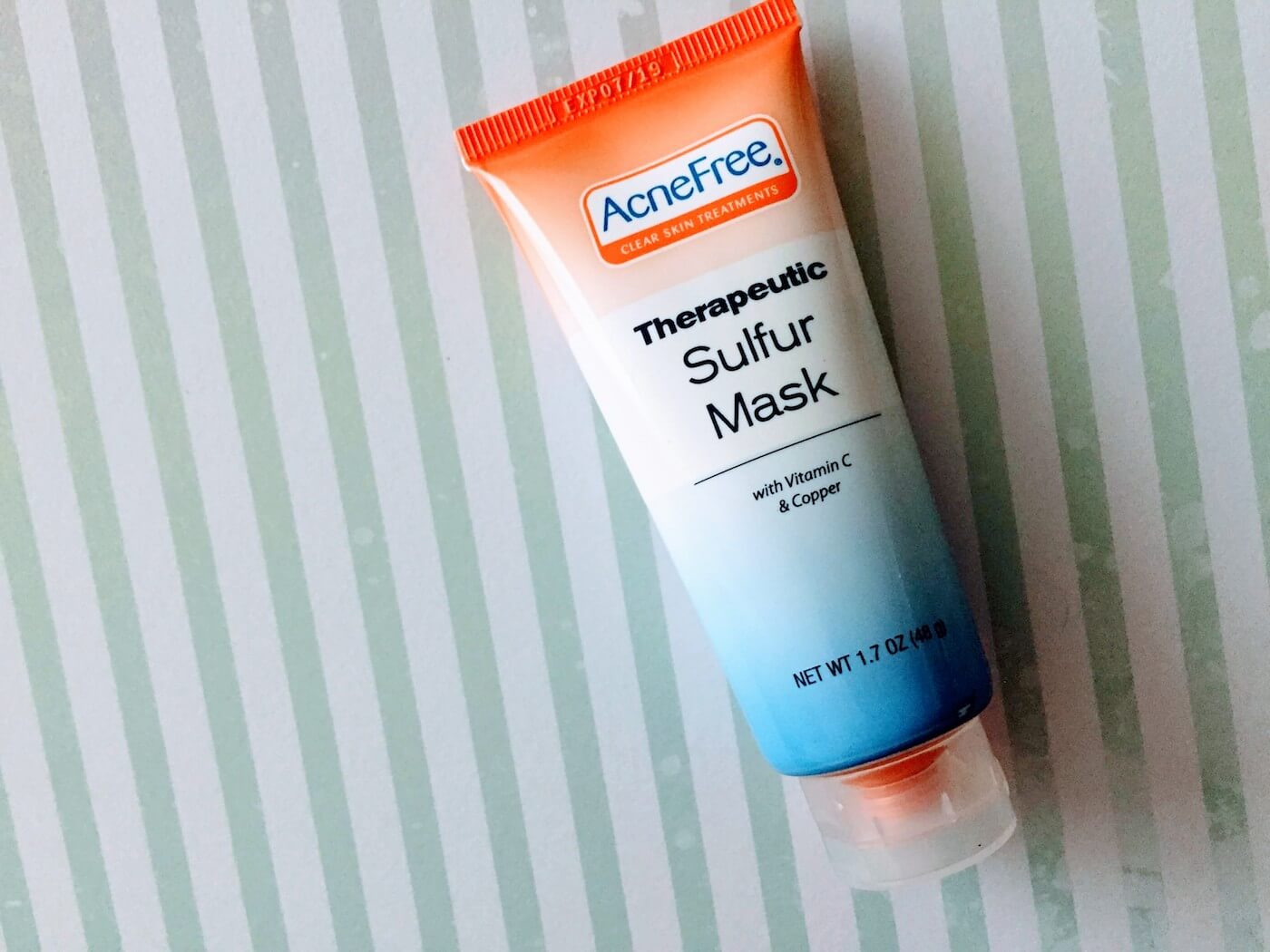 AcneFree Sulfur Mask ingredients
Active ingredient: sulfur (3.5%)

Inactive ingredients: acacia senegal gum, bentonite, butylene glycol, cellulose, copper gluconate, ethylhexylglycerin, hydroxypropyl methylcellulose, kaolin, magnesium aluminium silicate, magnesium aspartate, magnesium stearate, mannitol, menthyl lactate, methylisothiazolinone, phenoxyethanol, sodium ascorbyl phosphate, sodium cocoyl isethionate, spiraea ulmatia extract, tetrasodium edta, titanium dioxide, ultramarines, water, zinc gluconate, zinc pca
The AcneFree Sulfur Mask calls out a few key ingredients right off the bat. First and foremost is sulfur, which is included as 3.5 percent of this formula. Sulfur is antibacterial and helps treat skin conditions like acne and rosacea. It also calls out the presence of sodium ascorbyl phosphate (a form of vitamin C) and copper gluconate, both of which have been shown to help provide beneficial properties to the skin. However, since this is a rinse-off mask, rather than a serum, I don't find them to play as important a role as sulfur and other ingredients that I'll get into below.
This formula also includes some trusty clays that help tone down the oiliness of skin, and that I've found to be pretty beneficial for drying out whiteheads. You'll see these clays listed under names like bentonite and kaolin (both of these clays are also included in products like Freeman Mint and Lemon Facial Clay Mask).
This formula also includes menthyl lactate (derived from methol and lactic acid) also helps add to the cooling sensation of this mask. This is the same "cooling" ingredient included in Banana Boat Sport Cool Zone Sunscreen SPF 50.
Spiraea ulmatia extract is also known as meadowsweet, which is used to create chemicals like salicylic acid and aspirin. According to this article from the National Dermal Institute, zinc gluconate helps regulate sebum (which helps make your skin less oily and reduces the food source for bacteria that cause acne). The same article also lists spiraea ulmatia extract, zinc gluconate, and sulfur as antibacterial ingredients that help treat acne.
Zinc PCA, or a "zinc salt of l-pyrrolidone carboxylate," may also lend benefits against UVA-related aging, per this study, published in the International Journal of Cosmetic Science.
Note that the ingredients listed on AcneFree's website include a few typos ("phenoxyetanol" instead of "phenoxyethanol" and "methylsothiazolinone" instead of "methylisothiazolinone"). The website also lists the ingredients in alphabetical order (which I personally find pretty annoying, since it doesn't give us any clues as to which ingredients are more prevalent in this formula). We know that this formula contains 3.5 percent sulfur, but what goes into the other 96.5 percent? I'm pretty sure that water should go somewhere at the top, but instead, it shows up at the end of the list because it starts with a W. That makes me wonder which other prevalent ingredients have been shifted to the back of this list because of the letter(s) they start with.
AcneFree Sulfur Mask Review
The texture of the mask is similar to Freeman's clay masks—thick, but easy to spread over the surface of your skin, particularly if it's moist. There are tiny blue beads that break up easily as your massage the mask onto your skin. The blue beads contribute to turning the color of the mask from white/gray to blue/gray. The instructions specify that you should massage the mask onto a freshly cleansed, wet skin, until it turns from white to blue. The blue color is probably due to the presence of ultramarines, which are also used as a pigment in other cosmetics like mineral makeup. This seems to be more of a visual cue rather than a sign that the mask is actually doing anything when it changes from white to blue.
According to the instructions, this is not a leave-on or overnight mask. You should wash it off after 10 minutes (or earlier, if you find it too irritating). It's especially important to follow this rule because it contains methylisothiazolinone, a preservative that is so potentially irritating that the FDA only allows it to be used in rinse-off products.
As the mask dries, it will slowly get harder and you'll feel your skin tightening just a bit (but I didn't think it was too uncomfortable). It did not burn or sting my skin, so I was able to go the full 10 minutes before rinsing it off. After washing it off, I find that my skin feels much less oily and doesn't dry out my skin too much the way a full bentonite mask like the Aztec Secret Clay Mask usually does. I love how quickly it helps soothe red, inflamed, active acne. It also drains large whiteheads without causing irritation that leads to post-inflammatory redness.
For all of these reasons, I find that it's a great addition to your carry-on bag for traveling, but also a great item to keep stocked in your medicine cabinet at home, so you can whip it out whenever you need to stop a nasty breakout in its tracks.
Further reading
Note: This post uses affiliate links, which means that I'll receive a commission if you make a purchase after clicking a link (at no extra cost to you). See our
disclosure policy
.