This face cream is chock full of beneficial ingredients that have been shown to deliver hydrating, soothing, and anti-aging benefits.
I recently got to try out a few products from Fleur & Bee, a skincare company that just launched a few days ago. Fleur & Bee is focused on delivering natural, vegan skincare products that are priced under $35. If you need another reason to give this company's products a try, you might be happy to hear that Fleur & Bee donates 1% of its profits to Days for Girls, an organization that works to help women and girls get access to menstrual care and education.
Fleur & Bee sent me three full-sized products to review: Nectar of the C Vitamin C serum, Eyes Eyes Baby Eye Cream, and Crème de la Cream Hydrating Face Cream. This post will highlight my first impressions of the face cream, but I'll be publishing reviews of the other products in the days to come, so stay tuned for more!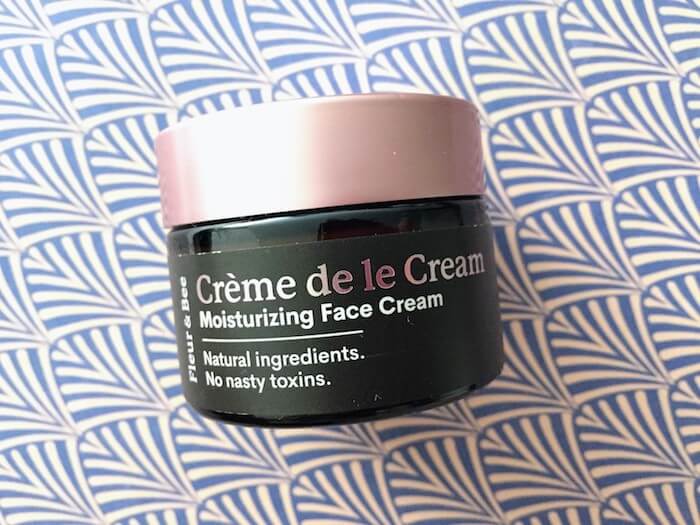 Fleur & Bee Crème de la Cream Hydrating Face Cream ingredients
water, glycerin, sodium ascorbyl phosphate, organic sunflower seed oil, stearic acid, cetearyl alcohol, glyceryl stearate, safflower seed oil , organic aloe leaf juice, niacinamide, tocopherol, tocopheryl acetate, organic gotu kola extract, italian honeysuckle flower extract, japanese honeysuckle leaf extract, horsetail extract, wild geranium extract, organic dandelion extract, acai fruit extract, ubiquinone (coenzyme q10), palmitoyl tetrapeptide-7, palmitoyl tripeptide-1, isopropyl palmitate, decyl glucoside, glyceryl caprylate, butylene glycol, carbomer, sodium carbomer, polysorbate 20, alcohol, phenoxyethanol, ethylhexylglycerin, organic green tea leaf extract, pomegranate fruit extract
Vitamin C (sodium ascorbyl phosphate)
This is the same form of Vitamin C that is used in Fleur & Bee's Vitamin C serum, which I'll review in more detail in a future post. Though more studies have been done on L-ascorbic acid, that form of Vitamin C is also more unstable, and oxidizes easily (i.e., when exposed to light or stored at a high pH). A more stabilized derivative form of vitamin C, like sodium ascorbyl phosphate, could be more effective for brightening your skin and fighting free radicals that can cause wrinkles.
Niacinamide
Niacinamide been shown to provide anti-inflammatory benefits, improve the skin barrier, and smooth out wrinkles. It is generally an all-around good ingredient for those who have problems with acne and pigmentation.
Coenzyme Q10
Coenzyme Q10 is a coenzyme that is found naturally in our skin, but decreases as we get older. According to this study, this ingredient functions as an antioxidant that helps fight free radicals that can cause damage to your skin.
Peptides
This face cream says it's "hydrating" in the name, but since it contains peptides, it's also a great choice for anyone looking to fight the inevitable passage of time (aka wrinkles and sagging skin). Peptides are power ingredients that have been shown to help improve the appearance and elasticity of aged skin. This study tested the effects of applying a cream that contained palmitoyl tetrapeptide-7 and vitamin E (two ingredients in this face cream) on 20 test subjects. The participants applied the cream twice a day for four weeks. At the end of the study, the researchers noted that the cream helped improve skin tone, reduced the appearance of wrinkles, and boosted skin elasticity.
Gotu kola extract
This face cream includes gotu kola, also known as centella asiatica, or tiger grass. This ingredient normally has a distinctive scent that reminds me of going to the herbal medicine shops with my mom in Taiwan, but I didn't detect it in the smell of this face cream, so it might not contain much (or other ingredients help mask it). I loved this ingredient in Dr. Jart+ Cicapair Tiger Grass Color Correcting Sunscreen, so I was excited to see it included in this face cream.
This ingredient may work particularly well when combined with vitamin C (which, you may recall, this cream contains in the form of sodium ascorbyl phosphate!). According to this double blind study involving 20 women, madecassoside (one of the ingredients in tiger grass) helped deliver anti-aging benefits when combined with 5% vitamin C. It was shown to help improve the firmness of the subjects' skin and the appearance of wrinkles.
Other beneficial ingredients
horsetail extract, an ingredient I've often noticed in Japanese beauty products like help reduce irritation associated with vitamin C. Don't worry, despite the name, this product is not derived from actual horses' tails—it's actually a plant. (Plus, all Fleur & Bee products are vegan.)

green tea leaf extract, an antioxidant that helps fight free radicals

acai fruit extract: may help provide wound healing benefits

fatty alcohols like stearic acid and cetearyl alcohol, to help hydrate the skin without weighing it down

Other ingredients to note
This face cream contains one potentially problematic ingredient: isopropyl palmitate. Acne.org scores this ingredient at 4 out of 5 on its comedogenicity scale, which assesses how likely an ingredient is to clog pores and aggravate acne. It's worth noting that Fleur & Bee doesn't mention anywhere on its website or packaging that this product is "non-comedogenic."
Though I didn't notice any breakouts crop up over the period of time since I've been using this face cream, everyone reacts differently and it's possible that my face just doesn't react poorly to this particular ingredient. Isopropyl palmitate may not be any cause for worry, but it's worth pointing out that it could be risk factor for anyone who is acne-prone and has noticed similar reactions with products that contain this ingredient in the past. I know that personally I'm sensitive to myristic acid, which scores a 3 on Acne.org's comedogenicity scale and happened to be in the MUJI Moisturizing Face Soap that I despised.
Another potentially problematic ingredient is alcohol, which can be drying, but is often included in skincare products as a solvent to increase the efficiency of active ingredients in a formula. This cream didn't irritate my skin at all, but only you know what works best for your skin. Therefore, because this face cream includes both alcohol and isopropyl palmitate, I would highly recommend patch testing this cream if you're afraid that it will irritate your skin and/or cause breakouts.
Fleur & Bee skincare review: general first impressions
Fleur & Bee's Crème de la Cream Hydrating Face Cream boasts an impressive array of ingredients, and I particularly like that it's fragrance-free and feels rich enough to help repair the skin at night. At the same time, it's still lightweight enough to wear during the daytime under sunscreen, without leaving my face feeling like an oily slick at the end of the day.
This face cream is packaged in a jar and does not come with a tiny spoon that you might find with Korean beauty products. You can either dip your fingers in directly or (my preference) use your own spoon. I used the stainless steel spoon I got from NIOD, but you can also buy cute little disposable spoons for this purpose if you're too lazy to wash the spoon every time you use it.
This face cream smells exactly like nothing—and I love that. In terms of texture, it reminds me most closely of CeraVe Moisturizing Cream, but slightly less heavy, since it doesn't contain petrolatum (and CeraVe's does). So if you like that sort of texture, you're probably going to like Fleur & Bee Face Cream.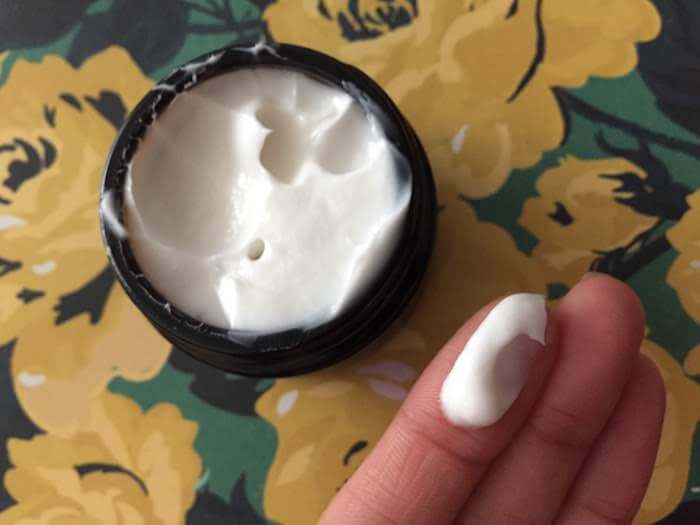 If I learned anything since I started this blog, it's that experts agree that "natural skin care" is not always necessarily better—natural ingredients can still irritate your skin, and synthetic ingredients aren't necessarily bad all the time. At the same time, it is nice to see that more brands like Fleur & Bee are increasingly being more thoughtful about formulating products for a variety of needs, and that don't contain unnecessary dyes or fragrances.
Note: This is not a sponsored post. I received this product as a free sample, but all opinions are my own.
Related reading
Note: This post uses affiliate links, which means that I'll receive a commission if you make a purchase after clicking a link (at no extra cost to you). See our
disclosure policy
.