Could beach-tousled waves be just a spray or two away? Probably not, but it's fun to dream.
Ever since I got back from Hawaii, I've been daydreaming of long, lazy days at the beach. That's probably why I impulse-bought Not Your Mother's Texturizing Sea Salt Spray when I spotted it at CVS. It promises to leave your hair looking perfectly wind-tousled, like you just spent the day at the beach. I was intrigued—I've only ever used sea salt for cooking/eating before. Could it really help texturize my hair and shape it into glamorous, tousled waves?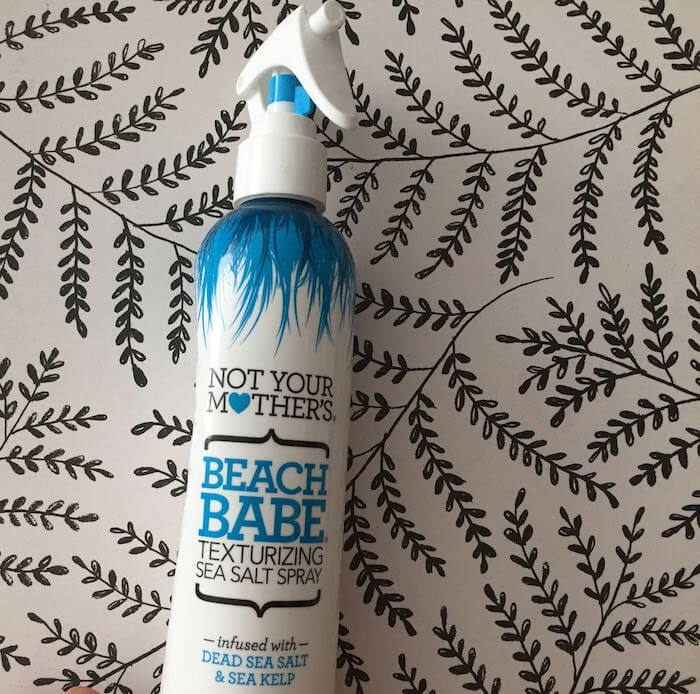 Not Your Mother's Texturizing Sea Salt Spray ingredients
water, sea salt, polysorbate 20, dimethicone peg-8 meadowfoamate, macrocystis pyrifera extract, propylene glycol, benzyl alcohol, fragrance, sodium benzoate
This sea salt spray contains two beachy ingredients: sea salt and macrocystis pyrifera extract, which is derived from sea kelp. It also contains dimethicone peg-8 meadowfoamate, which is a conditioning agent. Polysorbate 20 is a surfactant.
My Dad the Chemist's review of Not Your Mother's Texturizing Sea Salt Spray
Dear Emily, I have never tried or tested Sea Salt Spray on hair, by looking at the composition, the main ingredient is sea salt in water, plus surfactant and other hair conditioners, I think it will make soften hair and make it easier to comb. Because sea salt is in the formula, I think damp hair is better than dry hair, if sprayed on the dry hair it may dry faster than damp hair, then you may see some white particles (salt residues) depending on the sea salt level used.

You may try to spray on hair then blow dry with low speed and check the residue, it's not noticeable, then you can apply on dry hair as well.

Love,
Dad
My dad thinks that the conditioners in this sea salt spray will help soften hair and detangle it, making it easier to brush/comb. He suspects that it will be more effective when applied to damp hair than dry hair, but it may also work on dry hair depending on the amount of sea salt included. I think he's mainly worried that the sea salt will leave noticeable residue on dry hair. If it doesn't, he thinks it's fine to use on dry hair.
Not Your Mother's Texturizing Sea Salt Spray review
I love the concept behind Not Your Mother's Texturizing Sea Salt Spray—if it does as it promises, you're really just a few sprays away from transporting yourself to the beach. Unfortunately, the fragrance of this spray is a bit too unnatural (plasticky?) and strong for my preference. It's not unpleasant, but it's definitely not unnoticeable or under the radar. I would prefer a natural fragrance-free scent—whatever scent comes from using kelp extract in the formula. However, maybe they added fragrance to offset the smell of whatever conditioning agents, surfactants, and preservatives they added.
But first, some background on my hair. It's prone to frizziness on humid days. I don't have a lot of hair, but each strand is pretty thick. It has a bit of natural curl in it, so it's not completely straight. It puffs up with humidity. I think it looks nicest when it's a bit damp, just out of the shower. After I let it air dry, it takes on a bit of frizz and curls at the ends and has a slight wave (but not the pretty kind). I was hoping that a few spritzes of Not Your Mother's Texturizing Sea Salt Spray would help accentuate my natural waves and make them more shapely. However, if your hair isn't very wavy to begin with, don't expect this spray to help create more noticeable waves than you usually get. You'll still have to use a curling iron or some heat to get waves to stick. It does help reduce frizz, but that's the case for just about any hair treatment.
I've been using this sea salt spray on dry hair. I spray about five times over my hair, and then scrunch my hair with my fingers. I only shower at night, so I wake up in the morning with pretty flat hair. This spray helps add some body and texture to my hair. However, the fragrance is so strong that I don't want to use very much of it. It also leaves my hair feeling a bit oily if I apply more than five sprays' worth.
I'm not sure if I would repurchase Not Your Mother's Texturizing Sea Salt Spray, but it's very affordable and definitely worth trying out at least once. Even if it doesn't make your dream beach waves come true, it's a quick, accessible, and simple way to treat yourself to a mental vacation in the morning, before you actually need to go someplace that's…not the beach (like work).
Related posts
Note: This post uses affiliate links, which means that I'll receive a commission if you make a purchase after clicking a link (at no extra cost to you). See our
disclosure policy
.