Both of these sunscreens were available at The Four Seasons resort in Maui, Hawaii. Which one is superior?
Sun Bum was founded in 2010 and offers vegan, cruelty-free products that support the beach lifestyle. I love their packaging, too—it looks just like the bottle has been carved out of a surfboard. I've always been curious about their sunscreens, so I was pleased to see that the Four Seasons resort in Maui offered complimentary "reef-friendly" Sun Bum SPF 15, 30, and 50 sunscreen to their guests. (As you might have guessed, I only hit up the SPF 50 throughout my stay.) Later, after I emailed the resort to get more info, I found out that they actually provided two types of Sun Bum sunscreen: one chemical formula (the "original" Sun Bum) by the pool, and one physical formula (the "mineral" Sun Bum) by the beach area.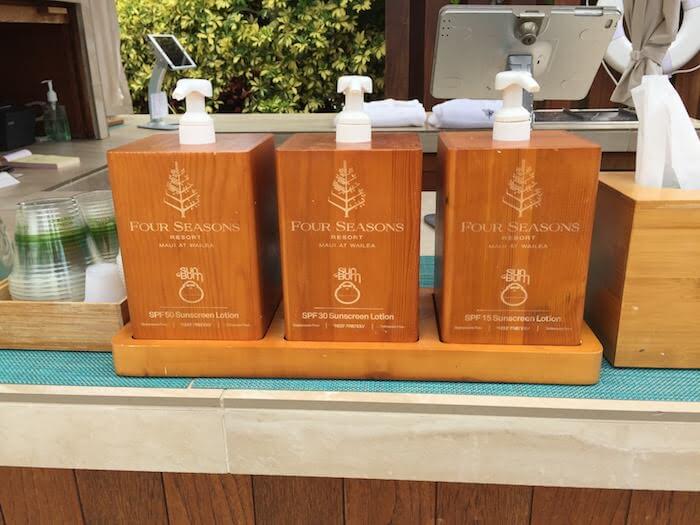 Here's what the Four Seasons Maui had to say about its Sun Bum SPF 50 sunscreen:
Aloha
The Sun Bum 50 we offer at the pool is "original" SPF lotion, Reef Friendly.
The Sun Bum 50 we offer at the beach is "mineral" SPF lotion, Reef Friendly / Reef Safe
Sun Bum original SPF 15, SPF 30, SPF 50 are all Reef Friendly according to the new laws set by the State of Hawaii
Although both of these sunscreens are labeled as "reef friendly" (not a regulated term, by the way), the Original formula still contains chemical sunscreen filters (avobenzone, homosalate, octisalate, and octocrylene). According to some sources (such as the "reef-friendly" pamphlet on the catamaran tour I took in Hawaii), all chemical sunscreen filters are harmful to coral reefs—not just the two that Hawaii has banned by law (octinoxate and oxybenzone). The Sun Bum Original SPF 50 Sunscreen contains all chemical sunscreen filters except the two that are banned by law, so I guess that is why the email mentioned that they are "reef friendly" according to Hawaii law. The email also states that the Mineral version if "reef safe" which implies a stronger sense of commitment than just being "friendly." I find it a bit perplexing that something can be friendly but not safe…if you're in a relationship with a coral reef and you're friendly to it, but still hurting it (but you don't mean to hurt it)…you're still hurting it, right? Needless to say, if I had known this ahead of time, I would have stuck to only using the Sun Bum Mineral SPF 50 Sunscreen during my stay, since it's zinc oxide-based.
Let's take a closer look at the ingredients in Sun Bum Original SPF 50 Sunscreen and Sun Bum Mineral SPF 50 Sunscreen.
Sun Bum Original SPF 50 Sunscreen ingredients
Active ingredients: avobenzone (3%), homosalate (10%), octisalate (5%), octocrylene (10%)

Inactive ingredients; water, butyloctyl salicylate, hydrated silica, vp/hexadecene copolymer, styrene/acrylates copolymer, dimethicone, polyester-8, caprylyl methicone, ethylhexyl stearate, trideceth-6, glyceryl stearate, peg-100 stearate, fragrance, sodium polyacrylate, behenyl alcohol, dimethyl capramide, ethylhexylglycerin, trimethylsiloxysilicate, xanthan gum, polyaminopropyl biguanide, tocopheryl acetate, bht, disodium edta, methylisothiazolinone
Sun Bum Mineral SPF 50 Sunscreen ingredients
Active ingredients: zinc oxide (20%)

Inactive ingredients: water, cocos nucifera (coconut) oil, butyloctyl salicylate, diheptyl succinate, methyl dihydroabietate, butyrospermum parkii (shea butter), fragrance, capryloyl glycerin/sebacic acid copolymer, sodium stearoyl glutamate, cetearyl alcohol, theobroma cacao (cocoa) seed butter, coco-glucoside, tocopherol, microcrystalline cellulose, cellulose gum, bisabolol, cetyl alcohol, arachidyl alcohol, behenyl alcohol, arachidyl glucoside, polyhydroxystearic acid, sodium hyaluronate, sodium gluconate, phenoxyethanol, ethylhexylglycerin, citric acid
Both of these sunscreens contain fragrance, but Sun Bum Mineral SPF 50 Sunscreen contains a few moisturizing goodies like shea butter, cocoa seed butter, and sodium hyaluronate. However, note that cocoa butter is included on Acne.org's list of comedogenic ingredients. However, since it's not in the first seven ingredients, it may not be included at high enough of a percentage to trigger a problem. Coconut oil is also a problematic ingredient for me…it tends to aggravate my acne. Coconut oil is included in the Mineral sunscreen, but not the Original one. However, both of them smell like coconut, so the Original formula probably uses fragrance to produce the impression that it includes coconut oil.
My Dad the Chemist's review of Sun Bum Original SPF 50 vs. Mineral SPF 50 Sunscreen
Dear Emily, I like the Mineral SPF 50 Lotion better than the Original SPF Lotion for better UV protection And because of it use safer preservative, Methylisothiazolinone and BHT have potential hazard.

But the original SPF Lotion May have better water resistance than the Mineral SPF 50 Lotion based on the ingredient lists, therefore, if i'm Going to be in and out of water then I may choose the Original SPF Lotion instead.

Love,
Dad
My dad points out that two of the preservatives used in the Sun Bum Original SPF Sunscreen (methylisothiazolinone and BHT) are potentially irritating for many people, so he prefers the Sun Bum Mineral SPF 50 Sunscreen instead. However, he thinks that the original formula will provide better water resistance, based on the ingredient list. I think that if you're choosing between both of these formulas, you should opt for the Mineral sunscreen—it's better for sensitive skin, and better for the coral reefs. Just make sure to reapply more often if you're going to be swimming/sweating throughout the day.
Sun Bum Original SPF 50 vs. Mineral SPF 50 Sunscreen comparison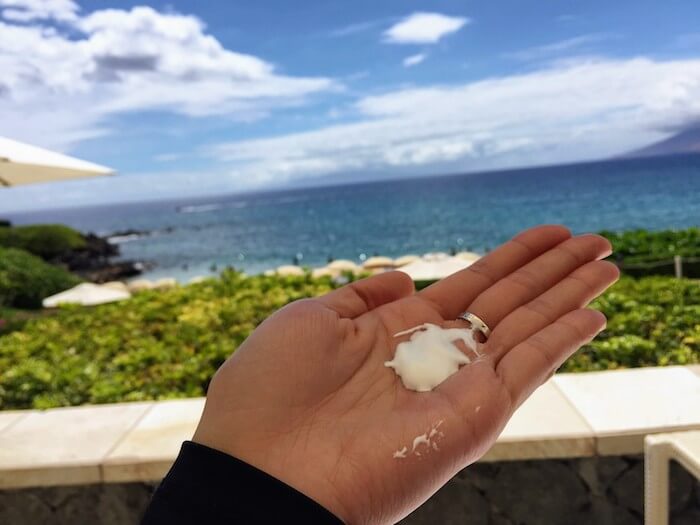 I found both formulas to be pretty similar. In fact, I didn't know that they were different until I emailed the hotel and they told me about the differences between the sunscreens at the beach and the pool. Both formulas are pretty runny and a bit difficult to blend in (maybe because it was such a hot day, so I had to apply it to sweaty skin). This sunscreen made my skin feel even more oily/greasy than it already was…but on the bright side, I didn't get burned, so I think it was at least effective. I wasn't personally a fan of the fragrance, but I think a lot of people will probably enjoy it. It's sort of a coconut/tropical fragrance that makes you feel like you're on vacation, even if you're not.
Since this sunscreen was too fragrance-heavy for me, and left an oily finish that didn't do any favors for my oily, acne-prone skin, I won't purchase this sunscreen in the future. I hate feeling greasy and sweaty after applying sunscreen. I much preferred the sunscreen provided at the Grand Wailea resort (where we stayed earlier in the trip) since it had a much lighter fragrance and wasn't as oily.
If you're planning to stay at the Four Seasons in Maui, I suggest using Sun Bum Mineral SPF 50 Sunscreen (remember, the one by the beach not the pool), if you have sensitive skin or if you're worried about exposing the coral reefs to chemical sunscreen filters. Plus, if you opt for the Mineral formula you won't get exposed to potentially irritating preservatives like methylisothiazolinone and BHT. However, keep in mind that the Sun Bum Mineral SPF 50 Sunscreen includes cocoa butter (albeit lower in the ingredient list), which may be comedogenic. So your safest best may be to bring your own zinc oxide-based sunscreen for your face, and then use the Sun Bum Mineral Sunscreen on the rest of your body.
Related posts
Note: This post uses affiliate links, which means that I'll receive a commission if you make a purchase after clicking a link (at no extra cost to you). See our
disclosure policy
.