This BB cream contains fortifying ingredients like niacinamide, and allantoin, as well as SPF 38 protection. But don't expect it to provide great coverage for uneven skin tone or large pores.
PURITO (a portmanteau of the words Purify + To) is a Korean beauty brand that is committed to delivering ingredients-focused skincare for people with sensitive skin. The first part of its name is self-evident; the second word, "To," stands for the Chinese word for soil/earth (土). Together, these words signify the company's commitment to delivering natural ingredients in its skincare in a way that will help heal and purify skin. The brand is also cruelty-free and uses recycled paper packaging for its products. A few months ago, a representative from PURITO contacted me, and kindly gifted me the PURITO Snail Clearing BB Cream and the PURITO Centella Green Level Unscented Sunscreen. Today I'll be sharing my honest review of the BB Cream in the No. 27 shade (Sand Beige).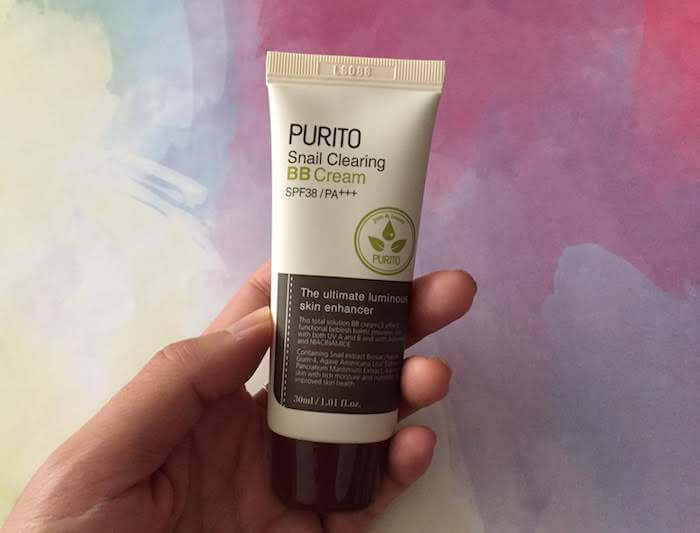 Purito Snail Clearing BB Cream ingredients
water, ethylhexyl methoxycinnamate, cyclopentasiloxane, titanium dioxide (ci 77891), butylene glycol, ethylhexyl salicylate, cyclohexasiloxane, snail secretion filtrate, lauryl peg-8 dimethicone, mineral oil, niacinamide, zinc oxide, mica (ci 77019), disteardimonium hectorite, magnesium sulfate, sorbitan sesquioleate, iron oxides (ci 77492), iron oxides (ci 77491), iron oxides (ci 77499), synthetic beeswax, zinc stearate, triethoxycaprylylsilane, aluminum hydroxide, caprylyl glycol, glycerin, dimethicone/vinyl dimethicone crosspolymer, allantoin, panthenol, caprylhydroxamic acid, adenosine, biosaccharide gum-4, pancratium maritimum extract, agave americana leaf extract, fragrance
This BB cream contains zinc oxide, titanium dioxide, and ethylhexyl methoxycinnamate (also known as octinoxate)—so it's not a completely physical sunscreen.
Strangely, the company product page says that it's doesn't contain mineral oil, but then, further down on the same page, the ingredients list clearly does contain this ingredient. If you search for "mineral oil" on the product page, you'll see what I'm talking about. I personally don't have a problem with mineral oil, but I thought it might be worth pointing out, since some people are concerned about mineral oil in their products.
My Dad the Chemist's review of PURITO Snail Clearing BB Cream
Dear Emily, based on the formula ingredients, it looks like a pretty decent moisturizing formula.

Love,
Dad
My dad thinks that this BB Cream is nicely moisturizing. It does contain some of the ingredients he has stated he liked in the past, including allantoin, which he thinks is a highly soothing and beneficial ingredient. Allantoin is also included in COSRX Snail Mucin Essence 96, another K-beauty snail product.
I like that this BB Cream is more of a moisturizer than just a makeup product. It contains ingredients that help soothe irritated skin, including allantoin and adenosine. Adenosine is a nucleoside found naturally in our DNA and RNA. In this study, which involved 126 females (ranging from 45–65 years old), a cream containing adenosine was applied to the face and found to improve smoothness of the skin, particularly frown wrinkles, after three weeks. This ingredient also appears in other Korean beauty products like Jeju:en Hyaluronic Acid Sleeping Mask and Mizon Snail Wrinkle Sleeping Pack.
PURITO Snail Clearing BB Cream review
PURITO Snail Clearing BB Cream is available in three shades: No. 21 Light Beige, No. 23 Natural Beige, and No. 27 Sand Beige. Unfortunately, this means that it probably isn't suitable for anyone who isn't pale or some degree of "beige."
I asked for the No. 27 Sand Beige tint since I guessed that it would be close to the other "No. 27" product I've used before: Missha Magic Cushion No. 27. It turned out to be pretty similar in shade to that product. It is slightly darker than my natural skin color, but when I mix it with a sunscreen that makes my skin slightly paler, it's not a bad match.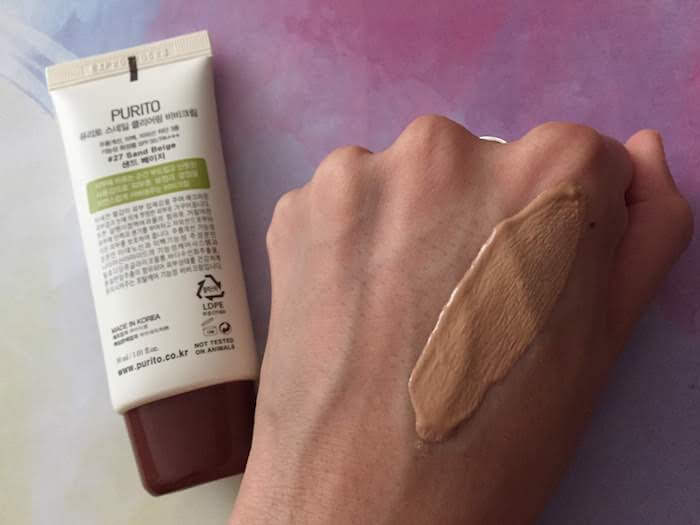 Light coverage for redness
You only need a little bit of PURITO Snail Clearing BB Cream to cover your face—it's a pretty runny/watery consistency that leaves your complexion looking pretty dewy. This might be nice if you have small pores and an even skin tone, but I felt like it didn't do any favors for my slightly uneven skin tone. Personally I think La Roche-Posay Effaclar BB Blur helps make my complexion look smoother. PURITO Snail Clearing BB Cream does do a good job of concealing redness, though.
Dewy, but not too oily
I think PURITO Snail Clearing BB Cream is a great moisturizer—it left my skin feeling nice and dewy throughout the day. It also ages well throughout the day. Even though it leaves you feeling dewy within minutes of applying it, your face doesn't actually get that much dewier/oilier after that. It just stays at a slightly-dewy state throughout the day. Remember, I have oily/combination skin. I normally prefer a more matte finish to my products, but I do think that this BB Cream is a nice option for anyone who prefers a dewy finish.
Fragrance
It does contain fragrance (though the company has stated that it is committed to excluding "synthetic" fragrances from its products, so I assume that it comes from some sort of natural source). The fragrance is pretty light, and reminds me of something a distinguished, middle-aged lady might smell like at afternoon tea. It's not citrusy at all, maybe slightly floral.
Beneficial ingredients
Snail secretion filtrate is a major ingredient in this BB Cream. This K-beauty favorite has been shown to improve the appearance of fine lines. So along with adenosine, and UV protection (PA+++), this BB Cream is also like an anti-aging cream.
UV protection
This BB Cream also provides SPF 38 (PA+++, which means that it offers pretty decent UVA protection) protection with a mixture of three sunscreen filters: zinc oxide, titanium dioxide, and ethylhexyl methoxycinnamate (also known as octinoxate). Since you only use a little bit of this BB Cream on your face, I don't suggest relying on it as your only source of SPF protection. You should still use it in conjunction with a sunscreen. I layered it on top of Australian Gold Tinted Face Sunscreen, which is SPF 50. If you have oily skin, I don't recommend layering this BB Cream with a sunscreen that leaves a dewy finish—it will end up making your skin feel like an oil slick at the end of the day.
Overall impressions
This BB Cream provides a great mixture of aesthetic benefits (helps cover up redness with its tint) as well as nourishing benefits (with soothing and beneficial ingredients like allantoin, adenosine, niacinamide). Plus, the SPF protection doesn't hurt. So while you're getting light coverage of imperfections, you're also slowly improving your skin from the inside out at the same time. Just don't expect it to fully blur or conceal uneven skin tone or acne scars.
If you're looking to incorporate a BB Cream into your routine, I suggest trying out PURITO Snail Clearing BB Cream since it doesn't just provide temporary benefits like regular makeup—and indeed, it isn't as good at concealing as it is at benefiting your skin in other ways. It's actually formulated to be a quality moisturizer that contains anti-aging ingredients like snail secretion filtrate and adenosine, so in my opinion, this product seems more like a tinted moisturizer than a BB cream.
Related posts
Note: This post uses affiliate links, which means that I'll receive a commission if you make a purchase after clicking a link (at no extra cost to you). See our
disclosure policy
.