This BB cream claims to provide broad-spectrum SPF 20 protection, but it's definitely not a replacement for sunscreen. Here's why.
Before I started getting mildly obsessed with sunscreen, I used to think that anything with at least SPF 15 was enough for daily wear. I didn't know the difference between a physical and a chemical sunscreen. I had never heard about UVA and UVB rays. I spent many years applying a thin layer of Oil of Olay Sensitive Skin Moisturizer with SPF 15 in the morning, and never bothering to reapply any sunscreen throughout the day. Later, I moved on to La Roche Posay BB Blur, which is primarily marketed as a BB cream, but also provides SPF 20 protection.
Let's take a closer look at the ingredients and find out what goes into this BB cream, and why it isn't a replacement for sunscreen.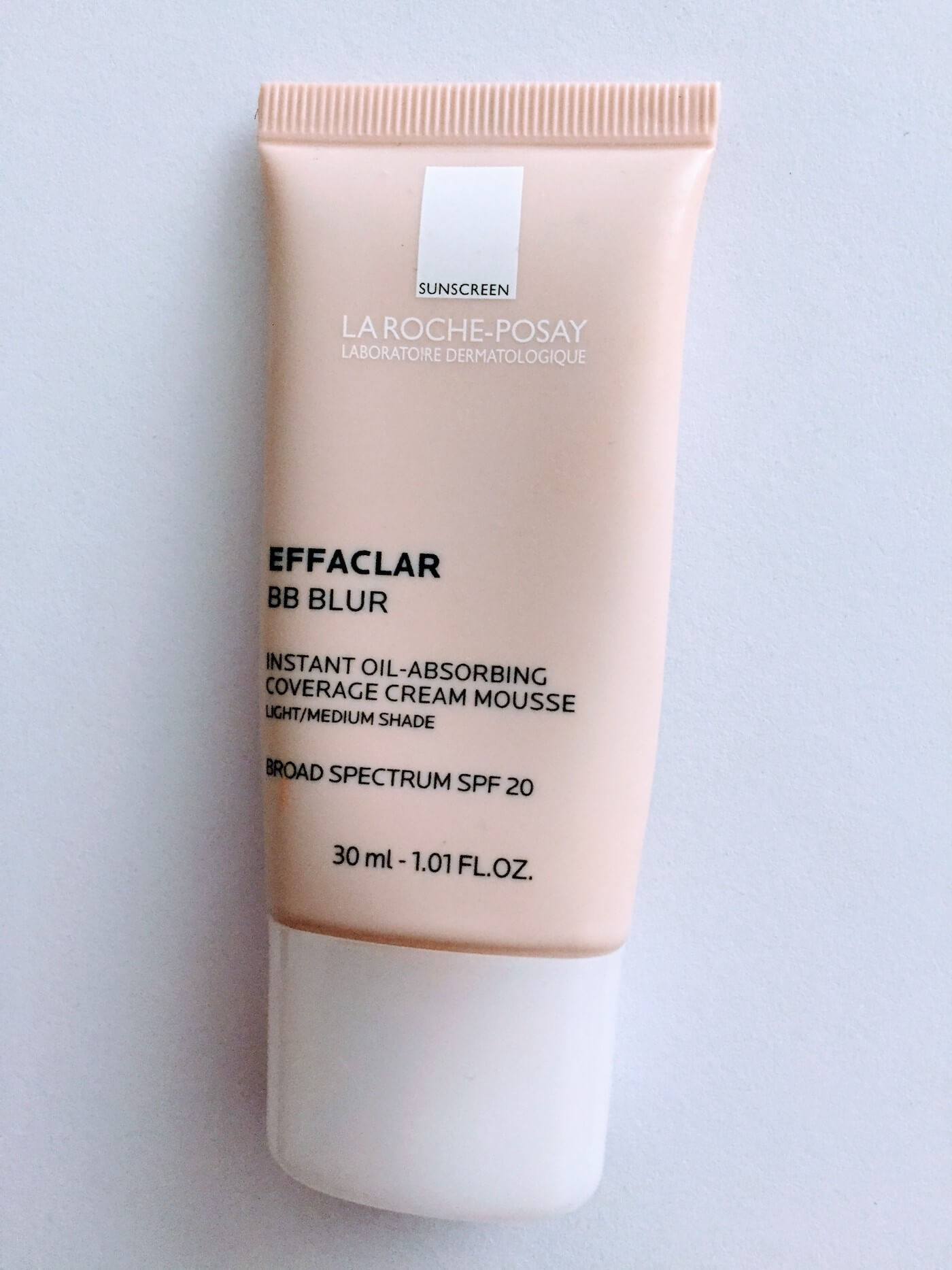 La Roche-Posay Effaclar BB Blur Ingredients
Active ingredient: titanium dioxide (10.66%)
Inactive ingredients: dimethicone, undecane, dimethicone crosspolymer, tridecane, tocopheryl acetate, silica silylate, perlite, disodium stearoyl glutamate, retinyl linoleate, aluminum hydroxide
Some surprises in here, indeed. I'll start with the good and then talk about the not-so-good. This product include tocopheryl acetate (vitamin E), which may help boost the photoprotective capabilities (improve its ability to block UV rays). It also contains retinyl linoleate, which is a form of vitamin A that provides anti-aging benefits. It's also fragrance-free, oil-free, and alcohol-free.
The active sunscreen ingredient is titanium dioxide, which is a physical sunscreen. This product claims to provide "broad spectrum" SPF 20 protection, but titanium dioxide only protects against part of the UVA/UVB spectrum, specifically UVB and UVA2, but not UVA1 (340–400 nm), per this handy dandy table from the Skin Cancer Foundation.
The surprise ingredient in here was undecane, which, according to Wikipedia, is "used as a mild sex attractant for various types of moths and cockroaches." I shivered inside when I read that. I wonder why it's the second ingredient in the list.
La Roche-Posay Effaclar BB Blur Review
The texture of this cream is silky and smooth, like a buttercream frosting. The label calls it a "mousse," which is actually a pretty accurate description. It blends really easily into your skin, and does a great job of smoothing out your pores and blurring them out, like you've been Photoshopped in real life.
However, I don't think it did that great of a job with decreasing the oil level on my skin. It includes an ingredient called "Air Licium" that was discovered through space-related research, and is supposed to help create an all-day matte texture for oily skin. Formulated with 99 percent air and 1 percent silica, Air Licium is designed to absorb sebum/oil on your skin and keep it looking matte-fresh all day. However, despite all that high-tech talk, after a full day of wearing this, my skin feels just about as oily as it would without wearing this product. The upside is that it didn't cause me to break out any more than usual. It also has a really nice smooth texture that almost feels like you're applying a soft, melted crayon on your face. It also has a mineral scent, probably from the minerals that help add a tinted composition to this product.
Although this may not be the best sunscreen in the world, it's a decent BB cream for anyone with a medium-light Asian skintone. The light/medium shade still makes me look a bit paler than my natural, un-BB-blurred skin, but not to the point where I look ghostly. It washes off a slightly orange tint on your fingers, but it doesn't look orange when applied to your skin. Instead, it creates a pretty pale consistency that isn't all that great for darker or warmer-toned skin.
To blur, or not to blur
You should try using La Roche Posay BB Blur if you're looking for a product that will help smooth out your large pores and make them disappear. However, it shouldn't replace a dedicated sunscreen that provides true broad spectrum protection against UVA1, UVA2, and UVB rays. Something like Australian Gold Botanical Tinted Sunscreen is my preferred pick.
Don't buy this product if you're looking for something that will make your skin less oily—this product won't do that, though it won't cause additional breakouts, either. Don't buy it if you're pretty tan or dark-skinned—even the light/medium shade will make your skin pretty pale. I can't imagine how much fairer the fair/light shade is. Oh, and don't buy if it you're grossed out by the idea that it contains an ingredient (undecane) that could be a mild attractant of cockroaches and moths.
Further reading
Note: This post uses affiliate links, which means that I'll receive a commission if you make a purchase after clicking a link (at no extra cost to you). See our
disclosure policy
.