This sleeping pack is formulated with 50 percent snail secretion filtrate. What's in the other 50 percent? A slew of anti-aging ingredients like peptides and natural extracts and oils.
Happy Mother's Day to all the amazing moms out there! Although I have decades of experience being a daughter, I still haven't mastered the art of finding the right Mother's Day gift. Other than Sudoku books, it's hard to find something that she'll actually like. My mom's a fan of Korean dramas, so last year, I decided to try sending her some K-beauty products. If she likes Korean dramas, why wouldn't she like Korean skincare?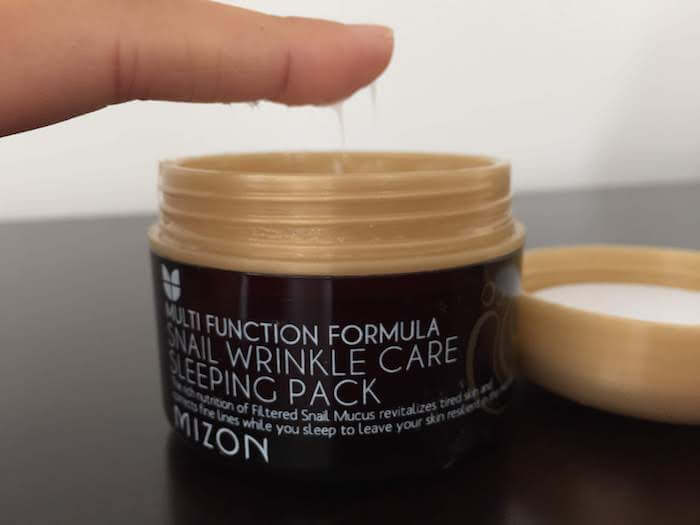 I decided on Mizon Snail Wrinkle Sleeping Pack because it claimed to provide moisturizing and anti-aging benefits, in a classy, subtle way. If you're giving your mom an anti-aging product, you probably don't want the packaging to be too obvious or tacky about wrinkles and fine lines. You want the gift to come across as, "Of course you don't really need this, Mom, since you don't really have any wrinkles, but I thought you might like to see what this Korean beauty craze is all about." You don't want it to sound like, "Hey, Mom, this product says that it's proven to work on deep wrinkles and crow's feet. When I read that, I instantly thought of you. Hope it helps you look like less of an old hag!" Maybe anti-aging skincare products should create two versions of their labels: a "gift" version that markets itself in a more subtle way, and a self-buying version that's more upfront about the proposed anti-aging claims.
Mizon Snail Wrinkle Sleeping Pack claims to help moisturize and nourish your skin while you sleep. Let's take a closer look at the ingredients that make that happen.
Mizon Snail Wrinkle Sleeping Pack ingredients
snail secretion filtrate, glycerin, water, cetyl ethylhexanoate, butylene glycol, dipropylene glycol, cetearyl alcohol, cyclopentasiloxane, citrus limon (lemon) peel oil, olea europaea (olive) fruit oil, citrus aurantium dulcis (orange) oil, citrus aurantium bergamia (bergamot) fruit oil, cedrus atlantica bark oil, citrus aurantium dulcis (orange) fruit extract, citrus grandis (grapefruit) fruit extract, pinus sylvestris leaf oil, lavandula angustifolia (lavender) extract, salvia sclarea (clary) oil, aniba rosodora (rosewood) wood oil, eucalyptus globulus leaf oil, citrus aurantifolia (lime) oil, coriandrum sativum (coriander) fruit oil, salvia officinalis (sage) oil, artemisia absinthium extract, chamomilla recutita (matricaria) flower extract, butyrospermum parkii (shea) butter, caulerpa lentillifera extract, glacier water, sea water, tremella fuciformis (mushroom) extract, saccharomyces ferment filtrate, vanilla planifolia fruit extract, santalum album (sandalwood) oil, honey extract, aureobasidium pullulans ferment, fomes officinalis (mushroom) extract, acacia seyal gum extract, glycine max (soybean) seed extract, dioscorea japonica root extract, glyceryl stearate, hydrogenated polydecene, cyclohexasiloxane, sodium polyacrylate, sorbitan stearate, peg-100 stearate, magnesium aluminium silicate, polysorbate 80, caprylyl glycol, dimethicone, aminomethyl propanol, adenosine, propylene glycol, pentylene glycol, ethyl hexanediol, glyceryl caprylate, 1,2-hexanediol, ethylhexylglycerin, sh-octapeptide-4, sh-decapeptide-7, sh-pentapeptide-19, sh-oligopeptide-9, carbomer, xanthan gum, disodium edta, phenoxyethanol, potassium sorbate
The main ingredient in this sleeping pack is snail secretion filtrate, which is included at 50 percent concentration. Snail secretion filtrate has been shown to improve the appearance of fine lines, according to this study, which involved a product containing 40 percent concentration of this ingredient.
This sleeping pack contains adenosine, a nucleoside found naturally in our DNA and RNA. In this study—which involved 126 females (ranging from 45–65 years old)—a cream containing adenosine was applied to the face and found to improve smoothness of the skin, particularly frown wrinkles, after three weeks. This ingredient is also found in Dr. Jart+ Cicapair Tiger Grass Color Correcting Treatment SPF 30, Missha Magic Cushion SPF 50 PA+++ (No. 27), and Jeju:en Hyaluronic Acid Sleeping Mask. It also contains some anti-aging peptides, which offer a nice boost of anti-aging benefits.
It also contains a number of oils and extracts, including:
Mizon Snail Wrinkle Sleeping Pack review
My mom actually called me to thank me for sending this Mizon Snail Wrinkle Sleeping Pack to her. I had also gifted her a few sheet masks, but she was too lazy to use them, so she gave them to my sister. But I still counted this Mother's Day gift as a win, because at least she ended up using and liking one of the things I bought her. She said that she thought this sleeping pack was making her skin feel plumper. She also liked that it wasn't too oily or heavy. That's a high endorsement coming from her.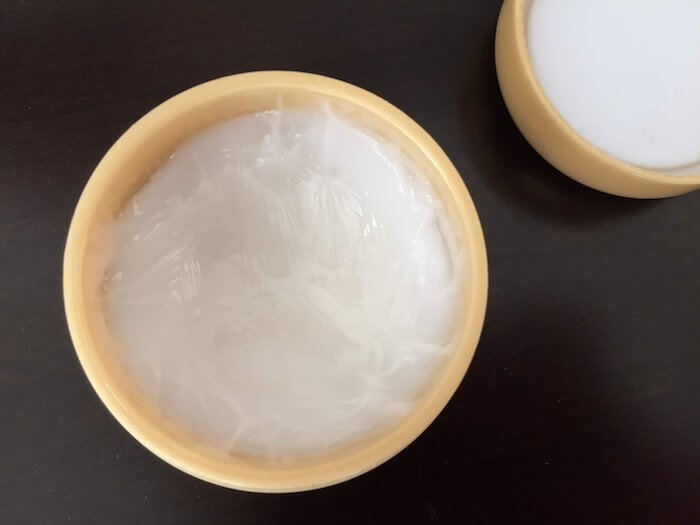 When I visited her, I had the chance to try out this sleeping pack for myself. The only snail product I've used before is COSRX Snail Mucin Essence 96, which contains 96 percent snail secretion filtrate. That product is much more watery than this sleeping pack. This sleeping pack is thicker in consistency. If you stick your finger in the tub and lift it out, it will leave behind a stringy trail of product, like melted cheese. It's actually kind of fun to play with it.
It's packaged in a plastic tub. It's snow white in color, and it smells faintly of citrus, probably because of the presence of lemon oil, orange oil, and bergamot oil. But the fragrance isn't overpowering, just a light smell. It doesn't contain any synthetic fragrances. It blends into the skin almost right away, and a little bit goes a long way. Since it's a sleeping pack, you're supposed to apply it as the last step in your nighttime routine, after your normal serums and moisturizers.
If you need a gift for a hard-to-please mom, I recommend sending her this Mizon Snail Wrinkle Sleeping Pack. In the worse-case scenario, if mom doesn't like it, you can still use it. :)
Related reading
Note: This post uses affiliate links, which means that I'll receive a commission if you make a purchase after clicking a link (at no extra cost to you). See our
disclosure policy
.