A slimy, lightweight moisturizer formulated with 96% snail secretion filtrate. Plus, how it stacks up against a similar product: Organic Doctor Snail Gel.
The first time I tried my friend's snail gel moisturizer a few years ago, I didn't know what to expect. The moisturizer wasn't slimy at all—it just felt like normal moisturizer. But I was definitely intrigued. I decided to order COSRX Snail Mucin Essence 96 to see if it would help my skin at all.
COSRX Snail Mucin Essence 96 Ingredients
snail secretion filtrate, betaine, butylene glycol, 1,2-hexanediol, sodium hyaluronate, panthenol, arginine, allantoin, ethyl hexanediol, sodium polyacrylate, carbomer, phenoxyethanol
COSRX Snail Mucin Essence 96 includes 96 in its name because it contains a whopping 96 percent snail secretion filtrate (snail mucin). This ingredient is supposed to help improve acne scars and repair the skin. In this study, a 40 percent concentration of snail secretion was found to help improve the appearance of fine lines as well.
The word "mucin" sounds like "mucus" for a reason—this stuff is really slimy. If you pump it out of the bottle and rub it between your fingers, you'll feel its sliminess in full form. However, after you pat the snail mucin into your face, its sliminess fades away as it dries, but it still leaves a slightly tacky presence on your face. So if you don't like that feeling, don't buy this product.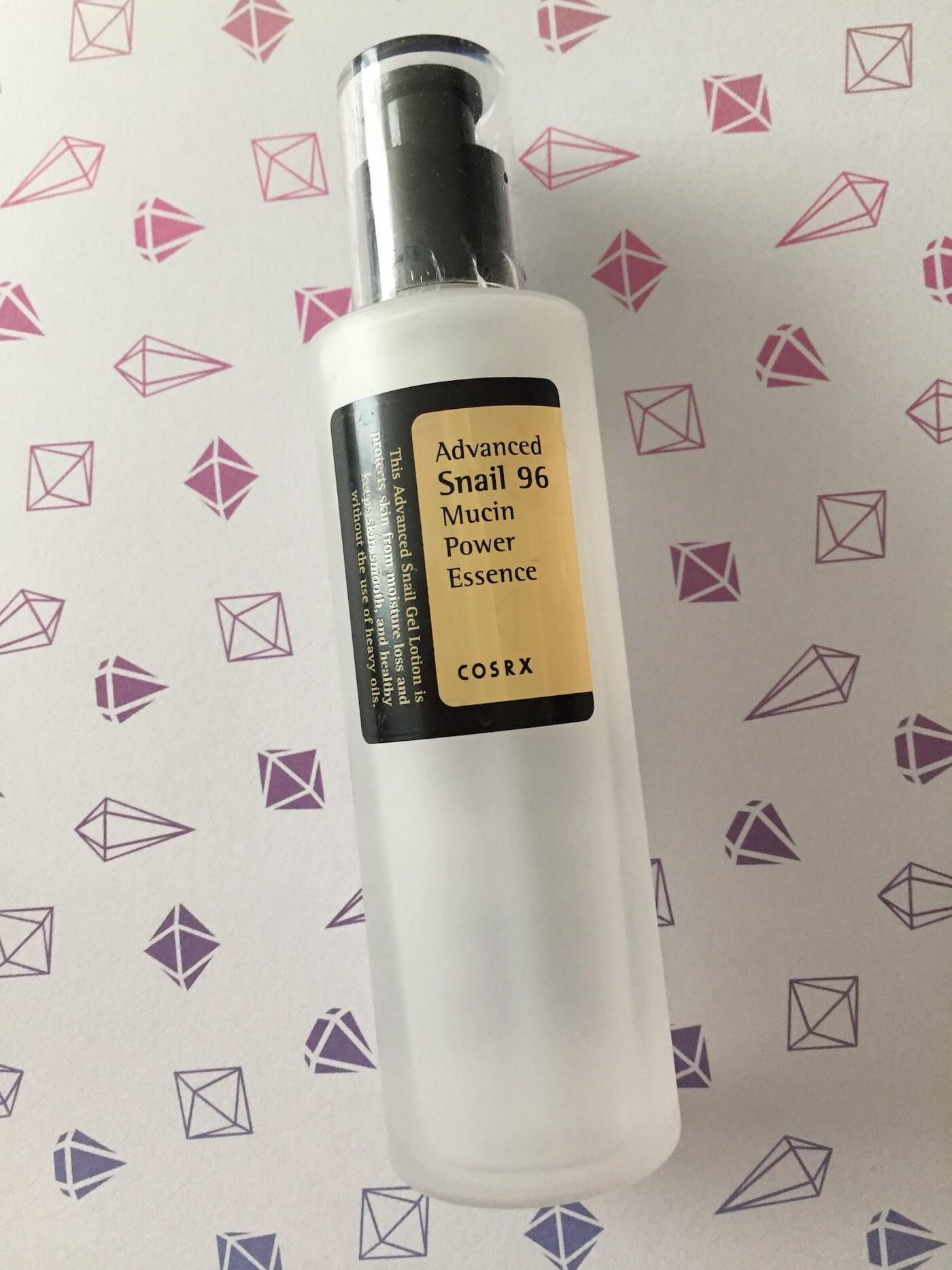 The remaining ingredients include:
arginine: An ingredient that helps moisturize the skin, and has been shown to help dryness associated with eczema, according to this study

allantoin: May help facilitate wound healing, according to this study. This ingredient was also in the Aveeno Baby Daily Moisture Lotion for Delicate Skin I wrote about the other day.

panthenol: Also known as vitamin B5, and the inspiration for Pantene's name. This is a moisturizing ingredient and humectant (a substance that holds moisture very well).

sodium polyacrylate: a very absorbent polymer that's also used in baby diapers.

sodium hyaluronate: also known as hyaluronic acid, this is generally a pretty expensive and sought-after ingredient that helps moisturize the skin.

After using this product off and on as a pre-moisturizer serum at night, I haven't noticed any drastic benefits of side effects, but I do quite like using it as a mix-in for other serums like The Ordinary Vitamin C Suspension 23% + HA or The Ordinary Niacinamide + Zinc serum.
Another snail to to hail? Organic Doctor Snail Gel
If you read my ode to CVS the other day, you may recall that I received a sample of another snail secretion filtrate product as part of my CVS.com purchase: Organic Doctor Snail Gel.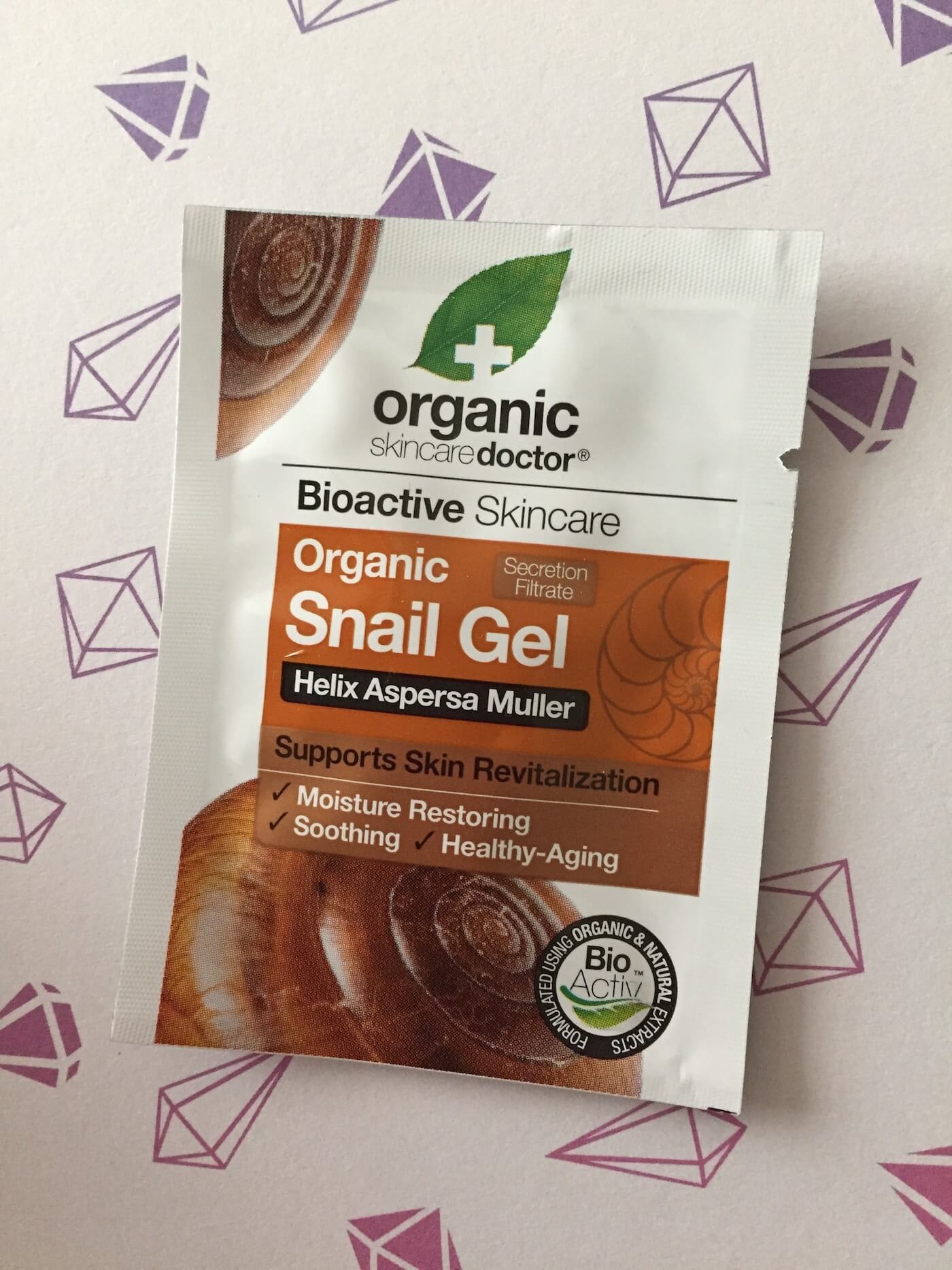 Here are the ingredients:
aloe barbadensis leaf juice, water, snail secretion filtrate (helix aspersa muller), glycerin, pyrus malus (apple) fruit extract, polyglyceryl-3 cocoate, ceratonia siliqua (carob) seed extract, citrus limon (lemon) oil, citrus aurantium dulcis (orange) peel oil, citrua aurantium bergamia (bergamot) fruit oil, chondrus crispus (carrageenan) extract, xanthan gum, sodium hyaluronate, phenoxyethanol, potassium sorbate, disodium edta, sodium hydroxide
This product looks pretty intriguing, but I have no idea what percentage of snail secretion filtrate is actually included in this product. I'm guessing it's probably not as high as COSRX's 96 percentage claim (or else they would have included the number in the product name, too). However, it does contain a good number of natural extracts that made it look pretty interesting, including aloe vera, glycerin, and some citrus oils. Like COSRX Snail Mucin Essence 96, it also includes sodium hyaluronate and phenoxyethanol (a natural preservative).
Potential red flags:
Organic Doctor Snail Gel contains carrageenan, which is a seaweed-derived thickener that's also added to many packaged almond milks. This makes me think that maybe it doesn't contain as much snail secretion filtrate as COSRX Snail Mucin Essence 96, which is already pretty thick on its own (it's pretty close to whatever you'd imagine snail slime to feel like…I know, appealing, right?).
It's also prudent to note that Organic Doctor Snail Gel includes sodium hydroxide, which was the only ingredient that was present in the new version of the CeraVe PM moisturizer formula update, but not in the old version. So if you hate the new formula, you may want to avoid products that contain sodium hydroxide, including this Organic Doctor snail gel (this is just a guess, though).
Let's see what my dad had to say when I asked him which ingredient list he liked better: COSRX Snail Mucin Essence 96 or Organic Doctor Snail Gel.
My dad the chemist's thoughts on COSRX Snail Mucin Essence 96 vs. Organic Doctor Snail Gel
I like Product 2 better because it contains more skin beneficial fruit extracts than Product 1.

Love,
Dad
Product 2 = Organic Doctor Snail Gel, while Product 1 = COSRX Snail Mucin Essence 96. My dad likes the additional fruit extracts found in the Organic Doctor Snail Gel. I guess I'll give this sample a go and see if it does anything to help brighten my skin. Thanks, CVS!
Final thoughts on COSRX Snail Mucin 96 Essence
Bottom line, I'd recommend trying COSRX Snail Mucin Essence 96, but it's not a life-changing product. It does a great job at hydrating the skin without weighing it down. However, be warned that it does go on somewhat slimy in the beginning, at least…so if that doesn't sound appealing to you, don't try it. If you don't mind the initial sliminess, it's actually a really nice extra layer of moisture for your skin (though it's not meant to serve as a standalone moisturizer), and it mixes nicely with other serums.
Further reading
Note: This post uses affiliate links, which means that I'll receive a commission if you make a purchase after clicking a link (at no extra cost to you). See our
disclosure policy
.