Does this shampoo work as well as other, more conventional options? Plus, why are fragrance-free hair care products so hard to find?
As someone who has eczema (mainly on my hands), I'm always looking for ways to reduce exposure to irritants. Since I wash my hair almost every day, I realized that I should probably start looking for a fragrance-free shampoo—after all, your scalp is also part of your skin, and you apply shampoo with your hands. But sadly, it's been my experience that fragrance-free hair care products are surprisingly difficult to find.
One of the most widely available options in brick-and-mortar stores is Whole Foods Fragrance-Free Shampoo. I recently picked up a bottle during their 25% off beauty event. This shampoo is vegan, fragrance-free, sulfate-free, and paraben-free. I'll also review this shampoo's sister product—Whole Foods Fragrance-Free Conditioner—in a future post.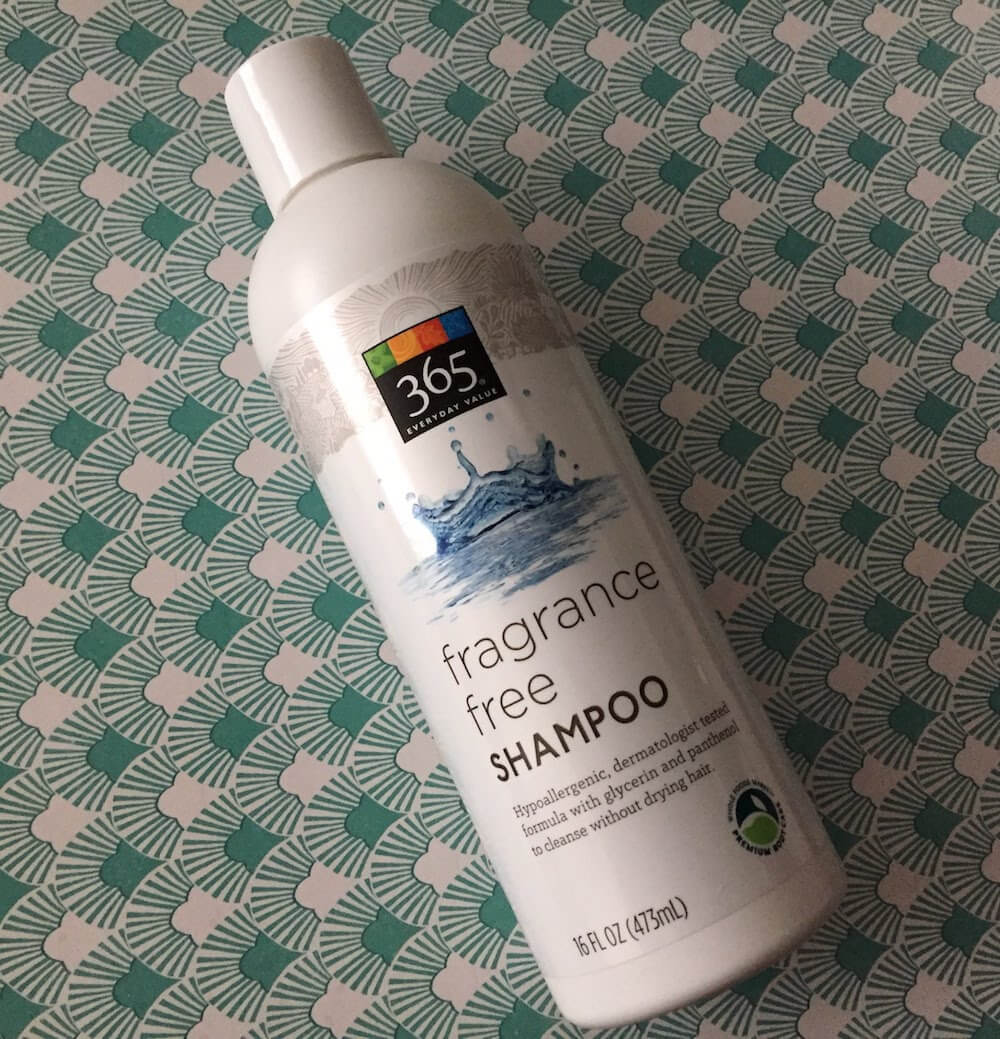 Whole Foods Fragrance-free Shampoo ingredients
water, glycerin, sodium myristoyl sarcosinate, sodium cocoamphoacetate, xanthan gum, phenoxyethanol, amodimethicone, sodium cocoyl isethionate, caprylyl glycol, citric acid, sodium citrate, guar hydroxypropyltrimonium chloride, cocamidopropyl hydroxysultaine, panthenol, tilia europaea flower extract, argania spinosa (argan) kernel oil, cocos nucifera (coconut) oil, organic aloe barbadensis (aloe vera)
Whole Foods Fragrance-Free Shampoo is sulfate-free, but it uses a few foaming agents to stand in for the absence of sulfates: sodium myristoyl sarcosinate, sodium cocoamphoacetate, and cocamidopropyl hydroxysultaine. These foaming agents serve as an alternative to SLS (sodium lauryl sulfate), which can be tough on color-treated hair. This shampoo also contains xanthan gum, which is used as a thickener. It uses phenoxyethanol as a preservative (many products that advertise themselves as "paraben-free" use this as an alternative, and this shampoo is one of them).
Tilia europaea flower extract, also known as linden flower extract, is listed as a conditioning agent on EWG.
This shampoo also contains other conditioning agents like panthenol (a hair-fortifying vitamin that serves as the origin of the brand name Pantene), argan oil (I love the way my hair response to argan oil—it helps make it glossier), and coconut oil. Glycerin and aloe vera are also included in this formula.
I find it odd that fragrance-free shampoos and conditioners are so hard to find. Why don't more hair care companies produce a fragrance-free version of their products? What are people with sensitive skin and sensitive scalps to do? Whole Foods Fragrance-Free Shampoo was one of the few options I could find at an actual store. I asked my dad why he thought that was the case, and what he thought about this shampoo, based on its ingredients.
My Dad the Chemist's review of Whole Foods Fragrance-Free Shampoo
Dear Emily, I think it should be a good conditioning shampoo, I think most people are so used to having shampoo with nice and strong odor while washing their hair, people use fragrance free shampoo dislike the chemical odor or taste during rinsing process, I think.

Love,
Dad
My dad thinks that this is a good conditioning shampoo. He also thinks that maybe companies don't want to produce more fragrance-free hair care products because people generally like having a nice, strong odor when they're washing their hair, or else it doesn't feel clean. The fragrance can also help offset the odor of any chemicals included in the formula.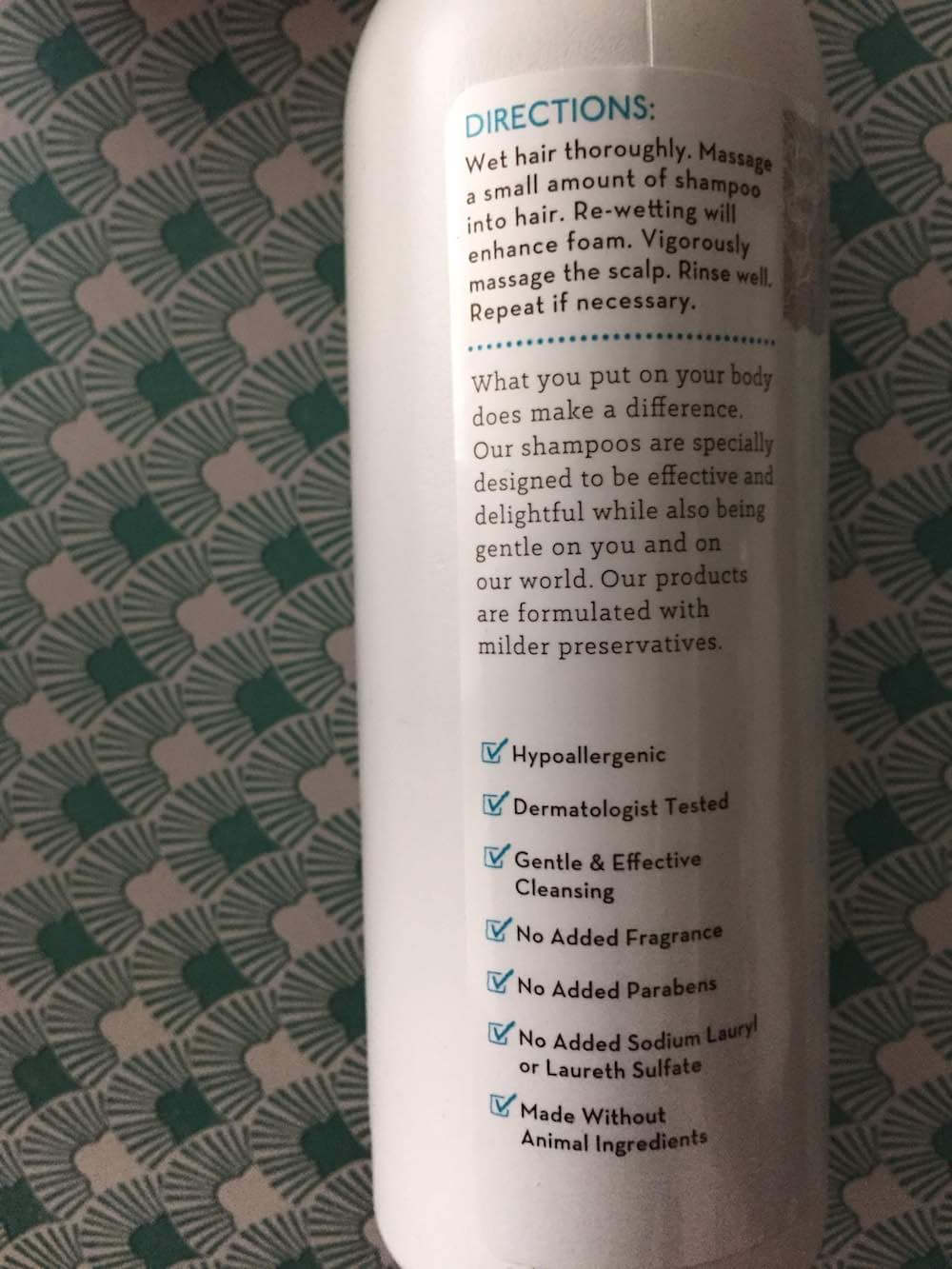 Whole Foods Fragrance-Free Shampoo review
I've been using Whole Foods Fragrance-Free Shampoo for a few days now, and I like it so far. It's packaged in a plastic bottle with a press-top opening. Be careful when pouring the shampoo out, though, since the size of the dispensing hole is a bit large and the shampoo is a bit of a runny consistency, so it comes out rather quickly. The first few times I used it, I ended up squeezing out more shampoo than I expected. However, that might be a function of design, since I found that I needed to use a bit more shampoo than I usually do.
This shampoo is clear and a slightly runny in consistency. When you apply it to your wet hair, it may not foam up right away. If you find that it isn't foaming as much as you would like, the directions suggest rewetting your hair to trigger more foaming action. This didn't work that well for me, so I tried adding a bit more shampoo into the mix, and then it finally started foaming up. So if it's not foaming up for you, try adding a bit more water to your scalp, and if that doesn't work, a bit more shampoo.
This shampoo is also vegan, sulfate-free, and of course, fragrance-free. I think this is a great option to try out if you have sensitive skin and are worried about irritating your scalp. It's also nice to see that it contains conditioning agents like argan oil and coconut oil. Since I don't like the smell of coconut oil, I was pleased to see that this shampoo definitely lives up to its name and doesn't have any sort of noticeable scent. My dad mentioned that companies sometimes add fragrance to offset any noticeable chemical odor of the ingredients in the formula. Well, this particular shampoo didn't smell like any of the ingredients in the formula—it didn't smell like anything at all. If you're looking to reduce the number of potential irritants that come into contact with your skin and scalp, check out Whole Foods's Fragrance-Free Shampoo. They also make a conditioner and body wash if you want to revamp your entire shower routine.
Related reading
Note: This post uses affiliate links, which means that I'll receive a commission if you make a purchase after clicking a link (at no extra cost to you). See our
disclosure policy
.