This shampoo-body-wash combo includes great ingredients like aloe vera and shea butter—and it smells pretty good even though it's completely fragrance-free.
My mom rarely buys anything at full price—not just because she enjoys saving money, but also because she loves the experience of hunting for a good bargain. I'm not sure if it's a case of nature or nurture, but I definitely caught that bargain hunting bug. That's why I love shopping at TJ Maxx. I've slowly been picking through my TJ Maxx stockpile, and I finally got around to trying Shea Moisture Fragrance-Free Shampoo and Body Wash recently. It turned out to be a real gem.
Unfortunately, it looks like Shea Moisture has discontinued this product—at least, I wasn't able to find it on their website or on Amazon. I found another baby shampoo of theirs that also contains shea butter, but it contains fragrance in the form of an "essential oil blend." Bah.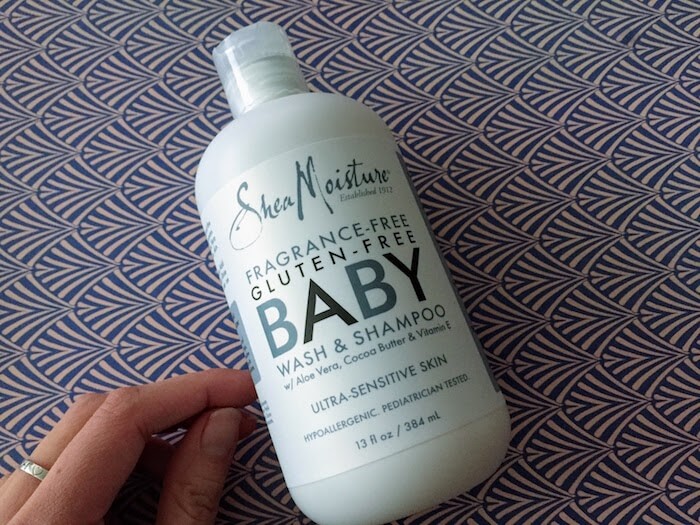 Although this product has been discontinued, I'll still review it and point you to some other potentially promising options for other Shea Moisture products to try (that haven't been discontinued…yet).
Shea Moisture Fragrance-Free Shampoo and Body Wash ingredients
aloe barbadensis leaf juice, decyl glucoside, sodium cocoyl glutamate, glycerin, sodium lauroyl lactylate, xanthan gum, butyrospermum parkii (shea) butter, oat beta glucan, coco-glucoside. theobroma cocao (cocoa) seed butter, glyceryl oleate, gluconolactone, sodium benzoate, sodium phytate, citric acid, tocopheryl acetate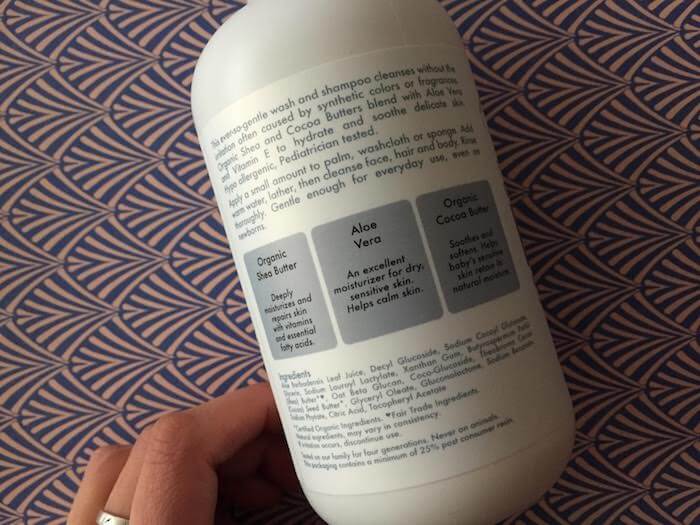 My Dad the Chemist's review of Shea Moisture Fragrance-Free Shampoo and Body Wash
Dear Emily, this formula contains nice natural moisturizing ingredients in very mild soap base, I think it should be a decent shampoo/body wash.

Love,
Dad
My dad has always been a fan of shea butter. I've known this ever since I sent him the ingredient list for Australian Gold Tinted Face Sunscreen. In that case, he said "shea butter is one of the best ingredients for skin." He says that it contains a very mild soap base, which is probably why it markets itself as suitable for "ultra sensitive skin."
Shea Moisture Fragrance-Free Shampoo and Body Wash review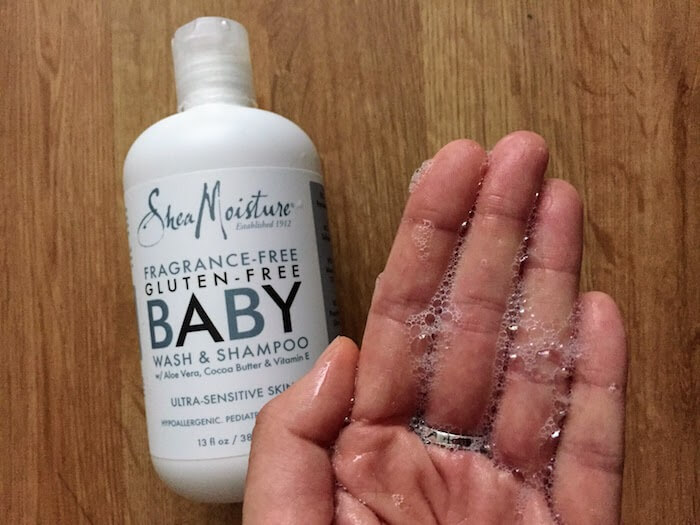 Truly fragrance-free hair products are hard to find. Whole Foods makes one of the only options that's available on a nationwide basis. That's why I was so excited to find this product at TJ Maxx. What makes things even trickier is that sometimes a product can look like it's fragrance-free (that is, "fragrance" isn't listed explicitly on the ingredient list), but it still contains fragrance components. Some of these red-flag ingredients include essential oils (which are often not suitable for sensitive skin even though they smell nice), as well as known irritants and fragrance compounds like citral, citronellol, ionone, limonene, and linalool, which my dad said were "famous allergens" in his review of Pantene Pro-V Leave-on Detangling Milk.
After scanning through the ingredient list to make sure that it truly was free of fragrance ingredients, I decided to buy it. And boy, was I glad that I did. I love this shampoo and body wash! I use it as a face wash and shampoo, and I've been loving it. Strangely, magically, it smells terrific, even though it doesn't contain any of those fragrance ingredients or essential oils that I just mentioned. What it does contain is aloe vera, shea butter, glycerin, and cocoa seed butter, to help nourish your skin and scalp. I find that about a quarter-size amount if enough for shampooing, and a dime size for my face is all I need. The instructions suggest using it in conjunction with a washcloth, which I have also tried. It's great either way—with or without the washcloth.
It foams up pretty nicely, but not super aggressively. It also doesn't leave much residue on my hair. Note that you will probably still need to use a conditioner afterward, if you have long hair that needs to be tamed/detangled. It's not a conditioning shampoo, even though the shea butter probably helps condition a little.
Unfortunately, this product isn't available on Shea Moisture's website or anywhere else I looked online. So I can only guess that it was discontinued. Maybe fragrance-free hair products are so few and far between because not enough people are buying them?
I guess that's the risk you take when you buy products at TJ Maxx—oftentimes they end up on sale there because they've either been discontinued or updated (to reflect new ingredients, new packaging, or both). I suppose that's why they're so heavily discounted. I wish this one was still available, though, because I would repurchase it in a heartbeat, even if I had to pay full price. After I'm finished this bottle, I'll have no choice but to look for another option. This shea butter product looks very promising as a skin and hair treatment. The only ingredient is 100% organic shea butter.
I also found some other fragrance-free shampoo/conditioner options that I'd be interested in trying in the future:
Related reading
Note: This post uses affiliate links, which means that I'll receive a commission if you make a purchase after clicking a link (at no extra cost to you). See our
disclosure policy
.