This CC cream is supposed to help reduce redness, but I found it to be very oily and heavily perfumed.
It's Father's Day! My dad and I aren't the kind of people who can just shoot the breeze over the phone. When we can't be together in the same place, it's often hard to get him to keep talking to me unless we have a specific reason to talk. So I'm grateful that this blog has given us a new way to connect and share ideas, and for me to learn more about what he did for many years before he retired.
Today I'm going to cover another TJ Maxx find: La Roche-Posay Rosaliac CC Cream with SPF 30. Since I used La Roche-Posay Effaclar BB Blur before and liked it quite a bit, I thought I would give this CC cream a shot. Unfortunately, I didn't scan the ingredient list closely enough and was disappointed to discover that this product contained fragrance among its ingredients. I'm surprised that La-Roche Posay would include fragrance in this product even though it is part of its Rosaliac line, which is targeted to those who have sensitive skin and redness associated with rosacea. I guess it just goes to show that you always have to inspect the ingredient list like a hawk instead of just assuming that a product is going to be fragrance-free just because it's marketed to a demographic that would specifically be looking for something fragrance-free.
Without further ado, let's get to the review.
La Roche-Posay Rosaliac CC Cream with SPF 30 ingredients
Active ingredients: octinoxate (3%), octisalate (3.5%), octocrylene (4.5%), titanium dioxide (6.2%)
inactive ingredients: water, glycerin, butyrospermum parkii (shea) butter, diisopropyl sebacate, c30-45 alkyl dimethicone, dimethicone, butylene glycol, sucrose tristearate, ammonium polyacryloyldimethyl taurate, methylsilanol/silicate crosspolymer, polysorbate 61, fragrance, tocopheryl acetate, sodium stearoyl glutamate, phenoxyethanol, peg 12 dimethicone, ethylhexylglycerin, tambourissa trichophylla leaf extract, dimethiconol, xanthan gum, caprylyl glycol, disodium edta
This CC cream is SPF 30, which is not bad. However, keep in mind that you're probably not going to use as much of this product as a regular sunscreen, which means that you should still use a dedicated sunscreen aside from this product if you want to be diligent about putting enough sunscreen on.
My Dad the Chemist's review of La Roche-Posay Rosaliac CC Cream with SPF 30
Dear Emily, all the containing sunscreen actives in this formula are not irritating to the skin. the ingredient may reduce the redness from Rosacea is Shea Butter.

You're correct, overkilled fragrance may be irritating for sensitive skin , they only claims to reduce not to prevent, so I think it should work better if all the actives are minerals instead.

Love,
Dad
My dad says that this product does not contain any irritants other than fragrance. He also says that the only beneficial ingredient for rosacea that he can see is shea butter. He thinks that if the fragrance is overkill, it will be irritating for sensitive skin, and that he would prefer for all the active ingredients to be mineral (physical) rather than chemical sunscreen filters, since mineral filters tend to be better tolerated by those with sensitive skin. Tambourissa trichophylla extract, also known as ambophenol, may provide benefits when used alongside a Metronidazole treatment for rosacea, according to this study. I wasn't able to find other research to back up why La-Roche Posay might include this tambourissa trichophylla extract in its formula.
La Roche-Posay Rosaliac CC Cream with SPF 30
La Roche-Posay Rosaliac CC Cream with SPF 30 comes packaged in a plastic tube with a pump dispenser. The consistency is velvety and leaves skin looking a bit oily afterward, which makes it more suitable for dry skin. My skin is too oily to get along with this CC cream. The other thing I really didn't like about the CC cream was the strong fragrance. It smells very floral and almost assaults my olfactory senses to the point where I can't help but think that it's included at a high enough concentration to irritate people with sensitive skin (and sensitive noses). I am highly disappointed that I didn't realize that this product contained fragrance before buying it.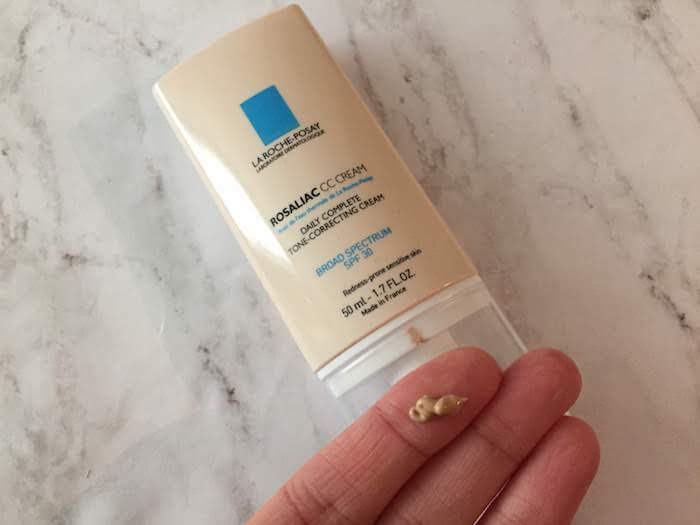 On the website, it lists "no fragrance" in the bulleted list, but clearly lists "fragrance" in the ingredient list. The website really needs to be updated so that it's not misleading to customers.
Aside from the high level of fragrance, I found this product to be disappointing in terms of color correcting as well. I don't have rosacea, but I do have some reddish-brown hyperpigmentation on my cheeks, so I was hoping that this CC cream would be able to offset the redness. However, it seemed to be just like a foundation that was slightly too pale for my complexion.
Compared to La Roche-Posay Effaclar BB Blur, this CC cream is more oily and runny, whereas the BB Blur is almost like a thicker buttercream frosting. I prefer the BB Blur because it's completely fragrance-free and doesn't contain any chemical sunscreen filters—just titanium dioxide. However, that product only has SPF 20 protection and can't be used as your sole sunscreen either—not only because of how little you're using but also because titanium dioxide doesn't provide broad spectrum protection.
It does contain nice moisturizers like shea butter and glycerin, but it's just too oily for my skin. I found that it left an oily/dewy afterglow that started getting more and more slick as the day progressed. It also started irritating my eyes. At the end of the day, this product leaves my skin feeling even more oily than usual, so I don't recommend it as a good option for those with oily skin.
Related reading
Note: This post uses affiliate links, which means that I'll receive a commission if you make a purchase after clicking a link (at no extra cost to you). See our
disclosure policy
.