These cleansing wipes are designed for oily skin, but they made my skin feel slightly too oily and itchy after using them.
The American in me is primed to feel like anything instantly gets glammed up once you slap a French name on it. "Escargot" sounds way more appealing than "snails," and "merci" seems more refined than "thanks." So it should probably come as no surprise that I always think of La Roche-Posay as a premium brand, even though it's widely available in drugstores, and not terribly expensive.
In the past, I've dabbled in La Roche-Posay's "Effaclar" line of products, designed for oily, acne-prone skin. I tried the BB Blur cream and the gel face wash, so when my sister gave me a pack of the Effaclar Cleansing Wipes to try, I was curious to see how they would stack up against other wipes I've used in the past.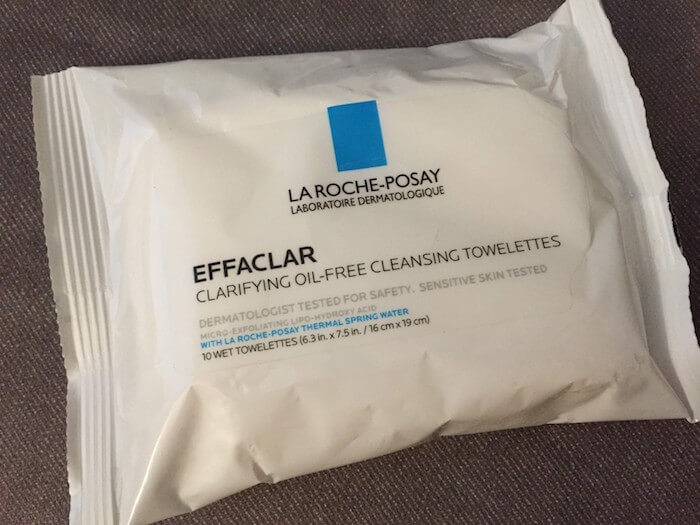 But first, I wanted to share a bit of history about La Roche-Posay itself. La Roche-Posay's name stems from a 14th-century tale, in which a horse hopped into a spring in the town of La Roche-Posay in France. Doesn't sound too noteworthy, right? Well, it turns out that the horse had eczema (it never even occurred to me that horses could have eczema, but it makes sense, I guess!), and the water from the spring was said to cure the horse's skin woes. This thermal spring water continued to gain fame over the coming centuries, and eventually the La Roche-Posay brand was founded by a French pharmacist in 1975.
What an interesting backstory. Anyway, let's move on to inspecting the ingredients that go into La Roche-Posay Effaclar Cleansing Wipes, and then get into my first impressions of this product.
La Roche-Posay Effaclar Cleansing Wipes ingredients
water, isopropyl lauroyl sarcosinate, poloxamer 184, propylene glycol, cocamidopropyl pg-dimonium chloride phosphate, glycerin, dimethicone, octyldodecanol, ethylhexyl palmitate, sodium benzoate, sodium cottonseedamphoacetate, capryloyl salicylic acid, zinc pca, glyceryl stearate, ceteareth-25, ceteth-2, cetyl palmitate, polyquaternium-7, disodium edta, sodium chloride, citric acid, guar hydroxypropyltrimonium chloride, phenoxyethanol, potassium sorbate, tetrasodium edta
On the product page, La Roche-Posay describes these wipes as oil-free, fragrance-free, and a good choice for sensitive skin.
A few interesting ingredients to highlight here:
glycerin and dimethicone, commonly included in moisturizers

zinc pca, also known as the zinc salt of l-pyrrolidone carboxylate, which has been shown to provide anti-microbial benefits and also may help protect skin from UVA-related damage.

capryloyl salicylic acid: a lipo hydroxy acid (LHA) that helps exfoliate the skin, per L'Oreal (La Roche-Posay's parent company). Although it has been declared safe for use in cosmetics, it may cause allergic reactions in those with sensitive skin if the ingredient contains impurities

poloxamer 184: a substance included in many makeup removers

La Roche-Posay Effaclar Cleansing Wipes
I used La Roche-Posay Effaclar Cleansing Wipes a few times over the course of a week. Here are my first impressions and recommendations, based on my limited experience (and after taking a look at the ingredients above).
The good:
Fragrance-free

Didn't cause any breakouts

Each wipe is saturated with a generous amount of cleansing fluid. This means that one wipe should be more than enough to cover your whole face and neck without drying up first.

The potentially not-so-good:
I noticed that it left a slightly slick residue on my face even after it dried. It also made my face itch a little bit, which was the final straw that pushed me to rinse the residue off with a gentle face wash after using this wipe.

Usually I only see one or two preservatives in an ingredient list, but this one had at least five: sodium benzoate, disodium edta, tetrasodium edta, potassium sorbate, and phenoxyethanol. And those are only the ones I noticed…I might have missed some. If you're sensitive to any of these preservatives, you may want to opt for a different way to remove sunscreen/makeup on the go.

This wipe did a decent job at removing my physical sunscreen, but it's not the very best makeup/sunscreen remover I've come across. I feel like I would still need to use another face cleanser to remove every last bit of sunscreen after using this wipe. And to me, that defeats the purpose of using a wipe!

All in all, I think I would use these wipes if I didn't have access to any other way of removing my physical tinted sunscreen at the end of the day. But if I had access to another wipe, or an oil cleanser, I would definitely choose one of those methods over these wipes, because I didn't like the way my face felt after using these wipes. To see what wipes might work better than these, see this other makeup remover wipe comparison guide.
Related reading
Note: This post uses affiliate links, which means that I'll receive a commission if you make a purchase after clicking a link (at no extra cost to you). See our
disclosure policy
.