These cleansing wipes are perfect for anyone who loves apple-scented products, but may not be suitable for sensitive skin.
It's the first day of 2019! I thought it would be fitting to review something that's meant to wash away makeup, sunscreen, and impurities—including the kind that come from boarding a long flight back home after visiting your family for the holidays. Today I'm focusing on Innisfree Refreshing Cleansing Wipes with Apple Seed. I picked up this 15-pack on a whim when I wandered into Innisfree's new-ish Midtown East location in NYC.
I was drawn to the words "apple seed," maybe because they reminded me of Johnny Appleseed and other wholesome things. This product comes from the Korean beauty company, innisfree, which has bene around since 2000. The store decor and product packaging are all very natural-looking and wholesome, and when you join their loyalty program, they also give you a welcome package (but more on that in a future post). I used these wipes throughout my holiday vacation, and I think that they'll do in a pinch, but I probably won't be repurchasing these in 2019.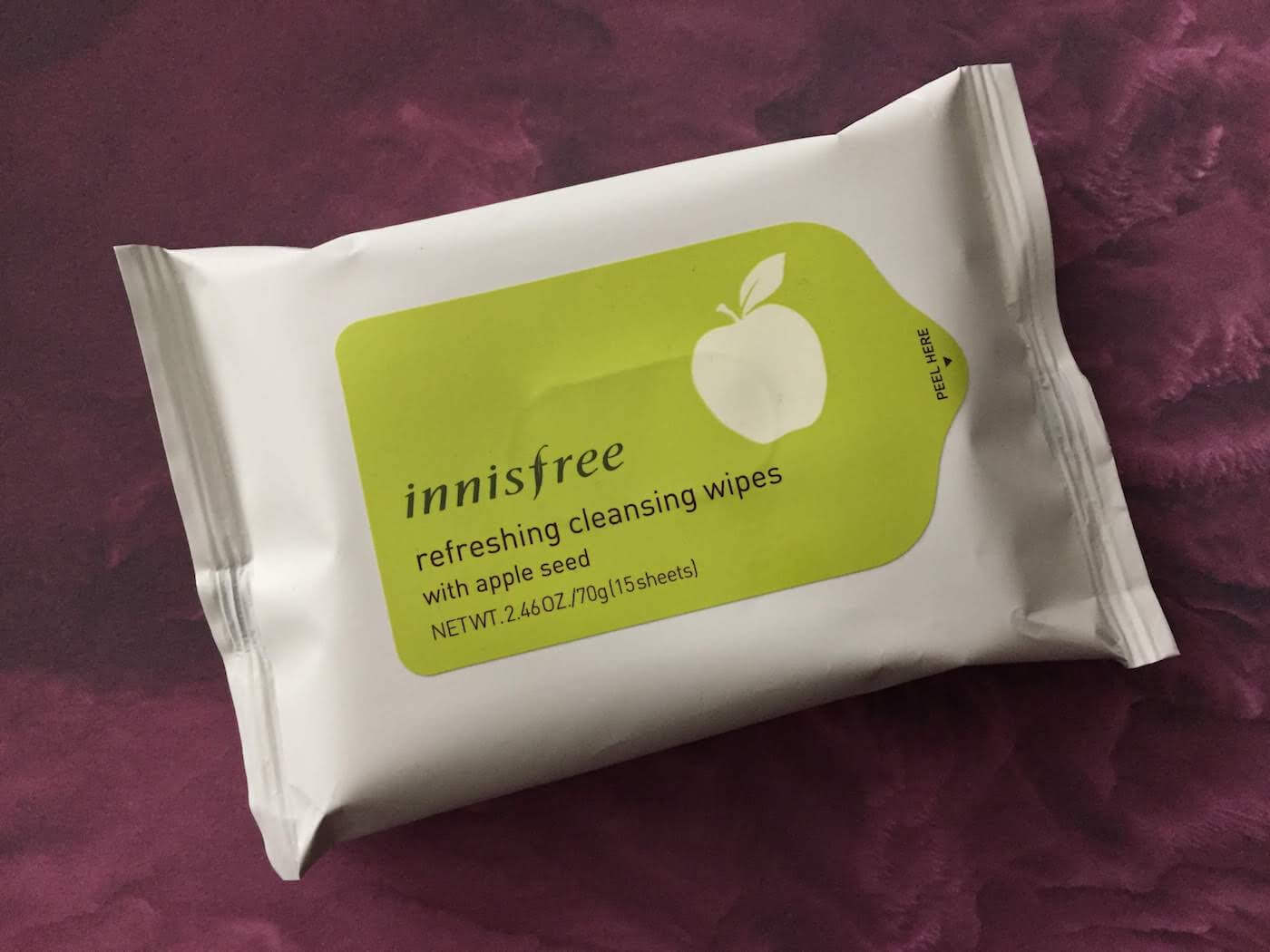 innisfree Refreshing Cleansing Wipes with Apple Seed ingredients
water, isopropyl myristate, butylene glycol, cetyl ethylhexanoate, cyclopentasiloxane, glycerin, cyclohexasiloxane, 1,2-hexanediol, polysorbate 80, peg-40 hydrogenated castor oil, phenoxyethanol, fragrance, pyrus malus (apple) fruit extract, ethylhexylglycerin, sodium dehydroacetate, allantoin, disodium edta, pyrus malus (apple) seed oil, camellia sinensis leaf extract, citrus unshiu peel extract, opuntia coccinellifera fruit extract, orchid extract, camellia japonica leaf extract, tocopheryl acetate
Like Neutrogena's Fragrance-free Makeup Remover Cleansing Towelettes, these wipes contain cyclopentasiloxane and other solvents to help remove makeup. Castor oil also probably helps dissolve stubborn makeup and leave They also contain citrus unshiu peel extract, the main ingredient in Frudia Citrus Brightening Cream. Citrus unshiu peel extract, apple fruit extract, and apple seed oil, are rich in antioxidants like vitamin C, an ingredient that brightens the skin. Tannins in apples may also help protect antioxidants from oxidizing, preserving their beneficial properties. These wipes also contain allantoin, which may help soothe irritated skin and promote wound healing, according to this study.
## Innisfree Refreshing Cleansing Wipes with Apple Seed review
The wipes are packaged in a sleeve with a green sticker. The sticker has pretty good adhesive properties (sometimes the sticker can get less sticky over the course of the lifetime of the package, which can cause the wipes to dry out). The size of the wipes themselves is a bit smaller than I'm used to seeing with, say, CVS Just the Basics Makeup Removing Towelettes. However, they were still large enough to cleanse my entire face and neck. The texture of the towelette/wipe itself was also quite nice—not abrasive at all, and pretty soft overall.
Now let's get down to the actual makeup-and-sunscreen-dissolving solution that these wipes are soaked in. They did a pretty good job of removing my physical tinted sunscreen (Australian Gold Botanical Tinted Sunscreen), but they left my face feeling slightly itchy and tingly after the solution dried on my face. I definitely felt like I needed to wash the residue off my face to stop it from getting itchier.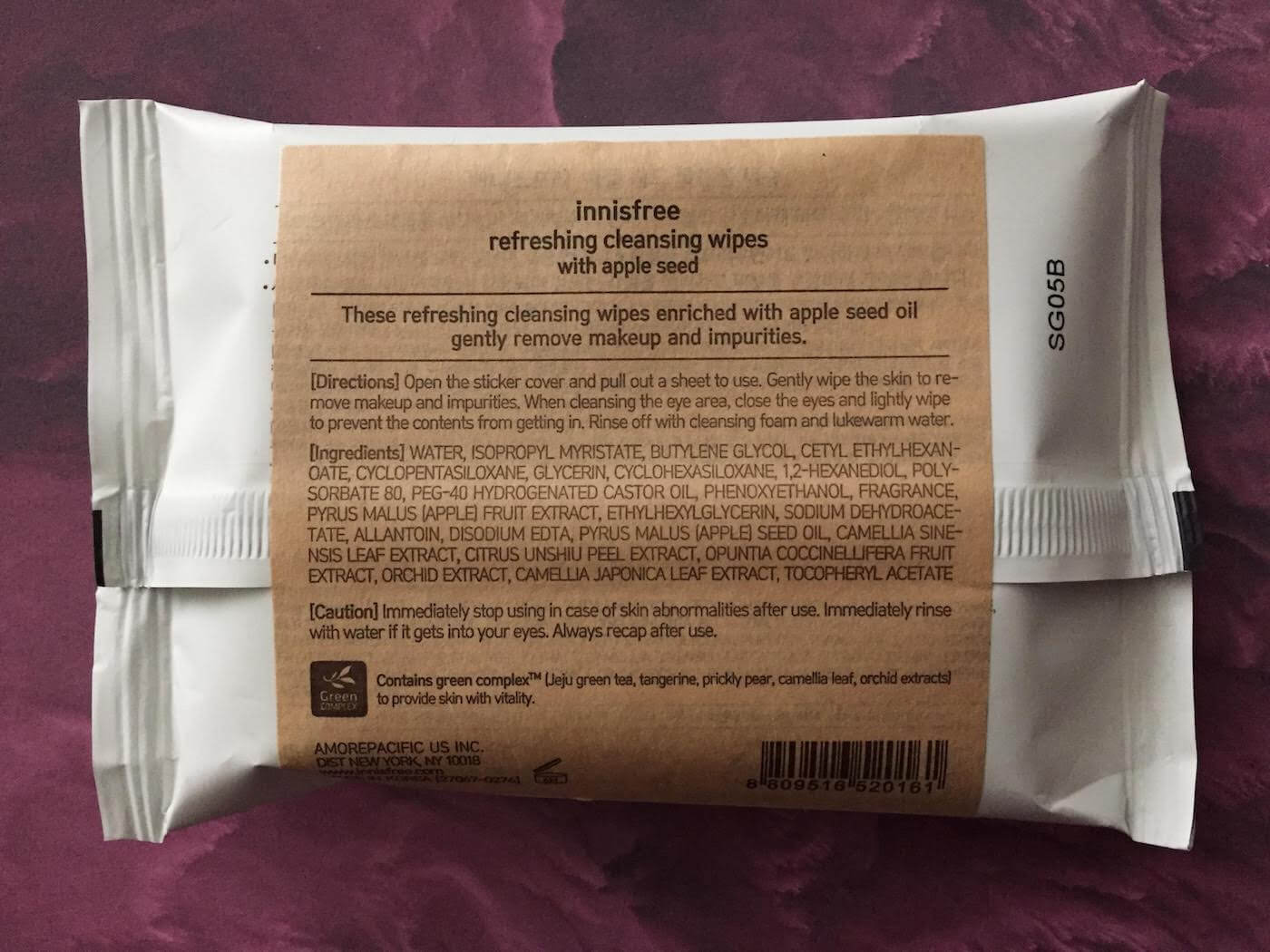 Another con of these wipes is that they carry a very distinctive apple-scented fragrance, which may be off-putting for some people. Specifically, if you don't like the smell of green-apple-flavored Jolly Ranchers, stay away from these wipes.
Because of the fragrance and the slight irritation/itchiness I experienced, I think I'm going to stick with a fragrance-free makeup-removing towelette like Neutrogena or CVS Just the Basics Cleansing Towelettes for now. But I might want to try the apple seed cleansing oil in the future…it looks pretty interesting.
Related reading
Note: This post uses affiliate links, which means that I'll receive a commission if you make a purchase after clicking a link (at no extra cost to you). See our
disclosure policy
.