This micellar water removes tinted sunscreen but leaves a film on my skin afterward. It also claims to be designed for sensitive skin but still contains fragrance.
Micellar water has been big business for a while now. This magical elixir promises to remove makeup and sunscreen (even water-resistant ones) without requiring you to tug at your skin or undergo a double cleansing process. I picked up Evoluderm Micellar Water for Dry & Sensitive Skin from TJ Maxx on a whim. I'd been hearing about the benefits of micellar water for some time. Even though I don't wear makeup, I am always looking for a way to remove my water-resistant, tinted sunscreen without irritating or drying out my face.
This product is targeted to dry and sensitive skin, and says "alcohol free" and "paraben free." Note, however, that it does not state that it is "fragrance-free." If you look through the ingredients list, you'll see that it does include parfum, or fragrance, which is disappointing. The packaging is strikingly similar to Bioderma Micellar Water, right now to the pink cap. Bioderma has a different color cap for each type of micellar water it creates, and the pink one is reserved for sensitive skin. Garnier also has a pink-capped product that's suitable for sensitive skin. Unlike Evoluderm Micellar Water for Dry & Sensitive Skin, however, Bioderma's and Garnier's products do not have fragrance. They both also advertise that they are free of alcohol and parabens, matching the two other "free of" claims on Evoluderm's label.
Evoluderm Micellar Water for Dry & Sensitive Skin ingredients
water, propylene glycol, poloxamer 184, glycerin, peg-40 hydrogenated castor oil, decyl glucoside, panthenol, chlorhexidine digluconate, fragrance, tetrasodium edta, citric acid, gossypium herbaceum root extract, potassium sorbate, sodium benzoate
Strangely, this product contains fragrance even though it's marketed to those with sensitive skin. It does, however, contain glycerin and panthenol to help moisturize and condition dry skin, which make sense since it's also marketed to dry skin.
I was curious to see if other micellar water makers were also just as careless about labeling their products as "suitable for sensitive skin." Let's take a look at the ingredient lists for comparable options from Bioderma and Garnier, the two frontrunners in the micellar water industry.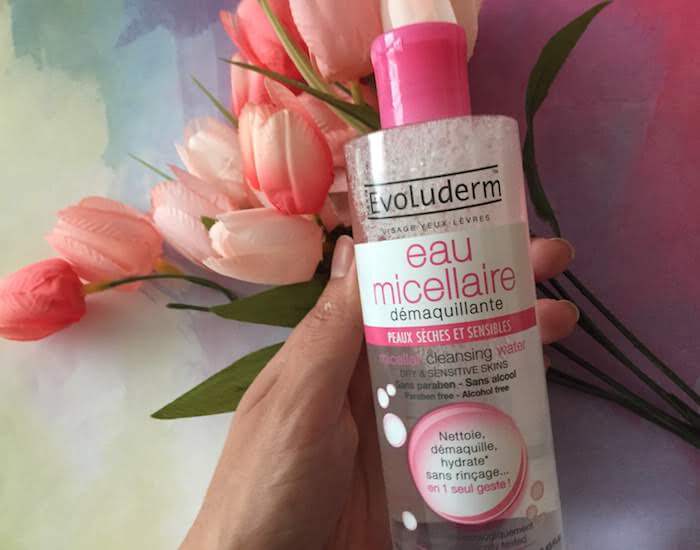 Let's compare this list to the ingredients in Bioderma's Micellar Water for Sensitive Skin:
water, peg-6 caprylic/capric glycerides, fructooligosaccharides, mannitol, xylitol, rhamnose, cucumis sativus (cucumber) fruit extract, propylene glycol, cetrimonium bromide, disodium edta
Garnier Micellar Water for all Skin Types (pink cap) contains the following ingredients:
water, hexylene glycol, glycerin, disodium cocoamphodiacetate, disodium edta, poloxamer 184, polyaminopropyl biguanide
My Dad the Chemist's review of Evoluderm Micellar Water
I asked my dad what micellar water was, and he said it was basically some fatty molecules mixed into water. Here's what he said about micellar water as compared to normal face wash when it comes to effectively removing makeup and sunscreen:
Both Makeup and sunscreen are composed of some oily ingredients that may be more gently and less irritably to be removed than the regular face wash (water and surfactant based), but I don't know if it would be more effective.

Regardless,I think after using this micellar water to remove the sunscreen and/or makeup, you may still need to rinse with water, because if some of these micelles stay on the face, they may clog pores.
He thinks that micellar water may not necessarily be more effective than regular face wash. He also cautions that you should probably rinse with water after using micellar water, because if the micelles (the fatty molecules) stay on your face, they could clog pores. Hmm. Turns out that micellar water isn't as straightforward or low-maintenance as the leading companies would have us believe.
Evoluderm Micellar Water for Dry & Sensitive Skin review
Unfortunately, it seems that I chose the wrong brand of micellar water to buy. I was disappointed to see that it included fragrance even though it claimed to be suitable for sensitive skin. I need to be a bit more picky about the products I buy from TJ Maxx, especially if they come from brands that I don't recognize. Even if it's discounted, it's still a waste of money if the product ends up being a dud.
In terms of effectiveness, this product does do a decent job of removing tinted sunscreen. I soaked one MUJI cotton pad with this micellar water, and it removed a decent amount of Australian Gold Tinted Face Sunscreen from my face, with very little rubbing required. I just swiped it across my face a few times and the pad was completely brown/tinted. It took a few more pads to completely remove all the sunscreen. However, after using this micellar water, I definitely felt like my face was coated in a thin oily film that needed to get rinsed off. I definitely don't think I could use this without rinsing my face afterward. I tried to leave it on one night, and my face started getting itchy, so I rinsed off the residue and then reapplied moisturizer at night.
After using this product a few times, I'm pretty sure that micellar water is not going to make its way into my skin-care routine anytime soon—and not only because I chose the wrong brand to try out. It turns out that micellar water is not as easy or fuss-free as the big brands make it out to be.
Even though Garnier's site claims that you should be able to apply their micellar water without any need to rinse afterward, I would still rinse just to be safe. You don't want to leave any potentially irritating or pore-clogging residue behind, and it only takes a few seconds. This makes it just as much of a fuss in my book as an oil cleanser. And at the end of the day, I can't help but feel like you're paying mostly for water. So if I'm going to have to pay for an additional step in my cleansing routine, I'd rather invest in an oil cleanser instead. I'm thinking about trying Albolene in the future, since it seems like a gentle, cost-effective option.
Of course, it's possible that micellar water is one of the most gentle, effective options for removing makeup. I can't speak from experience there, since I was only looking for a solution to help clean off my sunscreen. If you want a micellar water that's truly suitable for sensitive skin, I'd recommend checking out Bioderma or Garnier instead, since those are both fragrance-free.
Related reading
Note: This post uses affiliate links, which means that I'll receive a commission if you make a purchase after clicking a link (at no extra cost to you). See our
disclosure policy
.