This fragrance-free conditioner is filled with beneficial ingredients like panthenol, jojoba oil, shea butter, and sea kelp extract.
There are few things I hate more than seeing "naturally derived fragrance" on a product label. I don't care if the fragrance is naturally derived—I wish companies would just call it what it is: fragrance. Over the first few decades of my life, I haven't really given a second thought to fragrances in hair products. It's only over the past year or so that I've started to encounter a few bad experiences with irritating hair products. As a result, I've been trying to opt for only fragrance-free hair care products to reduce the likelihood of irritating the sensitive skin on my ears.
Last year (time flies!), I sent my dad the ingredient lists of three fragrance-free conditioners: Whole Foods Fragrance-free Conditioner, Desert Essence Fragrance-Free Conditioner, and Free and Clear Fragrance-Free Conditioner. His favorite of the three was Whole Foods Fragrance-Free Conditioner because of two specific conditioning ingredients (Amodimethicone and Guar Hydroxypropyltrimonium Chloride), but Desert Essence was his next favorite choice. I ended up trying and reviewing Whole Foods Fragrance-Free Conditioner. It turned out to be a decent product, though I found it to be a bit too watery for my taste. I wouldn't be averse to trying it again, but I also wouldn't go out of my way to buy that conditioner in the future.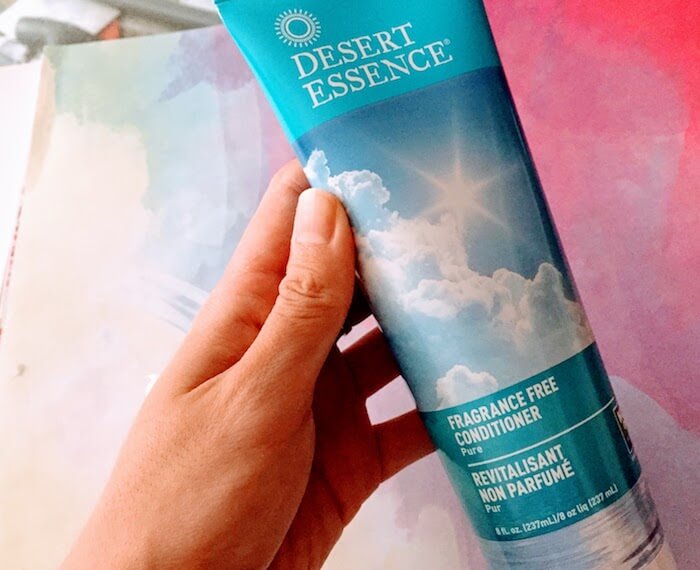 Recently, I finally had the chance to try out Desert Essence Fragrance-Free Conditioner, and I think it could be my new go-to conditioner in the future. Thankfully, it's not too expensive and it's easily accessible on Amazon. Yay!
Desert Essence Fragrance-Free Conditioner ingredients
aloe barbadensis leaf (aloe vera) juice, camellia sinensis leaf extract (green tea), cetearyl alcohol, behentrimonium chloride, glycerin, caprylic/capric triglyceride, hydrolyzed jojoba esters, panthenol, simmondsia chinensis (jojoba) seed oil, helianthus annuus (sunflower) seed oil, lepidium meyenii root extract (maca root), yucca brevifolia root extract (yucca cactus), butyrospermum parkii (shea) butter, water, symphytum officinale leaf extract (comfrey), urtica dioica (nettle) leaf extract, macrocystis pyrifera extract (sea kelp), salix alba (willow) bark extract, dehydroacetic acid, potassium sorbate, benzyl alcohol, citric acid
Reading through this ingredient list, it almost looks like a moisturizer since it contains aloe vera, green tea extract, shea butter, and willow bark extract. I'm not sure why water is listed so low in the ingredient list—usually it either comes first or all the ingredients in the list are in alphabetical order.
My Dad the Chemist's review of Desert Essence Fragrance-Free Conditioner
Dear Emily, I don't see any ingredient in this formula that I dislike at all. It only contains a few chemicals that aren't botanical extracts, they're necessary for the formula for formula stabilization.

It consists of mostly natural extracts, I like it, hopefully it works for you!

Love,
Dad
Desert Essence Fragrance-Free Conditioner review
The professional hair washing was a relic from her mother's generation, and an affectation that her own mother had not possessed, and yet, there it was. It was not a pricey indulgence, if weighed against the cost of proper conditioner.
—All Adults Here, Emma Straub
We all know how expensive a "proper conditioner" can get—I've always been wary of plunking down piles of cash for a "salon-quality" conditioner that's bound to be heavily fragranced. The cheapo within me also cringes at the thought of rinsing it all right down the drain in a matter of minutes. I'd rather pay more for a leave-in conditioner or hair vitamins or something with more of a lasting effect, but maybe that's just me.
Desert Essence Fragrance-Free Conditioner is a really nice conditioner that falls into an affordable price point without skimping on good ingredients. It contains panthenol (the vitamin that gives Pantene its name), shea butter (a great moisturizer for skin, too—so you can temporarily moisturize your hands as you apply this to your hair :P), and jojoba oil. It also happens to be 100% free of synthetic and "natural" fragrances.
I think it's important to note that though this product is free of added fragrances, it isn't completely odorless. It must be one of the ingredients in the formula (or combination of them), but to me, it smells vaguely like almond extract (but only maybe 10% as strong as the real thing).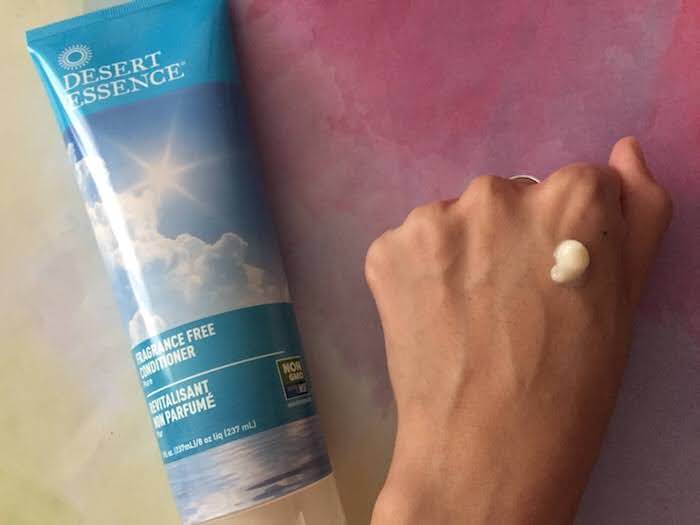 I liked the texture/consistency of this conditioner much more than Whole Foods Fragrance-Free Conditioner, which was too watery for me. This conditioner is more creamy—in fact, it's almost like the consistency of pastry cream (it's even the same color, too). This means that a little goes a long way. With the Whole Foods conditioner, I had to use quite a bit more product in order to coat my hair. This conditioner coats my strands much better, so I end up needing less of it. And it just makes for more of a luxurious experience overall.
This conditioner rinses out with minimal residue and leaves my strands feeling silkier. It doesn't completely eliminate all frizz (but I haven't found any product that's managed to perform that feat on my hair—and I probably never will). Give it a try if you're looking for a conditioner that isn't completely bare bones just because it's fragrance-free. Another fragrance-free option I also tried and liked is Acure Curiously Clarifying Conditioner Review (fragrance-free)—but that one also has a stronger natural (lemongrass-esque) scent than Desert Essence Fragrance-Free Conditioner.
Related reading
Note: This post uses affiliate links, which means that I'll receive a commission if you make a purchase after clicking a link (at no extra cost to you). See our
disclosure policy
.