This soap is an affordable option for buying in bulk from Costco, but may not be suitable for very sensitive skin because of the dye and fragrance. Plus, find out more about the moisturizing ingredient it contains.
Lately, I've been thinking more and more about making the switch to a solid bar of soap for washing my hands. The packaging is more eco-friendly and the product itself is potentially more suitable for my hand eczema. Liquid hand soaps generally contain more preservatives (because they contain water), whereas it's typically easier to find a gentle, non-irritating solid bar soap like Dove Sensitive Skin Beauty Bar.
However, before I make the switch, I need to do a few things: buy a soap dish and use up my current supply of liquid hand soap. Today, I'd like to share my review of a soap I've used off and on (but mostly on) for many years now, mostly because it's easily available from Costco: Softsoap Advanced Clean Hand Soap. Though it does contain fragrance, it doesn't have a very strong scent, and it doesn't overly irritate my hands most of the time.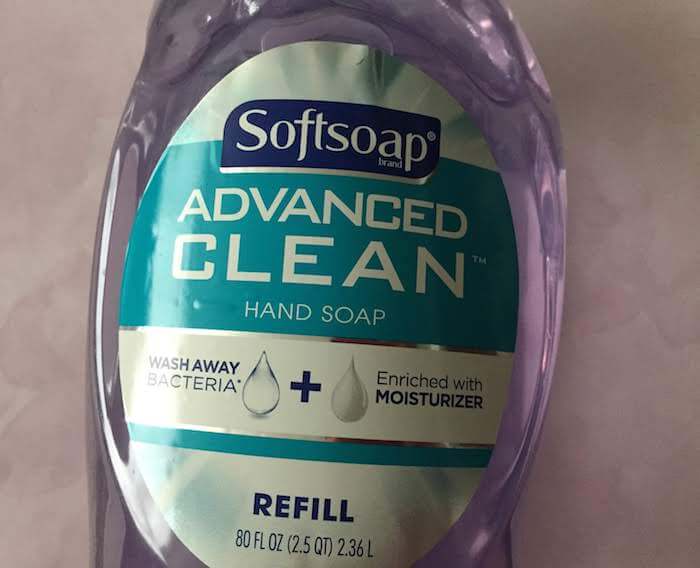 Softsoap Advanced Clean Hand Soap ingredients
water, sodium laureth sulfate, cocamidopropyl betaine, sodium chloride, cocoamide mea, fragrance, sodium salicylate, sodium benzoate, citric acid, polyquaternium-7, poloxamer 124, tetrasodium edta, sodium sulfate, bht, peg-18 glyceryl oleate/cocoate, peg-7 glyceryl cocoate, ext d&c violet 2
Softsoap Advanced Clean Hand Soap review
This has been my hand soap of choice for a few years now, but only for one main reason: because I can buy it in bulk from Costco. It has a pretty purple hue because of the violet dye. Although I would of course prefer to use a dye-free soap for the sake of my skin, at least it looks pretty.
What's the moisturizer in Softsoap Advanced Clean Hand Soap?
Softsoap Advanced Clean Hand Soap claims to contain a moisturizer. But what is that moisturizer? It's not clear, to the untrained eye, what in the ingredient list could qualify as a moisturizer. So I asked my dad to weigh in. Here's what he said:
Dear Emily, polyquaternium-7 is a cationic co-polymer, it will keep skin moisturized even after rinse off.

Love,
Dad
So it turns out that polyquaternium-7 is the ingredient that may help keep hands moisturized even after rinsing off this soap. This ingredient was also in a few otherproducts (mostly face washes) I've reviewed before:
From this list, it seems like polyquaternium-7 is commonly used in face washes, as well as in Softsoap hand soaps, perhaps to help offset the drying effects (transepidermal water loss) of cleansing.
Anecdotally, I don't know how much the polyquaternium-7 actually continues to moisturize after I'm done washing my hands. It doesn't strip my skin as much as the horrid pink soap that's often stocked in public restrooms (you know the one), but it isn't exactly moisturizing, either. I still recommend moisturizing your hands with your favorite lotion after you're done washing, even if a soap claims to contain moisturizers like polyquaternium-7.
What's the texture of Softsoap Advanced Clean Hand Soap?
I don't like it when liquid hand soap is too runny or thin, because it reminds me of the way soap feels when you add too much water to the bottom of the bottle to extend its life. It feels cheap and leads to an unsatisfying handwashing experience, in my opinion.
This particular soap is nice and thick, probably because of the sodium chloride (yes, salt), which is often used for thickening purposes in liquid hand soaps. This, however, can also make the soap more irritating for people with very sensitive skin. It also foams up quite easily, which helps make it feel like you're getting cleaner as you're using it (even though that's all in your head, and foaming ability actually is not related to actual cleansing effectiveness).
Is Softsoap Advanced Clean Hand Soap irritating?
Compared to some other harsher soaps like Up&Up Classic Clean Hand Soap, Softsoap Advanced Clean Hand Soap is not overly irritating, but it probably isn't the best choice for my hand eczema. Still, because finding a good fragrance-free hand soap at a good price point is harder than it sounds, I've been using this soap for many years now.
Related reading
Note: This post uses affiliate links, which means that I'll receive a commission if you make a purchase after clicking a link (at no extra cost to you). See our
disclosure policy
.