Fragrance-free hand soaps are few and far between. This is a solid option for people who have sensitive skin, but still like to wash their hands a lot.
I came down with a bad case of the flu a few weeks ago, and it really knocked me out. Ever since then, I've gotten much more diligent about washing my hands before touching my face or eating anything. But the more I wash my hands, the more it dries out and aggravates my sensitive skin. What's a girl with hand eczema to do? This girl went out in search of a fragrance-free hand soap, in hopes that it would be less likely to cause irritation. One of the few widely available fragrance-free hand soaps is sold at Whole Foods: 365 Everyday Value Fragrance-Free Liquid Hand Soap. Let's take a closer look at what goes in this soap, and see if it's a good alternative to other soaps on the market.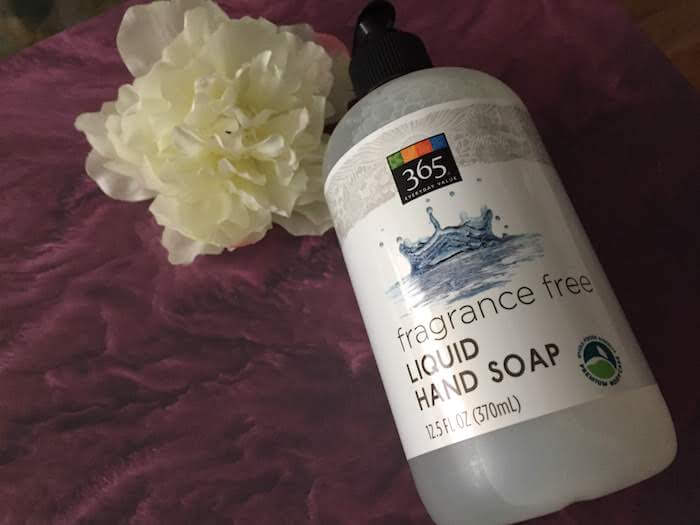 Anne had never called, not one single time, though once every few months the social worker from the hospital left a message to let them know that Anne needed a sweater, or a pair of slippers, or a particular kind of soap because the hospital soap gave her a rash.
—Ask Again, Yes, Mary Beth Keane
Whole Foods 365 Everyday Value Fragrance-Free Liquid Hand Soap ingredients
water, glycerin, sodium myristoyl sarcosinate, cocamidopropyl hydroxysultaine, xanthan gum, phenoxyethanol, sodium cocoamphoacetate, sodium citrate, caprylyl glycol, citric acid, panthenol, tilia europaea flower extract, zingiber officinale (ginger) root, thymus vulgaris (thyme) extract, arnica montana (arnica flower) extract, argania spinosa (argan) kernel oil, cocos nucifera (coconut) oil, organic aloe barbadensis (aloe vera)
Sodium myristoyl sarcosinate, sodium cocoamphoacetate, and cocamidopropyl hydroxysultaine are foaming agents that are also found in Whole Foods Fragrance-free Shampoo. In fact, this hand soap shares many ingredients in common with Whole Foods Fragrance-free Shampoo, including hydrating ingredients like glycerin, aloe vera, and argan oil. Both products also use xanthan gum as a thickener and phenoxyethanol as a preservative.
This soap also includes a few additional plant extracts like ginger root, thyme extract, and arnica flower extract, perhaps to lend an air of freshness to the soap. Like products that contain "no added sugar" but are still sweet, sometimes fragrance-free products can still have a fragrance, but in this case, I didn't notice any sort of fragrance.
My Dad the Chemist's review of Whole Foods 365 Everyday Value Fragrance-Free Liquid Hand Soap
Dear Emily, looks like a decent formula with nice ingredients. Should work well.

Love,
Dad
Whole Foods 365 Everyday Value Fragrance-Free Liquid Hand Soap review
My dad didn't have much to say about this soap—he basically thought it looked like a nice formula. I agree—Whole Foods 365 Everyday Value Fragrance-Free Liquid Hand Soap isn't really a noteworthy product, other than its lack of fragrance. It cleans your hands, and that's about all you can say about that, or all you can ask for in a hand soap. Some people look specifically for hand soaps that smell nice, while others look for ones that don't overly dry their skin (and could care less about how it smells, as long as it doesn't stink). I belong in the latter group, of course.
If you're like me, you're looking for soaps that don't include any fragrance at all, and just clean your skin without imparting any sort of a noticeable olfactory experience. This soap does the trick. It's a slightly runnier than other hand soaps I've used before, and the packaging (a plastic bottle with a pump) pumps out a generous amount of product each time, so you might run out of soap rather quickly if you don't make sure to gently pump the product out a little at a time. A full pump will give you a lot of soap—probably more for a regular handwashing session—so just keep that in mind when you're using this product.
It's a mystery to me why large hand soap manufacturers like Softsoap and Dial don't make fragrance-free versions of their products. In my experience, I've always found Dial to be notoriously harsh on my skin, whereas Softsoap has been acceptable thus far.
It's nice that Whole Foods makes a fragrance-free hand soap that I can conveniently buy anytime I'm picking up groceries. It's also hard to find fragrance-free shampoo and conditioner—if you're interested in trying those out, Whole Foods also makes fragrance-free hair care products. I recommend checking them out if you're curious to see if fragrance-free products might be kinder to your scalp.
Related reading
Note: This post uses affiliate links, which means that I'll receive a commission if you make a purchase after clicking a link (at no extra cost to you). See our
disclosure policy
.