This soap strangely contains red and yellow dyes, though it is a milky white color. It also contains mild fragrance.
Hand soap is a highly competitive product category. Product labels have to be eye-catching and full of buzzwords like "soothing," "advanced," "foaming", "natural," you name it. But as consumers, we have the power to look past the marketing—simply by turning the package over and reading the ingredient list. If a product label says "soothing," you might logically assume that it is designed for people who are concerned about skin irritation. And from there, you might deduce that this soap is targeted to those with sensitive skin. So if that's the case, this product should be less likely to contain irritants like dyes and fragrances, right? Wrong. Softsoap Soothing Aloe Vera Hand Soap is one example: It says it's soothing but it also contains fragrance and, perplexingly, two dyes—even though it is a milky white color.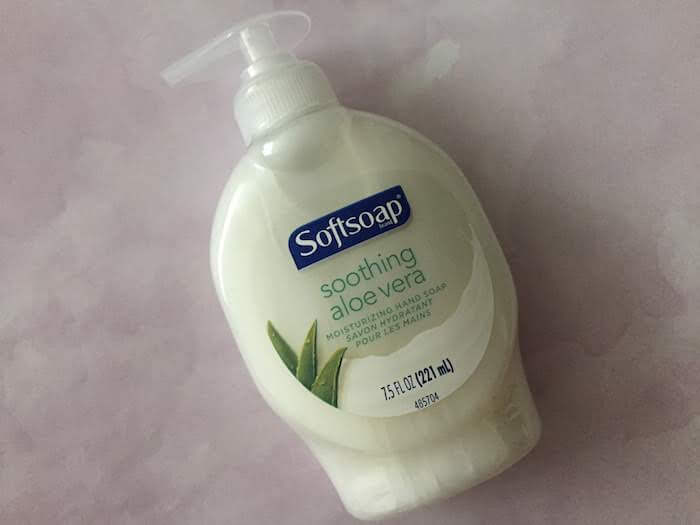 Softsoap Soothing Aloe Vera Hand Soap ingredients
water, sodium c12-13 pareth sulfate, cocamidopropyl betaine, glycol stearate, sodium chloride, cocamide mea, sodium salicylate, sodium benzoate, citric acid, fragrance, polyquaternium-7, tetrasodium edta, aloe barbadensis leaf juice, glycol distearate, laureth-4, poloxamer 124, peg-120 methyl glucose dioleate, yellow 5, red 33
My Dad the Chemist's review of Softsoap Soothing Aloe Vera Hand Soap
Dear Emily,
just for market claims, polyquaternium-7, is for moisturizing (May still have little bit effect after rinsing-off),and aloe barbadensis leaf juice is for soothing (upon applying only, will be rinsed off)

I don't see any ingredient may cause irritation other than fragrance and dyes.

They must have only added very tiny amount of yellow 5 and red 33 solutions to the formula , that's why the product looks milky white.

Love,
Dad
My dad notes that of the two moisturizing agents in this formula: polyquaternium-7 and aloe barbadensis leaf juice. Of these two, only polyquaternium-7 may have any lasting effect after the soap is rinsed off. Meanwhile, the aloe juice is only effective upon application. Any soothing properties will be rinsed off.
Polyquaternium-7 is a conditioning agent that is included in other soaps, including a few other products I've reviewed on this blog before:
And as for the Red 33 and Yellow 5 dyes? My dad wasn't surprised and said that they may have just added a very small amount of them, since the formula still looks mostly white. Not sure why they would have added these dyes in the first place—maybe the original color looked too unmarketable? That's purely a guess though.
Aside from the fragrance and dyes, my dad didn't see any particularly irritating ingredients in this formula, which is great.
Softsoap Soothing Aloe Vera Hand Soap review
Softsoap has really done a great job of marketing its products. Even the name—soft…soap—rolls off the tongue and makes you feel like you're using a harmless product. But actually, let's think about it for a minute. This company makes liquid soap, which is by definition much softer than solid bar soap. So it's quite literally offering a softer soap option.
Softsoap Soothing Aloe Vera Hand Soap claims to be "soothing," so I expected it to contain some sort of moisturizing agent in it. My dad confirmed that it contains two: polyquaternium-7 and aloe barbadensis leaf juice, but only one of them has the potential to remain after it's rinsed off. However, aloe is the star of the label. This makes sense, since even the world's best design team probably couldn't make polyquaternium-7 look quite as nice, wholesome, or relatable as a green plant. At the end of the day, hand soap is designed to rinse off, so we probably shouldn't expect them to moisturize our hands so much as clean them without overly irritating them with unnecessary ingredients. Even the most "soothing" hand soap isn't as effective as being diligent about applying lotion to your hands right after washing them with soap.
I actually quite like Softsoap Soothing Aloe Vera Hand Soap, even though it contains fragrance. The fragrance is very light and doesn't seem to irritate my skin very much, though your experience may differ. The consistency is runny and not as thick or gel-like as other liquid hand soaps I've used before. It's almost like a slightly runnier Aveeno moisturizing shampoo, in terms of consistency. The milky white color make the word "iridescent" come to mind. Even though it mysteriously contains Yellow 5 and Red 33, it's unmistakably white, which leads my dad to believe that perhaps only a very small amount of each dye was included.
Although, in this case, Softsoap Soothing Aloe Vera Hand Soap worked out for me, it's still worth noting that it contains potential irritants that might surprise you after seeing the "soothing" claim on the label. No matter what it says on the label, always, always check the ingredient list to confirm that a "soothing" soap is free of ingredients that tend to aggravate your skin.
Related reading
Note: This post uses affiliate links, which means that I'll receive a commission if you make a purchase after clicking a link (at no extra cost to you). See our
disclosure policy
.