This lotion is a favorite among healthcare professionals because it protects skin from irritation, even in the face of harsh sanitizers and soaps.
I haven't been able to visit any friends or family for the past few months, but the lemonade of the matter is that I have been writing more emails and making more FaceTime calls, at least. One of my oldest, dearest friends works as a nurse in Los Angeles, so she's been on my mind a lot lately. She also happens to have eczema, so we both understand the pain of having to deal with dry, itchy patches of skin. She has to wash her hands quite often, so I was trying to think of how I could help make her life just a little bit brighter by alleviating the irritation that comes from frequent handwashing. As I was scanning the /r/SkincareAddiction subreddit, I learned that an interesting product by the name of Gloves in a Bottle seemed to be popular among healthcare professionals. So I decided to send a bottle of it to her via Amazon. Spoiler alert: She gave it a rave review!
She said that the consistency was thinner than a cream, which helped it absorbed very quickly. She said that it didn't leave much of a greasy afterfeel at all, and it seemed to help protect her skin from the foamy soap they have at the hospital, which is normally very drying. She even said it helped heal an eczema patch that had been bothering her.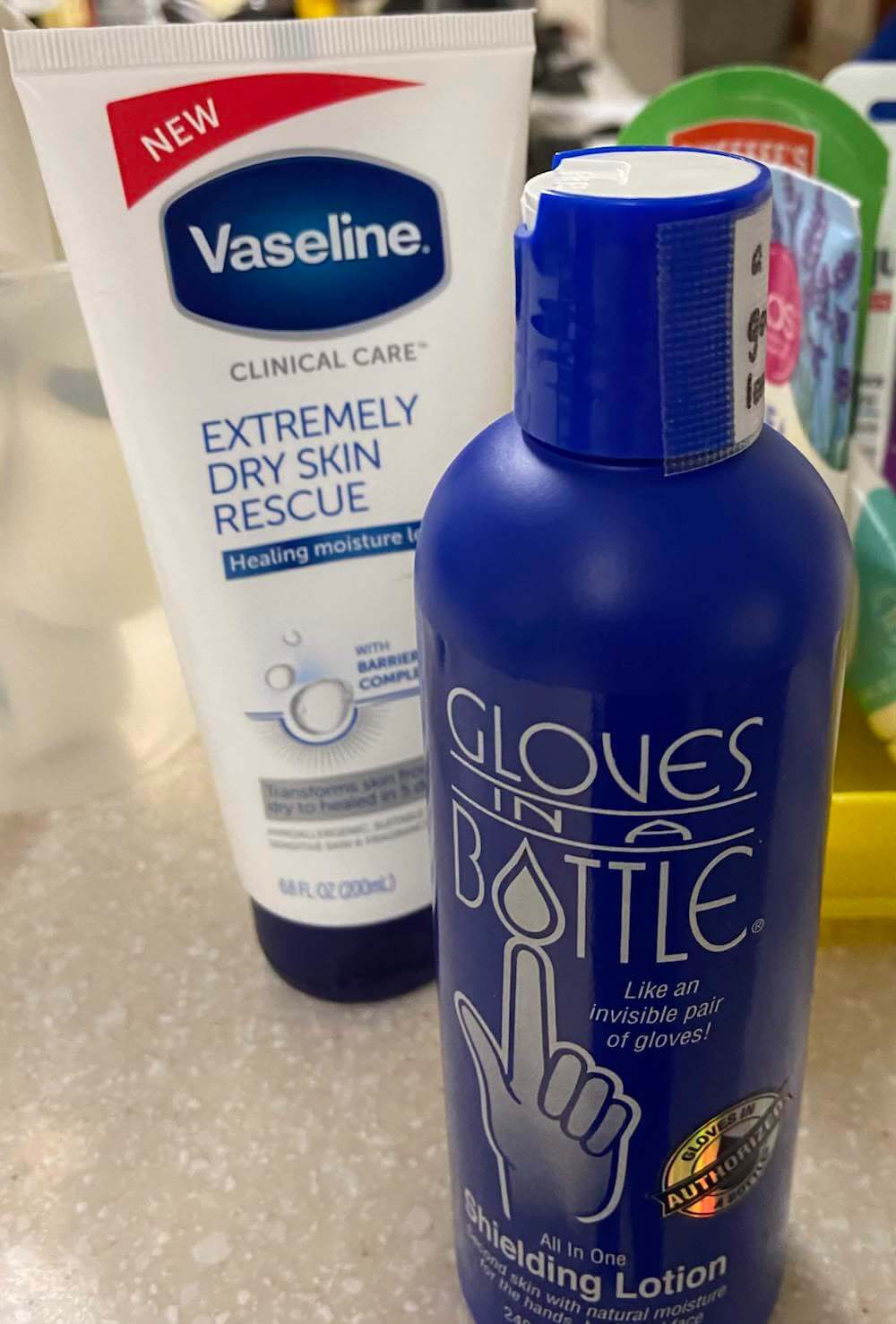 And she decided to pay it forward and share the bottle with the rest of her unit, so that they could all have well moisturized skin, too. She donated it to their collection of moisturizing lotions (looks like Vaseline Extremely Dry Skin Rescue is another product in their communal stash). I was so happy that, through this small gift, I was able to help make her life just a little bit easier. I haven't tried out this product myself, but I thought I'd share my friend's experience with it, in case it's helpful for others who are looking to protect their hands from frequent scrubbing and/or sanitizing.
Let's take a look at the ingredients and ask my dad what makes this product so effective.
Gloves in a Bottle Hand Lotion ingredients
water, dimethicone, stearic acid, glycerin, cetyl alcohol, isopropyl myristate, stearyl alcohol, triethanolamine, xanthan gum, hypromellose (hydroxypropyl methylcellulose), vp/eicosene copolymer, steareth-21, phenoxyethanol
My Dad the Chemist's review of Gloves in a Bottle Hand Lotion
Dear Emily, glycerin, isopropyl myristate and dimethicone are very effective moisturizers, especially dimethicone is also a very effective skin protectant , it provides water resistance and reduces the stickiness and/or greasiness of glycerin and isopropyl myristate.

In another word, the combination of dimethicone, glycerin and isopropyl myristate makes this formula an effective and non greasy moisturizer.

Love,
Dad
My dad makes some interesting points here. The three key moisturizing ingredients in Gloves in a Bottle are dimethicone, glycerin, and isoproyl myristate, but dimethicone is the key player. The FDA classifies dimethicone and glycerin aas "skin protectants." Over-the-counter products can contain anywhere from 1 to 30 percent dimethicone and 20 to 45 percent glycerin. If they want to list either one as an active ingredient, they need to disclose the concentration. Gloves in a Bottle doesn't list dimethicone or glycerin as active ingredients, so it doesn't disclose the concentration included in the formula.
However, dimethicone appears as the second item in the ingredient list, and it seems to be the main skin protectant that my dad thinks is key to this product's effectiveness. Gloves in a Bottle claims that it does not wash off with water—instead, it forms a lasting shield that protects the skin from getting dried out when exposed to harsh sanitizers and soaps. My dad thinks that dimethicone is the key ingredient that provides water resistance. He said that dimethicone also helps reduce the stickiness and greasiness of the other two moisturizers in this formula: glycerin and isopropyl myristate. So dimethicone is really the star of this product!
Side note: I love how my dad said "In another word" instead of "in other words." I almost like his way better than the real thing.
Related reading
Note: This post uses affiliate links, which means that I'll receive a commission if you make a purchase after clicking a link (at no extra cost to you). See our
disclosure policy
.