This bar contains 100% organic ingredients (including soothing comfrey) and 0% preservatives.
Isn't it amazing how solid water (also known as "ice") can seem so different from liquid water? But they're essentially the same substance. The same goes for personal care products, I think. I've gone my whole life expecting products to appear in liquid or solid form, based on how I've always seen them packaged in the past. Shampoo should be liquid, not solid. The soap I use in the shower can be solid, but hand soap should be liquid. And on and on and on. Habits are hard to break.
But I've started to notice that solids have been gaining popularity in the beauty industry, since they deliver eco benefits and are travel friendly. Lately, I've been especially curious about experimenting with solid versions of products that I've typically used in liquid form. Shampoo bars are one example, since I've never, ever considered using a solid bar to wash my hair before. I purchased two kinds of shampoo bars at TJ Maxx a few months ago, and I'll be reviewing this in the coming weeks. Today I'm going to shift my focus over to another product category that's typically dominated by liquids, not solids: lotion.
When I was visiting Pike Place Market last year, I spotted an herbal lotion bar at Moon Valley Organics' booth, and I couldn't resist picking it up. It seemed like it might be a nice, travel-friendly way to keep my hands moisturized, so I was eager to try it out. When I got home, I promptly forgot all about it until I dug it up a few days ago and finally gave it a try.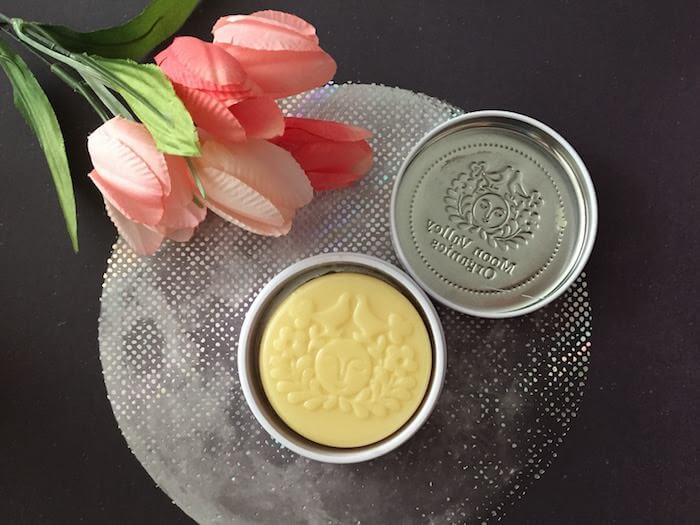 Moon Valley Organics Lotion Bar ingredients
safflower oil, beeswax, calendula, comfrey, bergamot, geranium, patchouli essential oils, vitamin e
This product contains many of the same ingredients as Moon Valley Organics EczaCalm eczema treatment. Both products contain safflower oil as the base, along with beeswax, calendula, vitamin E from sunflowers, and comfrey. However, EczaCalm contains colloidal oats, which are commonly used to treat eczema.
Comfrey is a plant that is used for healing, anti-inflammatory purposes. It also contains allantoin, which is used as a soothing ingredient in other skin care products.
Patchouli is a plant that is used in medicines; it may also have antimicrobial effects. So perhaps it functions as a preservative of sorts for this product, wince it doesn't contain typical preservatives like parabens or phenoxyethanol.
My Dad the Chemist's review of Moon Valley Organics Lotion Bar
I asked my dad if he had ever used or made a solid lotion bar before. I also asked him for his thoughts on this product's moisturizing benefits. Here's what he had to say:
Dear Emily, i've Never used one before, I think it's just like the sunscreen stick in a bar soap form. I think it'll work, hopefully it has enough beeswax so that won't be too greasy.

Be sure to get some YouTube aerobics exercise in addition to enjoying all the delicious foods! BTW, is the electricity included in your monthly rent ?

Love,
Dad
My dad thinks it's pretty similar to a sunscreen stick in a bar soap form. He thinks it might be a bit greasy if it doesn't contain enough beeswax. He also advised me to exercise at home and wanted to know if electricity was included in my rent. I was about to cut out those parts of his letter, but I thought it would be funny for everyone to see what a typical message from my dad looks like. :)
Moon Valley Organics Lotion Bar review (bergamot geranium)
Moon Valley Organics Lotion Bar comes packaged in its own metal tin, so you can carry it around quite easily in your handbag. It like a cross between a bar of soap and a candle. But then once you rub it on your skin, the heat of your skin (assuming you are a warm-blooded creature, that is) starts to loosen up the oils. Then you can rub that oil anywhere you need a boost of hydration.
You can use it on your hands, hair, elbows, or other dry areas of your body. The website even says that it could be used as a face moisturizer, though I'm a bit hesitant to try that since I don't know if my skin will react to the patchouli essential oil (never used anything with that in it before). I used it on my hands, because I've been washing my hands a lot more lately and they're starting to crack and get really dry.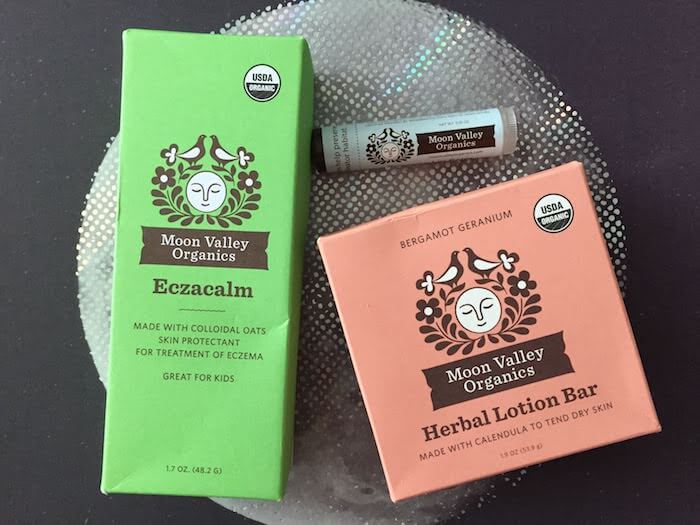 I just rubbed my fingers around it a few times. It left my skin feeling a bit oily, but not quite as oily as Vaseline. I could still go about the rest of my day without feeling like I was going to leave oil imprints everywhere. When I apply regular, liquid lotion, I normally wait for it to rub in and dry. In this case, I didn't have to wait for it to dry because there was nothing to dry. I thought the bergamot and geranium fragrances were a tad bit strong for my liking, but it wasn't totally unpleasant. It was pretty invigorating, actually—it made me feel like I was walking through a fresh garden, which is nice now that all I do is stay at home and shelter in place. :P
Although lip balms and sunscreen sticks are easier to apply, they also use more plastic packaging, so there's a tradeoff there. This lotion bar is packaged in paper box and metal tin, so no plas
I don't think I like this lotion bar enough to replace my tried-and-true creams and lotions, but I do see it as a good option to carry around in my bag. I'm usually too lazy to transfer liquid lotions over to smaller containers to carry around in my purse. This product is already packaged in a metal tin, so it's great for tossing into a handbag. Plus, it's guaranteed not to leak or leave a mess in your bag, unless you plan to spend the day outdoors in blazing heat—then things might get a big oily. However, when I'm at home and I have other liquid lotion/creams close at hand, I probably won't be reaching for this bar first.
Moon Valley Organics is a family business that operates out of Washington. I first came across them in Pike Place Market, but I recently spotted it at my local Whole Foods in NYC, so I'm happy to know that I can find this product on store shelves without ordering it online. It is, however, also available on their website (free shipping for $50+ orders) and on Amazon. The company's products are certified USDA organic. I got the Bergamot Geranium, but it also comes in Coconut Lemon, Lavender, and Lemon Vanilla.
Related posts
Note: This post uses affiliate links, which means that I'll receive a commission if you make a purchase after clicking a link (at no extra cost to you). See our
disclosure policy
.