Use these glycolic peel pads a few nights a week to get a really good glow going.
Who doesn't want glowy skin all the time? I don't think my skin ever "glows," but I have noticed some pretty great results from using Pixi Glow Peel Pads over the past few months. I've been really impressed by this product, and I love that it's fragrance-free and easy to use. I've written about other glycolic peel pads in the past, but I think this is my favorite one so far.
I had heard about this product before, but a glowing recommendation (ha) from Dr. Aegean Chan was the final push I needed to go out and buy it. And boy, am I glad I did. In this post, I'll share my dad's thoughts on the ingredients in these pads, and then explain why I prefer these over other glycolic acid-based products like The Ordinary Glycolic Acid Toner.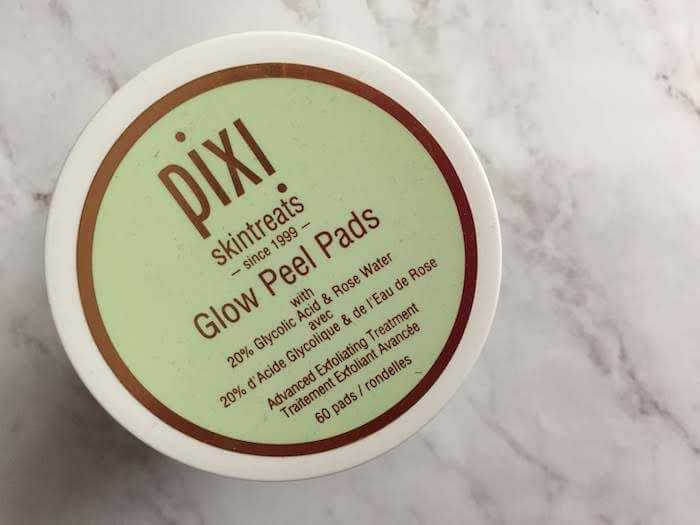 Pixi Glow Peel Pads ingredients
water, glycolic acid, aminomethyl propanol, glycerin, rosa damascena flower extract, polysorbate 20, sd alcohol 40-b, hamamelis virginiana (witch hazel) water, phenoxyethanol, aloe barbadensis leaf juice, arginine, tocopherol, sodium hydroxide, propanediol, caprylyl glycol, ethylhexylglycerin, leuconostoc/radish root ferment filtrate, ginkgo biloba leaf extract, glycyrrhiza glabra (licorice) root extract, lactic acid, salicylic acid, sodium ascorbyl phosphate, caprylhydroxamic acid, benzoic acid, retinyl palmitate, sodium carbonate, sodium chloride
My Dad the Chemist's review of Pixi Glow Peel Pads
Dear Emily, 20% of glycolic acid should work well, however, with aminomethyl propanol and sodium hydroxide (are alkaline materials) in the formula it helps reduce the irritation but may also reduce the efficacy of peeling if added an an excessive amount.

If I know the pH of the solution of the soaked pads, I may be able to tell if it would work well.

Try apply on a small area first to see if it work well (see if anything came out from the exfoliation?) without irritation that may be the best way to begin applying to the entire face.

This formula contains hamamelis virginiana (witch hazel) which helps reduce the irritation from exfoliation.

Love,
Dad
I asked him to clarify what pH would be most effective.
It needs to be at 4 or below, the lower the more effective but needs to be as least irritating as possible.

First trial test can do it on half of the neck area just in case.

Love,
Dad
My dad says that aminomethyl propanol and sodium hydroxide can help reduce the irritation from glycolic acid, since they are alkaline (opposite of acidic on the pH scale). However, in order for this product to be effective, it should be at pH of 4 or below, so it's important for it not to contain too much of the alkaline ingredients—just enough to help lower potential irritation without reducing the effectiveness of this product. He also says that the witch hazel will help reduce potential irritation.
Pixi Glow Peel Pads review
Pixi Glow Peel Pads come in a pack of 60, and are packaged in a plastic tub. According to Pixi Beauty, these peel pads contain 20% glycolic acid. Compare this to Nip + Fab Glycolic Fix Gentle Pads, which only contain 2% glycolic acid. If you've ever used those, the pads in these Pixi Glow Peel Pads are about two times as thick. The Nip + Fab pads are much thinner and feel a little smoother and gentler on my face. Pixi Glow Peel Pads are just slightly rougher in terms of the physical feel of the pads, but they definitely seem more effective and make my skin noticeably brighter the morning after I use them.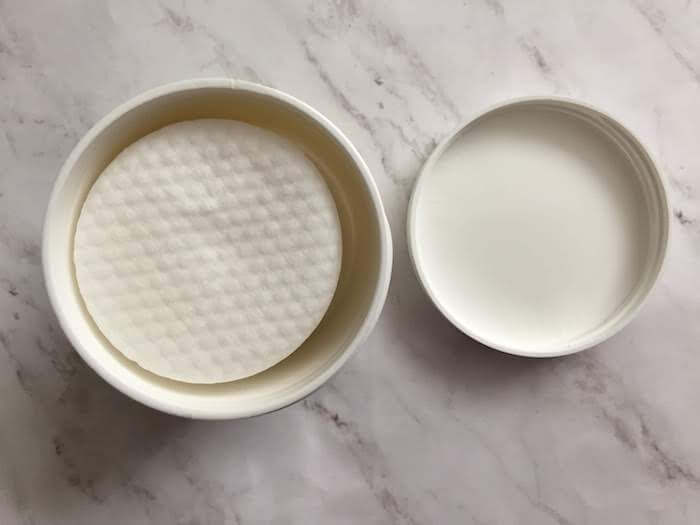 These pads are saturated with just enough solution to go across my face and neck. The container does a good job of retaining moisture—I haven't noticed a problem with the pads drying out since I opened them.
The label says you can use this on your face, neck, and the back of your hands. I do not try applying this to my hands, because I'm afraid of irritating my hand eczema. I usually swipe it once across my face (trying to avoid the eye area), and then swipe in upward strokes across the length of my neck. The instructions say to leave it on for 2-3 minutes before rinsing off with cool water, so I usually just set the timer on my phone to 2 minutes, since it takes some time to walk over to my phone, and then walk back to the bathroom after the timer goes off. I think this is just about the right amount of time—any longer and it would be hard to deal with the tingling sensation.
Upon applying this pad, I can immediately felt a strong tingling sensation, like pinpricks on my face. It's not unbearably painful, just kind of irritating. Once I rinse it off with cool water, though, it feels much better, and the tingling sensation is pretty much gone. Then I apply a thick layer of moisturizer, like CeraVe Moisturizing Cream, and call it a night. I don't use Differin on the nights that I use Pixi Glow Peel Pads, to reduce irritation.
The next morning, when I wake up, I usually find that my skin is smoother and brighter. I think it really does a good job of exfoliating my skin without damaging it. It's always a good idea to be careful about applying sunscreen, but you definitely need to be even more careful when you're using a product like this, since alpha hydroxy acids like glycolic acid increase your skin's sensitivity to UV light.
Why I like Pixi Glow Peel Pads more than The Ordinary Glycolic Acid Toner
The Ordinary Glycolic Acid Toner only contains 7% glycolic acid, and is not designed to be washed off. You would think that the lower concentration would mean that this product was less irritating, but I actually thought it was more irritating because I never got to rinse it off. Pixi Glow Peel Pads definitely make my skin tingle—almost but not quite to the point of being "irritating"—but since I can rinse it off after two minutes, I don't mind the tingling as much.
Since Pixi Glow Peel Pads contain just the right amount of product on each pad, I know I'm using the right dose every time. Since I have to squeeze The Ordinary Glycolic Acid Toner onto a cotton pad myself, I might be using too much or too little.
Studies show that higher concentrations of glycolic acid (from 20% to 70% concentration) have been found to be more effective for healing acne scars and reducing hyperpigmentation. This study also concluded that less frequent, higher-concentration peels were more effective than daily, lower-concentration peels.
Some products, like Dr. Dennis Gross's Alpha Beta Universal Daily Peel, don't even reveal the percentage of glycolic acid used. Dr. Dennis Gross's pads aren't meant to be rinsed off, and are supposed to be used daily, rather than just a few times a week. So if I had to guess, they probably contain a lower percentage of glycolic acid than the Pixi pads. Plus, that product costs about six times as much as Pixi Glow Peel Pads (on a per-pad basis), and probably even more than that since you're supposed to use it every day so you'll go through it faster.
In short, Pixi Glow Peel Pads are a really nice way to incorporate chemical exfoliation into your routine, if you haven't had luck with products like The Ordinary Glycolic Acid Toner, or if you're looking to graduate from a gentler peel pad like Nip + Fab's (which only contain 2% to 5%, depending on whether you get the regular or gentle variety).
Related reading
Note: This post uses affiliate links, which means that I'll receive a commission if you make a purchase after clicking a link (at no extra cost to you). See our
disclosure policy
.