This soap is a dupe of Softsoap Aquarium Series Hand Soap, but it contains harsher preservatives, which makes it a potentially risky choice for those with sensitive skin.
Fragrance-free hand soaps are hard to spot. For some reason, companies don't think people will accept hand soaps unless they smell nice. I wish we had more options. A while ago, I accidentally bought Target Up & Up Classic Clean Clear Hand Soap without realizing that it contained fragrance. When it arrived, I didn't want to waste it so I decided to give it a try. Unfortunately, it aggravated my eczema and reinforced the idea that I should look for better hand soap options, especially in these times, when we need to be extra careful about washing our hands for the full 20 seconds.
Thanks to Softsoap's marketing prowess, I've been brainwashed into associating aquariums with hand soap. Target Up & Up Classic Clean Clear Hand Soap is supposed to be a dupe of Softsoap Aquarium Series Hand Soap, and it even features fish on the packaging, just like Softsoap's label. However, Target's fish is less cute than Softsoap's (which looks a lot like Nemo). The differences don't end there.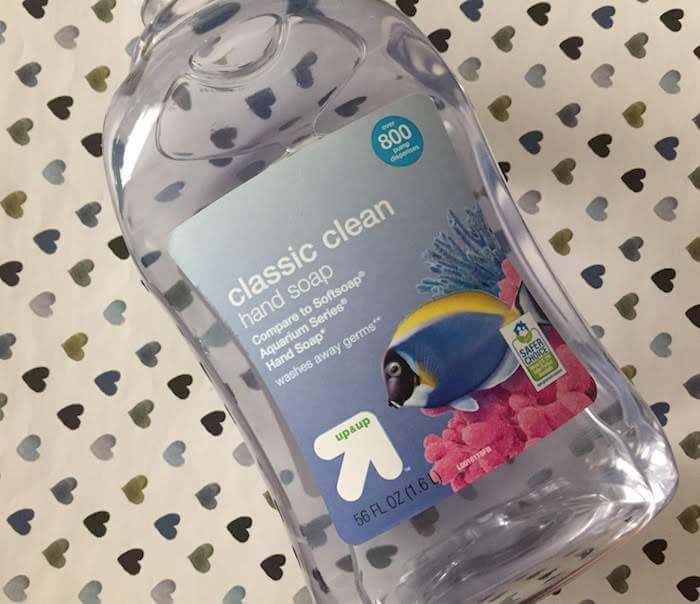 Target Up & Up Classic Clean Clear Hand Soap ingredients
water, sodium laureth sulfate, sodium chloride, glycerin, sodium lauroyl lactylate, cocamidopropyl betaine, sodium lauryl sulfate, fragrance, methylchloroisothiazolinone, methylisothiazolinone, sodium hydroxide, citric acid, blue 1, red 33
Softsoap Aquarium Series Hand Soap ingredients
water, sodium c12-13 pareth sulfate, cocamidopropyl betaine, sodium chloride, propylene glycol, fragrance, cocamide mea, sodium salicylate, sodium benzoate, citric acid, tetrasodium edta, bht, polyquaternium-7, peg-18 glyceryl oleate/cocoate, peg-7 glyceryl cocoate, poloxamer 124, ext. violet 2
When you take a closer look at the ingredient lists, you can see that Target's version contains many of the same ingredients as Softsoap's, with some key differences. They use different dyes, and Target's version contains two harsh preservatives that are only permitted in rinse-off formulas: methylchloroisothiazolinone and methylisothiazolinone.
Violet 2 without the "ext." is actually the same dye that has been approved for coloring contact lenses. Softsoap Aquarirum Series Hand Soap includes the "ext." verison of this dye, which has been approved only for use in "externally applied cosmetics." Target's Up & Up Classic Clean Clear Hand Soap opts to create the violet hue by mixing blue 1 and red 33.
Target Up & Up Classic Clean Clear Hand Soap
If you recall my review of Suave Essentials Daily Clarifying Shampoo, sodium chloride is commonly used to thicken formulas. Both Target's version and Softsoap's use sodium chloride to create higher viscosity.
Target Up & Up Classic Clean Hand Soap is your average soap, and is not heavily purple-tinted. However, I would rather not expose my hands to two preservatives that are commonly known as irritating: methylchloroisothiazolinone and methylisothiazolinone. Meanwhile, Softsoap's version does not contain either of these preservatives.
Although both versions contain glycerin as a moisturizer, Softsoap's version also contains an extra moisturizer that Target Up&Up's version does not: polyquaternium-7, a moisturizer.
All in all, I'd recommend opting for the Softsoap version over Target Up & Up Classic Clean Clear Hand Soap. I think Target may have discontinued this product, because I can't find it if I search for it online. I did notice that their other higher-end house brand, Everspring, offers a Free & Clear Foaming Hand Soap that you would think is fragrance-free, but actually is not. Don't be misled by the "free & clear" in the product name.
I'm a bit disappointed in this Target soap and am still looking for a new go-to soap that's fragrance-free and dye-free. Maybe I'll try out a solid option next, since that seems to be what Alton Brown recommends.
Target's Up&Up brand makes a bunch of other products that might be better than this hand soap, such as cotton balls and fragrance-free baby wipes. I hope they'll release a better dupe of Softsoap in the future, but for now, I don't recommend buying this Target Up & Up Classic Clean Hand Soap unless your skin doesn't normally get irritated.
I used this soap over the past month as my go-to kitchen soap (still using something else in the bathroom). During that time, my hands got very dry and cracked, probably because I was washing my hands more than usual. My eczema also got aggravated during this time, and it got very itchy with tiny red bumps. I also had two painful cracks in my index finger. Thankfully, a few nights of slathering on intense moisturizing helped: I slathered on lotion, cream, and a final sealing layer of Vaseline, and then put white cotton gloves as the final layer. After a few nights, the skin was no longer cracked and my eczema flareup had calmed down.
In the future, I'll make sure to look very, very closely at the ingredient list before buying my next hand soap. A a contact lens wearer, frequent restroom-goer, and home cook, I wash my hands pretty frequently every day, so hand soap is an incredibly important staple in my house.
Related reading
Note: This post uses affiliate links, which means that I'll receive a commission if you make a purchase after clicking a link (at no extra cost to you). See our
disclosure policy
.