What goes in this clarifying shampoo, and who should use this type of product?
If you use a lot of hair products like hairsprays, gels, waxes, and the like—or if you just want your scalp to feel squeaky clean—there is a whole product category targeted to you: clarifying shampoo. Clarifying shampoos are usually formulated with strong detergents like lauryl sulfates or laureth sulfates. They are designed for normal to oily hair, and help remove product buildup from your scalp and hair. However, they are typically too strong for color-treated hair, or dry/frizzy hair, since they contain strong detergents.
I have combination hair, if such a thing exists. My scalp gets pretty oily but my hair is frizzy/dry. I normally never use clarifying shampoo, but I tried out Suave Essentials Daily Clarifying Shampoo when I was staying at my fiance's parents' house over Thanksgiving.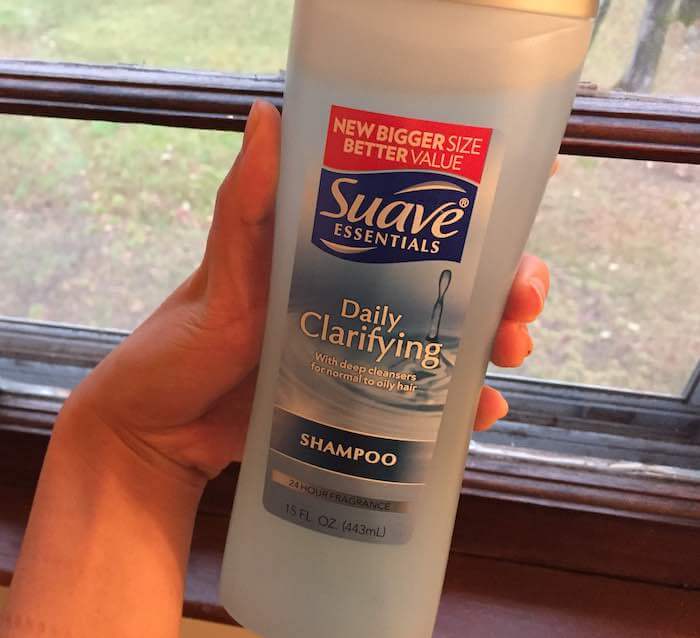 Suave Essentials Daily Clarifying Shampoo ingredients
water, sodium laureth sulfate, cocamide mea, ammonium chloride, fragrance, hydroxypropyl methylcellulose, tetrasodium edta, dmdm hydantoin, citric acid, propylene glycol, tocopheryl acetate, methylchloroisothiazolinone, methylisothiazolinone, ppg-9, blue 1 (ci 42090), red 33 (ci 17200)
My Dad the Chemist's review of Suave Essentials Daily Clarifying Shampoo
Dear Emily, this looks like a regular low cost SLS cleansing shampoo, as long as it's transparent you may call it a "Clarifying" shampoo, most SLS (sulfate) based shampoo or body wash are transparent with or without added color(s).

Ammonium chloride is a moderately hazardous chemical, but i think they may just use a small amount to thicken the formula, and is a rinse off application, therefore it should be safe, however Most formulators use Sodium Chloride (Salt) instead.

Love,
Dad
Citric acid is used to adjust the pH of this formula. Detergents like sodium laureth sulfate will raise the pH, so adding citric acid helps reduce the pH so it matches the natural pH of your scalp (about 5.5).
Ammonium chloride is used as a thickener, though other formulas usually include sodium chloride (salt) for this purpose instead, perhaps because it sounds less innocuous. If you Google "ammonium chloride" you'll find some alarming information about fertilizers, but keep in mind that the formula probably only contains a small amount of this ingredient, and you're only going to use a little bit of that. And finally, you're going to rinse it all out anyway.
Propylene glycol is used as a conditioning agent to help reduce frizz. This formula also contains cocamide mea as a foaming agent. Note that more foam does not equal more cleanliness—it's more of a psychological thing.
Suave Essentials Daily Clarifying Shampoo review
Suave Essentials Daily Clarifying Shampoo is designed to clean your hair every day without removing too much of its moisture. The label indicates that it is gentle enough to use every day. I'm actually not sure that that is the case, unless you have very oily hair. My scalp normally gets pretty oily after a day or two, especially if I exercise. However, I thought it was too drying for everyday use, and it left my strands looking very frizzy.
Deep cleansing shampoos are normally supposed to contain milder detergents so they don't completely dry out your hair. This particular shampoo contains sodium laureth sulfate as a detergent/cleansing agent. Laureth sulfates are supposed to be milder than lauryl sulfates, but they're still classified as strong detergents. If you have color-treated hair, you're usually advised to avoid sulfates altogether, since they're pretty strong/harsh. And some laureth sulfates are gentler detergents than others—for example, Aveeno Nourish + Shine Shampoo contains ammonium laureth sulfate, which my dad said was gentler and less irritating than sodium laureth sulfate (the main cleansing agent in this Suave shampoo).
Suave Essentials Daily Clarifying Shampoo is a very basic product that foams up and distributes through hair quite nicely. The viscosity is very thick. It squeezes out almost like a gel rather than a liquid. You only need a quarter-sized amount to clean your whole scalp. This makes it a very economical option for cleaning your hair.
This particular shampoo didn't irritate my scalp or ears the way Suave Professionals Sleek & Smooth Conditioner did. That said, if you have a sensitive scalp, this shampoo is probably not the best choice for you.
In addition to ammonium chloride (which my dad calls a "moderately hazardous chemical"), other potentially irritating ingredients include the dyes (blue 1 and red 33), preservatives (DMDM Hydantoin, methylchloroisothiazolinone, methylisothiazolinone, and tetrasodium EDTA), and even tocopheryl acetate (vitamin E) has been reported as a source of irritation for some people. This shampoo also contains fragrance, which I didn't find to be overpowering. Still, the label says that it delivers "24 hours of fragrance," so maybe it's stronger than I thought at first sniff. Fragrances that linger for 24 hours sound pretty potent, so if you tend to be pretty sensitive to fragrances, this is probably not the right shampoo for you.
Related reading
Note: This post uses affiliate links, which means that I'll receive a commission if you make a purchase after clicking a link (at no extra cost to you). See our
disclosure policy
.