Is this high-end serum all it's cracked up to be? My dad doesn't think it's worth the splurge.
Last fall, I attended the grand opening of the first Nordstrom in NYC, and snagged a bunch of Kiehl's goodies for free. Kiehl's Midnight Recovery Concentrate was the smallest sample of the bunch. It came in a miniscule, 0.14-oz. glass vial with a dropper. When I went home and looked it up, I understood why the bottle was so tiny. This stuff is expensive. Are you curious to see if it lives up to its price tag? Let's take a closer look at the ingredients and ask my dad if it's worth the hype as an "anti-aging" product.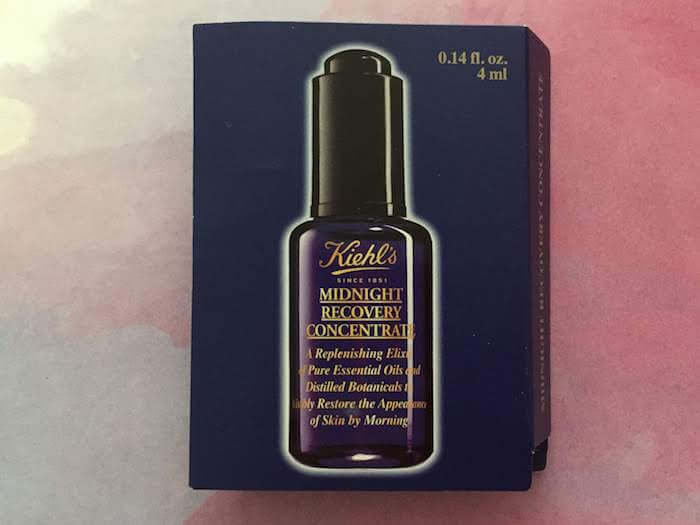 Kiehl's Midnight Recovery Concentrate ingredients
caprylic/capric triglyceride, dicaprylyl carbonate, squalane, rosa canina fruit oil, oenothera biennis (evening primrose) oil, simmondsia chinensis (jojoba seed) oil, coriandrum sativum (coriander seed) oil, tocopherol, lavandula angustifolia (lavender) oil, pelargonium graveolens flower oil, linalool, rosmarinus officinalis (rosemary) leaf oil, citronellol, geraniol, lavandula hybrida oil, cucumis sativus (cucumber fruit) extract, curcuma longa (turmeric root) extract, limonene, citral, sclareolide, rose flower oil, jasminum officinale (jasmine) extract, helianthus annuus (sunflower) seed oil
Kiehl's Midnight Recovery Concentrate contains squalane, an ingredient that's naturally found in human sebum, the oily stuff that our skin secretes. Read more about its moisturizing properties here.
Other than squalane, this serum contains a bunch of fancy essential and botanical oils, which helps explain why it comes in at such a high price point. What worries me is that it also contains some irritants that are often used as fragrance ingredients, like limonene, citral, and sclareolid, citronellol, geraniol. Typically haircare products (such as Garnier Whole Blends Oat Delicacy Conditioner) that contain these ingredients irritate my ears.
My dad mentioned that citral, citronellol, ionone, limonene, and linalool were "famous allergens" in his review of Pantene Pro-V Leave-on Detangling Milk. This product contains all of those allergens, with the exception of ionone.
My dad the chemist's review of Kiehl's Midnight Recovery Concentrate
Dear Emily, It's just an oil based moisturizer, it's not worth paying for.

For daytime anti-aging ( wrinkles and/or spots) the effective one is a moisturizing sunscreen with SPF 15 ( little sun exposure) and SPF30(more than 2 hours/day exposure) and up.

Love,
Dad
My dad has just exposed Kiehl's Midnight Recovery Concentrate for what it is: an oil-based moisturizer. I told him that it claimed that it was supposed to help firm up the skin and reduce fine lines. He doesn't believe that that's the case, and neither do I. Although the evening primrose oil is supposed to improve the elasticity of skin, and squalane is supposed to help moisturize the skin, my dad is right that the best product for people who are interested in "anti-aging" is sunscreen.
Kiehl's Midnight Recovery Concentrate review
Is it bad to want to erase your wrinkles? Is it OK to wish that you could undo the frowns, but bad to also want to wipe out those deep smile lines? I don't think it's bad unless you think of it negatively. Everyone has different ideas about what makes them feel confident. I just don't like it when products claim to deliver "anti-aging" benefits to people and then charge a lot of money for it, when in reality your skin would be better off just using sunscreen and a good moisturizer.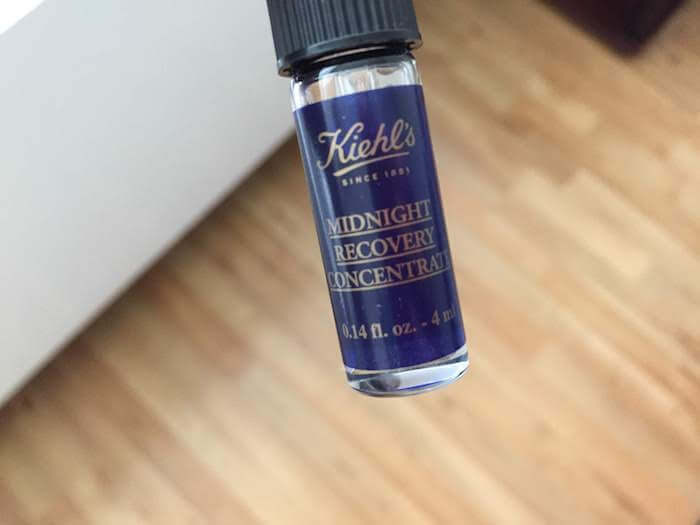 Kiehl's Midnight Recovery Concentrate is clear and not a super thick oil—it's actually doesn't leave your skin feeling overly oily. However, it is pretty fragrant so I don't feel comfortable exposing my sensitive skin to it on a regular basis. The lavender oil is supposed to help you sleep better at night—and better sleep leads to better skin, right? But it just contains too many types of essential oils and fragrance components that make it too risky for someone with sensitive skin like me. I'm grateful that I had the chance to try it out for free.
If you love the fragrance of this product and don't have overly oily or sensitive skin, then by all means feel free to try out this product. However, if you have sensitive skin, keep in mind that this product contains many of the same fragrance components that are commonly recognized as irritants and that often appear in haircare products: citral, citronellol, limonene, and linalool. Remember, just because this product contains "essential oils" instead of "fragrance" in the ingredient list, doesn't mean that it's any safer for sensitive skin. Read this Q&A to learn more.
If you're interested protecting your skin from UV damage (also known as "photoaging"), use a moisturizing sunscreen like Australian Gold Botanical Tinted Sunscreen SPF 50 (which contains moisturizing squalene, derived from olives) or a premium sunscreen like EltaMD UV Clear Sunscreen SPF 46, which contains moisturizing sodium hyaluronate and 5% niacinamide to help improve your skin's texture and brightness.
Related reading
Note: This post uses affiliate links, which means that I'll receive a commission if you make a purchase after clicking a link (at no extra cost to you). See our
disclosure policy
.