This conditioner helps make my hair feel more sleek and shiny, but it also slightly irritates my ears, probably because of the fragrance, limonene, and sodium hydroxide.
After my harrowing experience with Suave Professionals Sleek & Smooth Conditioner, I wandered the aisles of Duane Reade in search of a non-irritating product that could tame my mane without inflaming my ears. I spotted Garnier Whole Blends Oat Delicacy Conditioner and decided to give it a go because it claimed that it had been "tested on sensitive scalp" and was gentle enough for everyday use. Unfortunately, it didn't end up being gentle enough for my sensitive ears, but it's still an improvement over the Suave conditioner that left them feeling like they were going to burn off. Unlike the Suave conditioner, Garnier Whole Blends Oat Delicacy Conditioner doesn't contain methylisothiazolinone or methylchloroisothiazolinone, but it does contain another ingredients that I will probably personally try to avoid in the future. Read on to learn more!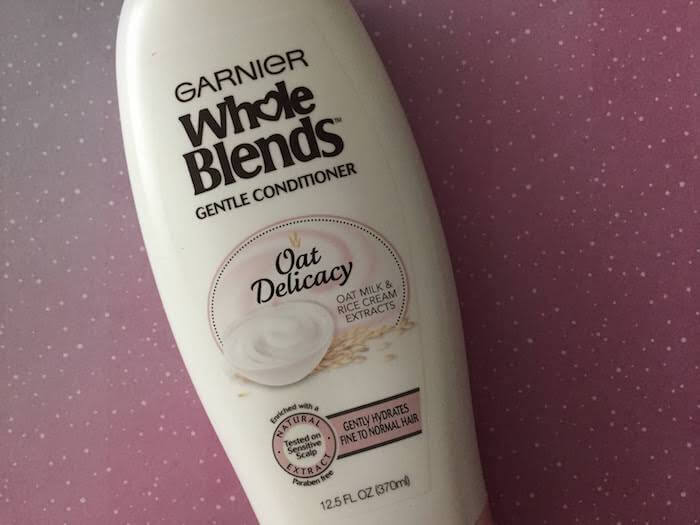 Garnier Whole Blends Oat Delicacy Conditioner ingredients
water, cetyl alcohol, peg-180, elaeis guineensis oil / palm oil, hydroxyethyl cellulose, dodecene, sodium hydroxide, sodium benzoate, avena sativa kernel extract, poloxamer 407, limonene, benzoic acid, benzyl salicylate, benzyl alcohol, linalool, xanthan gum, isopropyl myristate, aloe barbadensis leaf juice, isostearyl alcohol, myristyl alcohol, cetrimonium chloride, cetyl esters, bht, citric acid, potassium sorbate, lauryl peg/ppg-18⁄18 methicone, coumarin, hexyl cinnamal, oryza sativa starch, fragrance
This conditioner contains avena sativa kernel extract (oat extract), the same ingredient that you'll find in many lotions targeted to those with eczema. It also contains aloe juice and oryza sativa starch (rice starch), which is one of the ingredients highlighted on the label.
My Dad the Chemist's review of Garnier Whole Blends Oat Delicacy Conditioner
Dear Emily, the formula looks like it will condition hair well, but I don't understand why it used sodium hydroxide to neutralize fatty acids in palm oil? And the reason to add limonene? If use another neutralizer to replace sodium hydroxide, and get rid of limonene, you would not have irritation on your ears.

Palm oil is #4 ingredient, water may be around 85-90% of the formula and I believe cetyl alcohol (the second ingredient) is about 5% in the formula, palm oil should be from 1-3% in the formula.

Love,
Dad
My dad is confused as to why this conditioner contains limonene and sodium hydroxide. If you recall from my analysis of the updated CeraVe PM Moisturizing Lotion formula, many people reacted poorly to the formula update—and the only ingredient that was added in the new formula was sodium hydroxide. This ingredient is used as a neutralizer in many formulas, but it seems that it can be an irritating ingredient for people with sensitive skin; the potential impact on sensitive skin probably depends on how much is used in the formula.
Garnier Whole Blends Oat Delicacy Conditioner review
Garnier Whole Blends Oat Delicacy Conditioner is very creamy and rich, almost like rice pudding that's been blended into a smooth paste. My dad thinks that it contains about 1 to 3% palm oil, but it doesn't leave your hair feeling overly oily, which is good. In fact, it helped my strands feel slightly less frizzy and more glossy the next day. However, it does have a pretty strong smell (not a bad one, but definitely not something Mother Nature created) that lingers even after you rinse it off.
I tend to associate oats with gentle, soothing products—probably because colloidal oatmeal is an active ingredient in many eczema lotions. It's also regulated as a skin protectant by the FDA. I mainly decided to buy this conditioner because it featured oats so prominently on the label, and because it said "tested on sensitive scalp." That said, I really don't think this conditioner should market itself for sensitive scalps. It made my ears itch slightly, but much less than what I experienced with the Suave Professionals Conditioner.
Like pretty much every other hair care product, it contains fragrance. But the ingredient list also contains another red flag that I will probably try to stay away from in the future: limonene. My dad also called this a "famous allergen" (citral, citronellol, ionone, and linalool) in his review of Pantene Leave-On Detangling Milk. My dad thinks that the limonene may have been the culprit for the irritation I experienced. He also thinks that the inclusion of sodium hydroxide could be to blame, and he's puzzled as to why it's included in this formula; he thinks that this ingredient is being used to neutralize the fatty acids, but he's not sure why Garnier chose to use it in this formula in lieu of using a different neutralizer.
I don't dislike this conditioner enough to discard it, but I probably won't be purchasing it again. To reduce irritation, I've found that leaving it on my hair for a shorter period of time in the shower has helped. I also try to rinse it out of my hair very thoroughly (sounds straightforward, but I don't think I'm always all that diligent about making sure that I rinse 100% of every product out of my hair).
This experience inspired me to intensify my search for fragrance-free hair care products. I never want to experience itchy ears again! I've already tried some fragrance-free products from Whole Foods, and I'm excited to see what else is out there.
Related reading
Note: This post uses affiliate links, which means that I'll receive a commission if you make a purchase after clicking a link (at no extra cost to you). See our
disclosure policy
.