This mix-in is designed to serve as a boost for your shampoo, and leaves your hair super sleek and smooth.
Garnier Fructis Sleek Shot In-Shower Styler arrived as part of my Target Beauty Box a few months ago. I finally tried it out and was pleasantly surprised by its effectiveness. I had a great hair day after using this product, and I hardly ever have good hair days.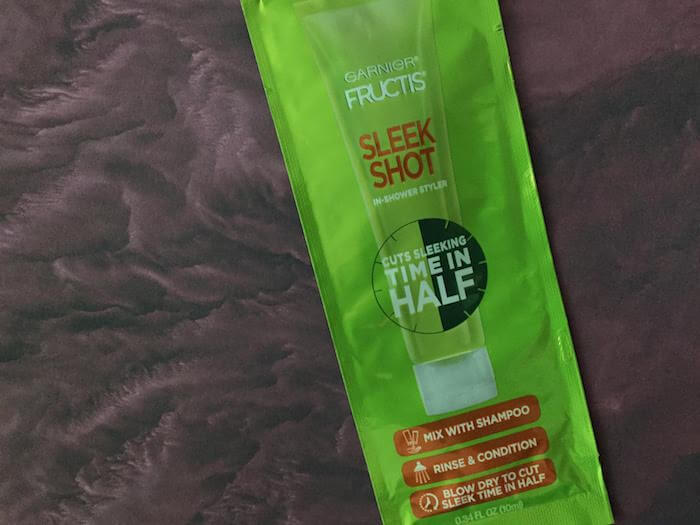 Garnier Fructis Sleek Shot In-Shower Styler ingredients
water, dimethicone, phenyl trimethicone, dimethiconol, hydrogenated starch hydrolysate, polyurethane-3 4, phenoxyethanol, fragrance, vp/ dimethylaminoethylmethacrylate copolymer, hydroxyethyl cellulose, hydroxypropyl guar, citric acid, potato starch modified, caprylyl glycol, sodium laureth sulfate, polyquaternium-11, ethylhexylglycerin, hexyl cinnamal, benzyl alcohol, linalool, amyl cinnamal, argania spinosa kernel oil, vaccinium macrocarpon (cranberry) seed oil, hydrolyzed corn protein, hydrolyzed soy protein, hydrolyzed wheat protein, tocopherol
My Dad the Chemist's review of Garnier Fructis Sleek Shot In-Shower Styler
Dear Emily, this "mix in" for shampoo contains silicone and derivatives plus other polyqaterium that supposedly would leave residual to condition the hair and even make the hair a little shiny after rinsing.

However, I don't know if the residual of these ingredients is enough to perform the job, need to try one using just the shampoo and the next day use 50/50 mix in with shampoo to tell the difference.

Just curious about this the homogeneity of this"mix in", if you leave it stand (no shake-up), is translucent homogeneous or non-translucent but homogeneous (no separate layers) or two separate layers?

Love,
Dad
My dad thinks it looks like it contained effective ingredients like silicones and polyquaternium, which should leave hair looking shiny even after you rinse it out.
I asked my dad to clarify if he was asking about the consistency of the product before or after mixing it into shampoo. He said before (prior to mixing it into shampoo). I told him that it was non-translucent but homogeneous.
Here was his response:
Great if this is the case, this product may work more effective if just use it as a leave in conditioner after shampooing and rinsing off (if not too heavy).
My dad thinks that it might work even more effectively as a leave-in conditioner than a rinse-off mix-in for your shampoo. However, keep in mind that rinse-off products are allowed to contain higher concentrations of potential irritants than leave-in products, so since this is designed to be a rinse-off product, it might (but also might not) contain a higher concentration of irritants than a leave-in product.
What not to look for in a shampoo mix-in
I also asked my dad for his thoughts about the other two conditions: translucent homogenous and homogenous two separate layers.
Great question! If it's translucent and homogeneous then after mixing 50/50 and apply as a shampoo, after rinse off you'll have hardly any functional ingredients left on the hair.

If it's two layers it'll be difficult to mix 50/50 with shampoo so you'll have inconsistent residual on the hair each time.

Love,
Dad
According to my dad, if this mix-in had been translucent, then all the functional ingredients would wash out along with the shampoo. If it isn't translucent. It it had been two separate layers, then he thinks it would be hard to mix into shampoo evenly, so you'd have less coverage for some parts of your hair than others.
These are just a few tips to keep in mind if you come across another product that claims to market itself as a mix-in for your shampoo.
Garnier Fructis Sleek Shot In-Shower Styler review
You're supposed to add Garnier Fructis Sleek Shot In-Shower Styler at a 1:1 ratio with your shampoo, and then rinse it out and go about your usual haircare routine. I found it pretty easy to mix in with my Kirkland Signature Moisture Shampoo.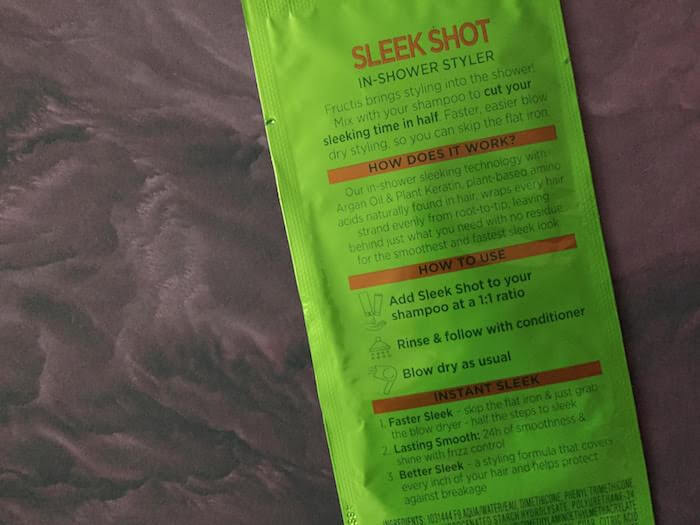 After I rinsed it out, I felt like I had just used conditioner on my hair. I followed it up with my normal conditioner, and then styled my hair as usual (let it air dry and then used the blowdryer for a bit so I wouldn't go to sleep with damp hair).
The next morning, my hair felt very sleek and smooth. I was pleasantly surprised, because I didn't expect much out of something that I mixed into my shampoo and then rinsed out. It provides the benefits of a leave-in conditioner, without the headache-inducing fragrance or buildup that often accompanies those products.
I think that Garnier Fructis Sleek Shot In-Shower Styler is a great product, and it's pretty affordable, too. I don't think it completely replaces the need to flat iron your hair, as claimed on the package. It doesn't straighten your hair, after all—it just removes frizziness. But if you're looking for a way to decrease frizz on your hair, but don't like the strong fragrance or heaviness of leave-in conditioners/serums, this is a great option to consider.
Related posts
Note: This post uses affiliate links, which means that I'll receive a commission if you make a purchase after clicking a link (at no extra cost to you). See our
disclosure policy
.