This dermatologist favorite is packaged in an airless pump, and includes 9% zinc oxide but doesn't lighten your skin at all. Plus, it includes 5% niacinamide and sodium hyaluronate.
EltaMD is a darling among dematologists—and a highly popular choice in the online-shopping world, too. The company currently holds **half** of the top 10 slots in the "facial sunscreens" category on Amazon (#1, #2, #5, #6, and #8, to be exact). Even though EltaMD products are pricier than the Neutrogena/Coppertone/etc. options that you'd find at your local drugstore, I think they're worth the splurge when you consider the importance of high-quality sun care. Sunscreens are considered a drug in the U.S., and are regulated by the FDA as such. All manufacturers need to conduct third-party lab testing to verify their SPF claims, but we often have limited visibility into those reports. EltaMD is one of the brands that shares its SPF testing claims with the public, which is really cool, in my opinion.
For my first experience with EltaMD, I decided to choose the top-ranked facial sunscreen on Amazon: EltaMD UV Clear Sunscreen SPF 46. If you look at their sun care page, you can see a really nice chart of UVA and UVB protection provided by FDA-approved sunscreen filters. It really helps hammer home the need to use a sunscreen that doesn't solely contain titanium dioxide, when you see how little of the UVA wavelength it is able to cover.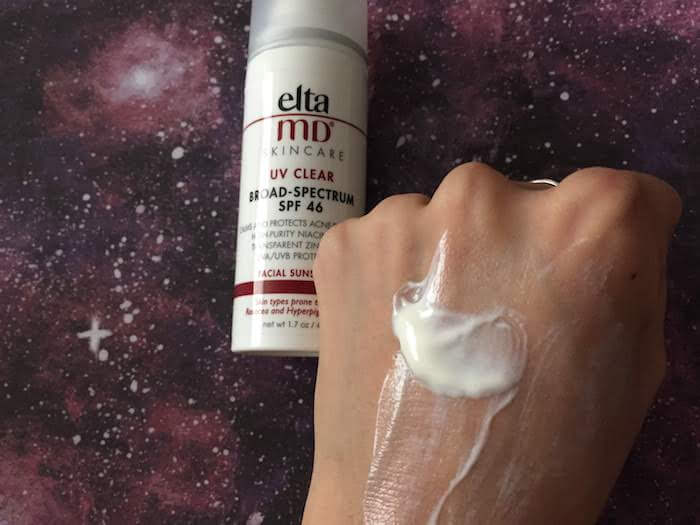 Although all EltaMD sunscreens are formulated with zinc oxide as an active ingredient, they typically mix in one or more filters, which can be chemical or physical. EltaMD UV Clear Sunscreen SPF 46 mixes zinc oxide, a physical filter, with octinoxate, a chemical filter. It also contains 5 percent niacinamide to help reduce redness and hyperpigmentation. This is actually a really nice added benefit and makes it almost like a skin care day cream, rather than just a sunscreen.
EltaMD UV Clear Sunscreen SPF 46 ingredients
Active ingredients: zinc oxide (9.0%), octinoxate (7.5%)

Inactive ingredients: water, cyclopentasiloxane, niacinamide, octyldodecyl neopentanoate, hydroxyethyl acrylate/sodium acryloyldimethyl taurate copolymer, polyisobutene, peg-7 trimethylolpropane coconut ether, sodium hyaluronate, tocopheryl acetate, lactic acid, oleth-3 phosphate, phenoxyethanol, butylene glycol, iodopropynyl butylcarbamate, triethoxycaprylylsilane
Dear Emily, it depends on if you're looking to brighten your skin tone usually 2% or higher amount of niacinamide (Vitamin B3) is effective, it's not cheap material.

Love,
Dad
My dad said he thought that usually 2% or higher concentration of niacinamide was effective for any brand looking to make a claim about brightening skin and delivering benefits for skin. This product contains a whopping 5 percent, which helps explain why it's more expensive than other sunscreens that contain similar active ingredients.
The other unique thing about EltaMD sunscreens is that they're packaged in airless pumps or airless tubes. This one was in an airless pump. However, the formula still contains preservatives like phenoxyethanol. I was curious to see if my dad thought the packaging would lend any extra benefits to the effectiveness of the sunscreen. Here's what he thought about the airless pump packaging.
Dear Emily, iodopropynyl butylcarbamate, phenoxyethanol are good preservatives, butylene glycol also provide some preservative ability.

In addition, the Airless pump is more expensive than the regular air pump, but because the air Won't be introduced into the product in the bottle during use, therefore it can enhance the preservation better than the product in the regular air pump.

Love,
Dad
My dad thinks this product already includes good preservatives, mainly iodopropynyl butylcarbamate and phenoxyethanol, though butylene glycol also delivers some preservation benefits. An airless pump is more expensive than your typical packaging, but it does help enhance preservation of the product by ensuring that air is not introduced into the product during use. So this sunscreen not only includes preservatives but also uses packaging that enhances the preservative system. This means two things: It's going to be more expensive, but it's also going to be better preserved and possibly more effective for a longer period of time. To me, that seems worth the premium cost because sunscreen is pretty much the only anti-aging product you can get over the counter in the United States. And because it helps filter UV radiation, it also helps protect you from skin cancer-causing UVA/UVB radiation.
EltaMD UV Clear Sunscreen SPF 46 review
I love this sunscreen so far. The only qualm I have about it is the small size. Though it's travel friendly at only 1.7 oz., it feels like I'm going to use it up pretty quickly. This product is very friendly for sensitive skin, since it is fragrance-free and non-comedogenic. In fact, it's designed for people with rosacea and/or hyperpigmentation, since niacinamide has been shown to help deliver benefits for both. It also contains sodium hyaluronate.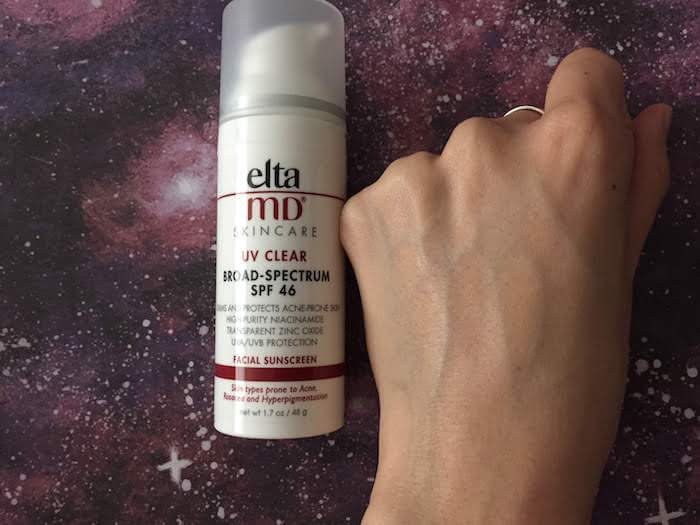 Although EltaMD UV Clear Sunscreen SPF 46 is fragrance-free, it has a pleasant natural scent that reminds me of Olay All Day Moisturizer with SPF 15 for Sensitive Skin, which I used back in my college days. Texture-wise, it definitely feels more like lightweight moisturizer with a nice creamy, non-oily consistency that blends invisibly into the skin. I didn't notice any lightening effect at all even though it contains a non-trivial amount of zinc oxide (9%). I am pleased with this product, but I think I'd like to try a purely physical EltaMD sunscreen next—and maybe one that's tinted.
Dr. Aegean Chan recommended the tinted version of EltaMD UV Elements Broad-Spectrum SPF 44, which is a physical sunscreen formulated with zinc oxide and titanium dioxide as its only two active ingredients. That one also comes packaged in an airless tube rather than an airless pump, and comes in at 2.0 oz. instead of only 1.7 oz. for the pump.
By the way, EltaMD also provides a document about the ingredients it uses in its products. I highly recommend checking that out if you are interested in learning more about the sources/functions of the ingredients included in their formulas. It doesn't cover every single ingredient they include in their formulas—for instance, cyclopentasiloxane, an ingredient in this sunscreen, wasn't covered. However, it provides a good solid starting point for learning more about the functional ingredients in each formula.
Related reading
Note: This post uses affiliate links, which means that I'll receive a commission if you make a purchase after clicking a link (at no extra cost to you). See our
disclosure policy
.